Lakers Road Trip Experience: Sights and Sounds from Philadelphia
February 7, 2012

Doug Pensinger/Getty Images
The Lakers Road Trip Experience is a four-part mini-blog documenting my journey to the East Coast to follow the Lakers. This is part-journalism, part-fanhood. My journey will take me from Philadelphia to Boston, New York, and Toronto. This is Part 1 of 4 which documents the Lakers' 90-95 loss to the Sixers at Wells Fargo Center.
I arrived by bus to 30th Street Station on a cool, brisk Philadelphia morning. It was my first time in the City of Brotherly Love, and I was ready to skip seeing the Liberty Bell Center to see the Los Angeles Lakers battle the Philadelphia Sixers in a rivalry that is slowly gaining its luster back. 
The Sixers have improved tremendously in the last several years. They gave the Miami Heat some fits during last year's postseason and were 17-7 coming into the game on Monday night.
Because of this, the team is now more relevant in a city with successful teams like the Philadelphia Flyers and the Philadelphia Phillies. This was evident by seeing the packed Wells Fargo Center scream and shout for the Sixers.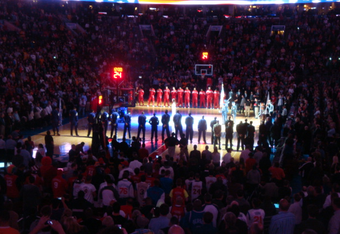 That being said, Wells Fargo Center was not short of any Laker fans. A large contingent of Laker Nation infiltrated Philadelphia on Monday night, and they let their presence be known.
There were also a select group of fans sitting in the section in front of me, and they were all wearing costumes. I saw a few of them before the game and took a picture of a guy who seems like he wants to be the Phoenix Suns gorilla. 
After seeing them again with all of their other costumed friends in the section below us, I wanted to go down and ask them why they were dressed like that, but the usher wouldn't let me through (ahem, media pass Bleacher Report, please?).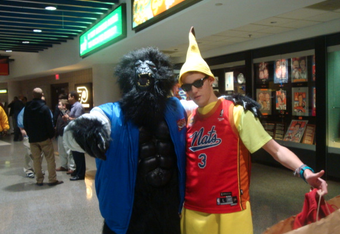 Throughout the entire game, Laker Nation made themselves heard, but it was loudest when Kobe Bryant surpassed Shaquille O'Neal on the all-time points list. 
Doug Collins made a kind gesture to call a timeout to let Kobe have his moment, and it was surprising to see both Lakers fans and Sixers fans to give him a standing ovation.
Bryant put up 24 points in the first half and during the break, I decided to munch on some goodies.
Expensive goodies.
Be prepared to open up your wallet if you ever go to the Wells Fargo Center. Although, the prices are cheaper than the Staples Center, I paid $7.50 for a Bud Light and $8.50 for boneless chicken wings. Both were fantastic, despite the price.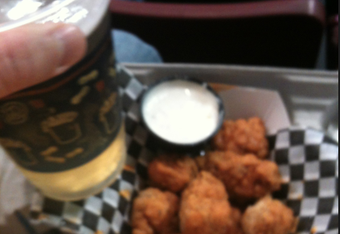 Here are some more sights and sounds from halftime.
I noticed a patriotic marketing deal that the Sixers had during January. Clever.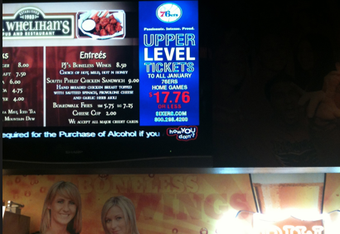 Then I saw a middle aged man reminiscing his youth with these beautiful ladies, representing the Philadelphia Soul of the Arena Football League.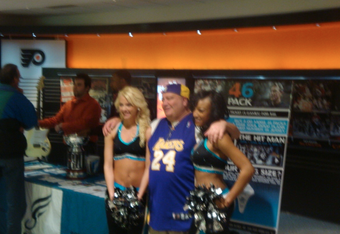 Finally, what exactly is this? It seemed cool at first but then I realized Blake Griffin pretty much does this without a trampoline and it all became unimpressive.
Kobe was completely silenced after halftime. The Sixers defense stepped up and Jrue Holiday and Lou Williams exposed the Lakers' weak point guards throughout the rest of the game.
The Lakers, however, absolutely dominated the glass, outrebounding Philadelphia 55-30 and they still managed to lose.
That doesn't seem possible, but it happened. 
The margin was tight from start to finish with no team having a double digit lead. That led to an exciting finish and a boisterous and raucous crowd which made for an electric atmosphere, unseen in Philadelphia for a Sixers game in a long time. 
Philadelphia's success is great for the league. It's a huge market with diehard sports fans and they came out strong on Monday night. 
WIth that, here were a few Philadelphia celebrities who made it out to the game.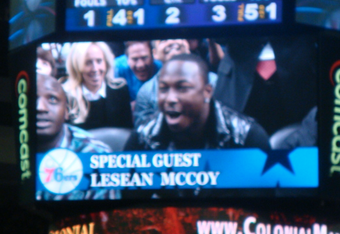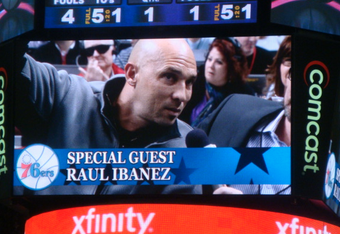 Finally, after the game, I decided to stop by the Lakers team bus to check out some of the players walking on. A hilarious and head-scratching moment ensued. 
Luke Walton walked out, starting doing push-ups in the parking lot and was later driven away by a cab. Rather than leaving with the team, he left alone, leading me to think of a few curious questions for Luke and the Lakers.
Enjoy.
As I write this, I'm in an Amtrak train heading to Boston. I'll be in enemy territory but I'm sure I'll witness a tremendous game between the two greatest rivals in basketball. 
See you Thursday night!