Carmelo Anthony Injury: Updates on Knicks Star's Groin Injury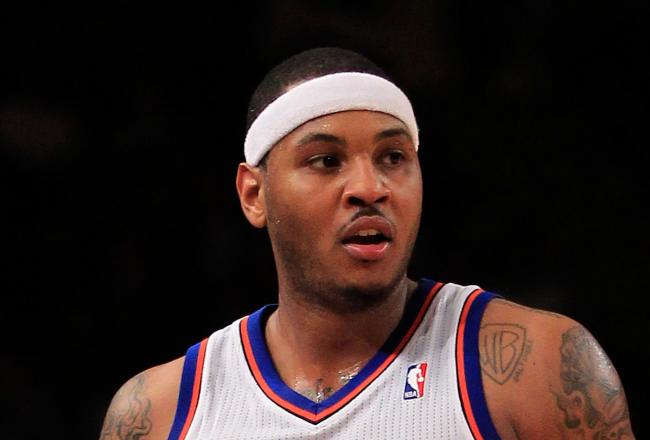 Chris Trotman/Getty Images
The New York Knicks are fighting hard, but they know they still need their top player back. The emergence of Jeremy Lin has been great, but Carmelo Anthony is the team's top player.
He's been out for awhile now, and making sure he is 100 percent healthy upon his return has to be the top priority for the Knicks.
Keep checking back here for the latest updated regarding Carmelo's health.
UPDATE: Monday, Feb. 20 at 6:15 p.m. EDT
The New York Times' Howard Beck gives some great news to Knicks fans in the form of this tweet.
Carmelo will start tonight, D'Antoni says. Chandler also playing.

— Howard Beck (@HowardBeckNYT) February 20, 2012
It seems wil will finally get to see the full complement of stars alongside Jeremy Lin tonight.
UPDATE: Monday, Feb. 20 at 5:40 p.m. EDT by Zachary D. Rymer
Courtesy of Ken Berger of CBSSports.com, here's the latest news. If you're chomping at the bit to see Melo return to the floor, it's good news:

ESPN's Rachel Nichols subsequently reported that she had heard the good news from Melo himself:

So if everything goes according to plan, we're finally going to see how well Melo can adapt to the good thing the Knicks have going with Jeremy Lin.
The game tips at 7:30 p.m. EDT from Madison Square Garden.
UPDATE: Monday, Feb. 20 at 12:25 p.m. EDT by Adam Wells
We are still waiting for an official update from the Knicks about Anthony's status for tonight's game against New Jersey.
According to the NBA Injury Report on CBS Sports, Anthony is listed as questionable against the Nets.
The Knicks are on a roll right now, so there is no need to rush him back from an injury before he is 100 percent. He will be a welcome addition when he does come back, and it appears that we are getting closer to seeing this team play as a whole for the first time in a long time.
UPDATE: Saturday, Feb. 18, at 1:41 p.m. ET by Nicholas Goss
Carmelo Anthony will not play Sunday for the Knicks at home against the Dallas Mavericks, but there is some good news for the team. According to Al Iannazzone of New York Newsday, both Baron Davis and newly-signed shooting guard J.R. Smith might be ready to play however.
UPDATE: Friday, Feb. 17 at 2:07 p.m. ET
We will most likely have to wait just a bit longer to see how Carmelo Anthony plays alongside budding star Jeremy Lin.
CBS Sports reports the star Knicks forward is doubtful going into Friday's game with a lingering groin injury.
The hope is now that he can return for Sunday's home game against the Mavericks.
UPDATE: Thursday, Feb. 16 at 4:13 p.m. ET by Eric Bowman
Anthony Sulla-Heffinger of the New York Post reports when Carmelo should be back in action.
The All-Star forward is expected back either Friday against the Hornets or Sunday against the Mavericks.
This is great news for the Knicks. With the rise of Jeremy Lin, everyone has been waiting to see how the two will fare together.
Since Lin dropped a career high 13 assists on Wednesday night, it looks like New York will be just fine moving forward.
Lin can score with ease, as we've all seen, but he also does a superb job of sharing the ball, and that will continue to happen once Carmelo is back and ready to play.
UPDATE: Tuesday, Feb. 14 at 4:14 p.m. ET by Eric Bowman
The New York Times is reporting that Carmelo Anthony is expected to miss only two more games.
Everyone is anxiously anticipating Carmelo's return, especially with the way the Knicks have been on the rise without him.
Expectations are mixed, as some believe he won't gel with Jeremy Lin. However, others, mainly Carmelo himself, believes things will work out just fine.
UPDATE: Monday, Feb. 13 at 4:50 p.m. ET by Eric Bowman
Despite not practicing today, Carmelo Anthony may be able to return to action this week, according to Ian Begley of ESPN.

You can read the story in full here. Carmelo talks about how he will be playing off of Lin and that things will work.
Of course, if problems arise then it will definitely be interesting to see who the Knicks' fans blame. Will they begin to hate on their new hero in Lin, or will they place the blame on Carmelo's return?
Hopefully we'll be able to find out that answer sooner than later, although, most folks probably already have their mind made up.
UPDATE: Monday, Feb. 13 at 12:20 p.m. ET by Eric Bowman
Al Iannazzone of New York Newsday gave the latest news on Carmelo via Twitter.

This is of course unfortunate for the Knicks, but with Jeremy Lin continuing to dominate it's not a huge concern for New York at the moment.
The Knicks have won five games in a row now, and after a road trip to Toronto on Tuesday, they'll have a nice five game home stand.
New York is making great strides right now, so it's perfectly fine for Carmelo to rest up and make he returns at 100 percent.
UPDATE: Tuesday, Feb. 7 at 11:40 a.m. ET
The New York Knicks have found something in Jeremy Lin, so the loss of Carmelo Anthony will be easier to stomach.
According to Howard Beck of the New York Times, Anthony is expected to be out for one to two weeks with a strained right groin.

All things considered, that is good news for Anthony and the Knicks. He did not look good when he went down on Monday. This will allow him to take care of his other nagging injuries and be 100 percent when he does come back.
New York Knicks superstar forward Carmelo Anthony left Monday's game against the Utah Jazz with a groin injury and will not return, reports Newsday's Al Iannazzone.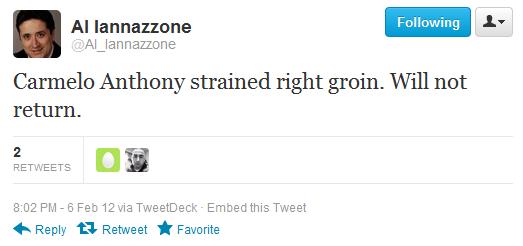 The struggling Knicks are in a world of hurt right now, with Amar'e Stoudemire already out as he deals with the unfortunate death of his brother, Hazell. It is terrible timing for New York, as everyone would prefer to give Stoudemire the time and space he needs.
Tyson Chandler and Jeremy Lin will have to carry the Knicks for the foreseeable future, especially if 'Melo is forced to sit for an extended period of time. As of now, there is no word on his status for upcoming contests, but groin injuries are extremely tricky.
It would be in New York's best interest to sit Anthony until he is 100 percent.
Anthony recently returned to the lineup after dealing with a myriad of injuries, including a bothersome wrist injury suffered weeks ago.
In the East, there is still hope for the Knicks, who are dealing with inconsistency and chemistry woes. The bottom half of the Eastern Conference is still muddled together, which means New York just has to scratch and call into the No. 8 seed.
New York doesn't have an awful schedule coming up. Aside from the Lakers on Feb. 10, they will face the Wizards, Timberwolves, Raptors, Kings and Hornets in five of their next six games over the next two weeks of action.
We will continue to update as news breaks regarding Anthony's status.
This article is
What is the duplicate article?
Why is this article offensive?
Where is this article plagiarized from?
Why is this article poorly edited?

New York Knicks: Like this team?