NBA: Golden State Warriors Must Somehow Rid Themselves of Andris Biedrins
February 7, 2012

Jonathan Daniel/Getty Images
Following last Saturday's loss to the Sacramento Kings, the Golden State Warriors find themselves with an 8-13 record, in fourth place in the Pacific Division. The Warriors stormed back from an 11-point deficit heading into the fourth quarter, sent the game to overtime and ultimately fell short on the road against the fifth-place Kings.
Saturday's contest was a perfect example of the up-and-down season for the Dubs. They battled back to take the lead on the road—had stellar play from their surprising bench—but lost in overtime going 1-for-8 from the field. It's been a tough go-round for first-year head coach Mark Jackson. He envisioned more prosperity for his young team.
Golden State has made strides towards improving its perennial losing performances.  Not helping is Andris Biedrins. The eighth-year center has slowly deteriorated over the past few years, and this season he is posting a disturbing, career-low 2.7 points per game to go with 4.9 rebounds. The Latvian lefty has played so consistently poor, he has found himself on the bench for lengthy stretches, averaging only 17.9 minutes per game. Jackson simply doesn't know what to do with his center piece. He's expected to contribute enough on the interior to complement the Warriors' outstanding backcourt duo of Monta Ellis and Stephen Curry.
For seven seasons, Biedrins has been just that: a terrific companion to distributing playmakers. His rebounding and hustle have been solid attributes to his game (career average of 15.9 boards per 48 minutes). And he has always been efficient around the paint, scoring heavy doses of put-backs and pick-and-roll dunks (career 59.5 field goal percentage).
But Biedrins' skill set simply does not fit Jackson's style of play. Under the old-school vision of Jackson, the Warriors aim to be a more defensively strong team instead of a traditionally fast-paced, high-scoring one. Thus, while Biedrins is active and athletic (enough) to contribute under the fun, run-and-gun offenses of former coaches Don Nelson and Keith Smart, he isn't the type of player suited for Jackson's grinding ground-and-pound tempo. His length and lankiness afford him opportunities to block shots and grab loose balls; his lack of bulk and strength result in opponents' centers dominating him in the post.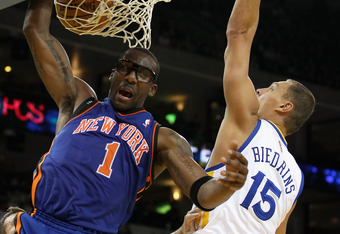 Ezra Shaw/Getty Images
On Saturday, Kings' center DeMarcus Cousins powered his way to 21 points and 20 rebounds against Golden State. Biedrins was so insignificant on the defensive end; he only played 22 minutes—none in overtime. Worse, his performance on the offensive end was nonexistent, allowing the Kings (or any opponent) to essentially play 5-on-4 defense. Since Biedrins isn't contributing offensively, he seems to be running back and forth simply for exercise. And because he does not have a post game of his own, he gets lost in the half-court offense. Curry and Ellis are not quite the elite caliber distributing guards. It's odd to see a wallflower on a basketball court—but that's what Biedrins is: he's just there.
Unfortunately for the Dubs, Biedrins is the team's best center. Free-agent signee Kwame Brown is likely out for the season following surgery to his chest muscle. Golden State had signed Earl Barron to replace Brown on the roster, but he has been waived, after appearing in only two games as a Warrior. This has left Jackson to rotate a smaller unit off the bench, giving second-year forward Ekpe Udoh more playing time.
Though not a true center, Udoh has the length to provide interior defense, averaging 1.5 blocks in only 18.5 minutes per game. However, because Warriors' power forward David Lee is a below-average defender himself, Udoh takes on a larger responsibility bottling up the middle. Udoh's post game is still being smoothed out, and the 24-year-old could use some more seasoning offensively—this adds up to why he has not been shuffled into the starting lineup to replace Biedrins.
But soon enough, Jackson and the Warriors are seriously going to consider shaking up the roster.
Biedrins has expressed his frustration with not being more involved, but Jackson obviously acknowledges that his center has not performed well enough to warrant increased playing time. It's a very chicken-and-the-egg situation. Biedrins is the egg, posting zero-point games in six of his last seven, meanwhile, Jackson is too chicken to bench the veteran because of Golden State's thinness up front.
But Biedrins clearly has lost confidence in his game at both ends: offensively, he averages only 2.2 field goal attempts per game, and defensively, his average of 7.6 fouls per 48 minutes is second-worst in the league (Udoh ranks third-worst). Further, Biedrins is so shaky about his free throw shooting that he is afraid to get fouled—he only has five attempts all season. Jackson has made an effort to center the Warriors' offense around Biedrins early, but that has hindered the team's flow from the outset.
The Warriors will eventually have to find a suitor for Biedrins—a playoff-contending team that needs some rebounding depth. An Eastern Conference team like Philadelphia or Milwaukee could use some help. The problem is Biedrins is making $9 million this year and has two seasons left on his contract. It will surely be difficult to find a team to take on his salary given his miniscule production.
Whatever the case, the Warriors have to recognize that Biedrins is no longer in the team's future. If there is a way to unload him before the trade deadline on March 15th, then that would be great for the makeup of Jackson's defensive-mindedness. If they can't, Biedrins should sadly be demoted to bench-warmer. After all, right now, it's as if he isn't even on the court. 
Follow me on Twitter: @nathanieljue