Golden State Warriors: Has Their Team Defense Improved Under Mark Jackson?
January 28, 2012

Ezra Shaw/Getty Images
The Golden State Warriors are a franchise synonymous with some of the great big-time scoring teams in NBA history. With the likes of Wilt Chamberlain, Rick Barry, Run TMC and the 2007 We Believe squad, the Warriors are steeped in a tradition of high-powered offenses. Throughout the decades, Golden State at least has been an exciting offensive team—notoriously exceeding the century mark in regularity.
Unfortunately, they've been equally accustomed to missing the playoffs. Just six times in the past 35 years—and once in the past 17 seasons—have the Warriors reached the postseason. Nineteen times finishing fifth place or worse in their division. So despite an exciting West Coast offense, Golden State has had very little to show from a winning perspective. After all, offense doesn't win championships—defense does.
Enter Mark Jackson.
Last offseason, after years of NorCal Showtime, the Warriors decided to shake things up a bit, hiring the defensive-minded Jackson as their next head coach. Jackson, who played 17 seasons in the NBA, avowed to instill in his new team a defensive mindset that has rarely been a feature of the high-octane Warriors.
He pledged a devotion on the defensive end, strong discipline and rebounding, all in an effort to become more tough-minded. The end result, naturally, would equate a playoff berth and postseason success.
Yes, the revamped blueprint will take some time to figure out, especially considering this preseason's labor lockout. But how have the Warriors taken to this new defensive focus so far this season?
Through 17 games, Golden State has gotten noticeably better defensively—numbers-wise. The glaring and obvious statistics show progress: Opponents are averaging 98.5 points per game and 44.8 percent shooting from the field. Comparatively, the Warriors allowed 105.7 points per game at a 46.7 percent shooting clip last season. Clearly, there are signs of defensive efficiency.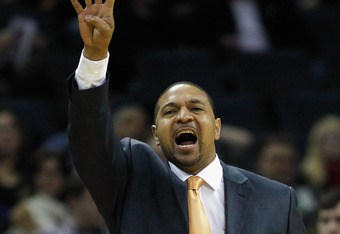 Streeter Lecka/Getty Images
However, there are subliminal factors to those improvements. The Warriors themselves have slowed down their own game a bit, averaging only 95.7 possessions per game (16th in the NBA). Last season, Golden State averaged 98.7 possessions per game, good for sixth in the league.
The up-and-down speed has tapered off, and the Warriors are not engaged in nightly first-to-100 contests. Slowing the pace of the game makes for better aggregate defensive numbers.
But another variable certainly is their improvement on the boards. Led by David Lee's 10.4 rebounds per game, the Warriors prevented fewer opponents' offensive boards. Golden State's defensive rebound percentage is at 71.6 percent this season, an increase from last year's 69.3 percent (which ranked last in the league.)
The best part in analyzing the team's defensive performance this season is the fact that, despite fewer possessions and a reduced tempo, the Dubs still have kept their penchant for pilfering. Last season, Golden State swiped 9.0 steals per game; this year, they're at 8.8. In that regard, the Warriors are still forcing a fair amount of turnovers, despite fewer opportunities.
Unfortunately, the raw numbers paint a prettier picture of the Warriors defense than what should be. After all, the improvement has sadly not resulted in more wins (6-11). Specifically, they have yet to prove they can defend down the stretch in order to close out victories.
Golden State has four losses by six points—two possessions. They have allowed the highest average number of points in the fourth quarter: 26.1. Unable to pull through in the clutch, the Warriors continually shoot themselves in the foot. Last Monday, the Dubs blew a 20-point lead to Memphis, giving up a whopping 39 points in the final quarter to lose 91-90. Visions of 2009 for Warriors fans.
It's still early in the season and in the defensive remodeling process, though. No doubt, Jackson has his team playing hard, buying into the mentality of fundamental defense and playing sound at both ends of the floor.
Considering the time missed by several key players, including Steph Curry, it will indeed take some more jelling to become a consistent defensive presence. Hopefully for the Warriors' sake, their arduous work will result in more victories.
As for now, Golden State fans can appreciate the effort, even if they don't recognize the style of basketball they're used to seeing. If the Warriors earn more wins, then Jackson's brand of basketball will still be exciting to watch.
Follow me on Twitter: @nathanieljue