Super Bowl 2012: 3 Keys to NY Giants' Super Bowl Win over New England Patriots
February 6, 2012

Joe Robbins/Getty Images
New England and New York for all the NFL marbles, again. 
It was a bit different this time, though.  A victory by the Giants would not only deny the Patriots another rung on the ladder of all-time greatness, it would also require closer inspection of the two most noteworthy leaders of the Giants, Eli Manning and Tom Coughlin.
This could not be chalked up to an upset for the ages.  It wasn't the beneficiary of perhaps the single most freakish and highly improbable play in Super Bowl history. 
The Giants stood right in the middle of the road to Brady and Belichick's immortality, again, and didn't blink. 
While they were playing spoiler to New England, though, they also vaulted themselves into their own elite club. 
Win one and you're today's hero, but 10 years from now fans will struggle to remember exactly what year it was you won.  Win two, and it doesn't matter anymore.  Coughlin and company rained on the New England parade, and this time they did so while raising their own stock among football's elite. 
This is a quick look at three significant factors that led to the Giants repeating their Super Bowl success against the Patriots. 
1. Giants' Pass Coverage

Remember that vaunted Giant pass rush?  Those formidable lineman took a backseat Sunday night to their pass-covering teammates as it was the Giants' coverage more than anything that forced Brady into holding the ball and using secondary receivers all night.
Of course, there were a few moments when the pass rushers had an impact on the game, but nearly every time it was the play of the Giant linebackers and secondary that provided the coverage to force Brady into holding the ball as he scanned covered receiver after covered receiver.   
Even the safety scored by the Giants on the first possession came on a play where Brady initially had good protection only to see it ultimately break down and force him into the poor decision he made to chuck it deep.
When you are calling pass plays from your own end zone, there is an inherent risk of something bad happening.  There is rarely room for slow-developing plays, instead only options for quick-hitting Plan A, and "live to play another down" Plan B.  The Giants secondary forced Brady into Plan C. 
There was no Plan C.
Regardless of how well your secondary plays, at some point in the game a sure-fire Hall of Famer like Tom Brady is going to have some success, and Sunday night was no different.  Brady went on a historic 16-consecutive completion run and at one time was 20-of-24—hardly the indicator of great defensive coverage, right?
Well, even when Brady was finding targets, the Giants had two things going for them that limited the damage.  The Patriots are famous for piling up gaudy yards-after-the-catch numbers.  That didn't happen Sunday night as the longest Patriot play of the game was just 21 yards.  
In addition, even when the Patriots did start picking up yards, there was another problem which brings us to...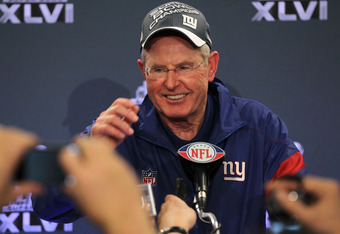 Jamie Squire/Getty Images
2. Field Position
This wasn't so much of a case of the two teams playing on different fields, because the Patriots' special teams actually did a solid job limiting New York's field position as well, but the Giants were even better at it. 
New England's average starting position was their own 16-yard line, as eight of their nine drives started at no better than their own 21-yard line.  Included were three drives that NE had to start from their own four, six and eight-yard lines, respectively.  This is not the recipe for a big offensive day when a 50-yard drive may not even get you in field goal range.
3. Eli Manning
You may have heard this already, but Eli Manning reportedly inducted himself into the "Elite Quarterback Club" before the start of the season. 
Now people will still pick apart some of his past performances, and there are clearly some skeletons still hanging in No. 10's closet, but you want to tell me exactly how someone can do a better job of silencing his critics than winning the Super Bowl? 
I didn't think so.
Manning's 30-of-40 for 296 yards and a touchdown (with no interceptions) is exactly the kind of game that an elite quarterback should be required to have to cement his lofty status.    
Pats fans will agonize over a few bounces here or there that could have changed everything (that, of course, is exactly the same as their first matchup), but at the end of the day New York 2, New England 0 is no accident.  Let the post-hype begin.