Super Bowl 2012: 5 Reasons New York Giants Must Lock Up Tom Coughlin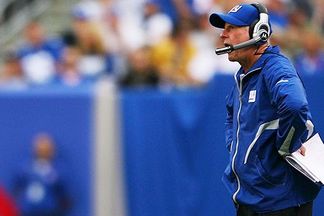 With the constant headlines of coaches always being on the hot seat, it must feel good when a team is all set at that position.
Constant coaching changes can kill chemistry with players and staff and create unwanted headlines that the team doesn't need.
Tom Coughlin has been in the hot seat before, and in fact this very year, many were clamoring for his job. As of now, Coughlin has silenced everyone and has become synonymous with the Giants, and they would do well to keep him until his retirement.
Here are five main reasons why the Giants need to lock up Tom Coughlin until he calls it quits.
Begin Slideshow

»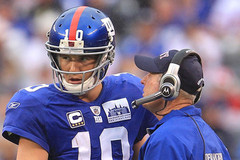 Coughlin with Eli Manning
New York media can be outright mean sometimes. They're like the kids who yell "fight" in the hallway when two kids are only have a disagreement.
Coughlin has taken so much heat during his tenure with the Giants only to shove it back into everyone's faces and have them praising him again.
His team has been suspect No. 1 when it comes to that. Sometimes, players might not agree, and they might not like whatever the current situation may be, but they keep coming back because they have enough trust and respect in the man that he can get it done.
Respect is hard to earn and keep, especially when there are outside instigators ready to strike when the going gets tough. Nevertheless Coughlin has been as cool as the other side of the pillow, and his players recognize this.
He's been OK with his players being confident that they can win because he was confident that they could get it done. When the coach has faith in a team despite what the odds say, that will always gain respect.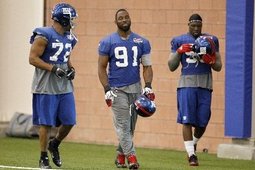 Osi Umenyiora, Justin Tuck and Jason Pierre-Paul at practice.
With a nice defensive core and amazingly talented defensive line, a still young and in his prime Eli Manning and a solid receiving core, the Giants have actually amassed a team for both the present and near future and let's face it, when healthy, the Giants are hard to beat.
This year, they all got healthy right before the start of the playoffs but were able to keep themselves in contention because of young players like Jason Pierre-Paul and Victor Cruz.
Coughlin knows their games, and he knows how to use them correctly. He was able to make the right moves against the right teams and has never had a problem putting guys on the field if they could prove themselves.
He's famous for making the moves to put Eli in as a rookie over Kurt Warner. He's made the right decisions in having Victor Cruz and Jason Pierre-Paul play extended minutes, knowing that those guys can be his future leaders.
Why hand that off to someone else who will have to take their time getting situated and learning the ins and outs?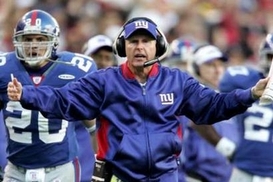 Coughlin reacting to a call.
Coughlin is wise.
He's seen his fair share of good and bad seasons, but he always knows how to trade with the best of them. He's done wonders this season in being able to help guide the Giants through the turmoil of injuries by not rushing guys back and trusting in his elite QB and younger players to stern the tide.
His experience has come into play big time this season, and he's managed to make all the right moves despite facing all the heat.
There might be a handful, if that, of names who have a lot of experience, but Coughlin has the immediate experience. He knows what makes the Giants tick, and he's been able to make smart choices draft-wise to help this team keep going.
He can handle the tough New York media and players' egos. Without a doubt, Tom Coughlin is a future Hall of Fame coach, and the Giants would do well to keep him until he retires.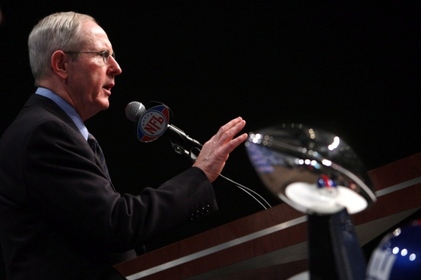 Coughlin at a press conference before the Super Bowl.
At 65, Coughlin isn't exactly a spring chicken, but he's stayed sharp.
He's never really had the easy way—only the hard way. The Giants had to go the hard way in 2007/2008, and they had to go the hard way this past season as well. When almost everything comes, easy surprises can come out of nowhere. Just ask the 2011 Packers team how that feels or better yet the 2007 Patriots team.
The problem this year was the Giants just happened to be the surprise.
The G-Men just managed to sneak into the Wild Card Game, and from then on, they had to face two hot upstart teams in the Falcons and 49ers, the previous Super Bowl champions in the Packers and one of the most successful teams in the last decade in the Patriots.
I'd say they didn't necessarily have an easy road, especially since their last game of the season was a fight against a Cowboys team that was determined to make the playoffs themselves.
Somewhat similar to their 2007 playoff run, Coughlin has shown that he can and has been able to handle the pressure and still has the will to get it done using his tactics. He's still got it and deserves to give it another shot.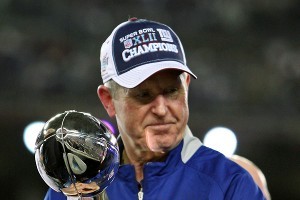 Tom Coughlin with the Lombardi trophy.
You don't really fire the guy who stuck it out and helped guide your team to a Super Bowl, over the Patriots no less, do you?