Super Bowl 2012: Chris Canty Tweets His Super Bowl XLVI Predictions Prior
February 5, 2012

Jeff Zelevansky/Getty Images
I'm actually speechless. 
Really, Chris Canty? You're actually going to tweet your Super Bowl predictions on Super Bowl Sunday—how idiotic can you be?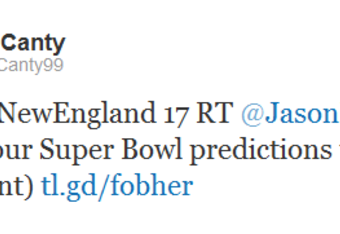 As posted on Canty's official and verified Twitter account, he sent out a tweet at 12:11 p.m. replying to ESPN's Senior Talent Product Jason Romano as he asked his followers for their Super Bowl predictions and whomever was the closest would receive a copy of Todd Gongwer's new book. 
First off, apparently Canty thinks its okay to tweet out predictions like that on Super Bowl Sunday; also, he must really want a copy of that book and lastly, who the hell is Todd Gongwer?
After a week of trash talking done by Canty and New York's defense, the Giants could very well be on track for a very rude awakening against a furious Tom Brady. 
There's one thing that I know about Brady, and that's if he's playing with a chip on his shoulder and he's fired up, then the defense could be in for a very, very long day. 
Perhaps Super Bowl XLVI could be a crash course for all NFL players on why you shouldn't run your mouth before the Super Bowl and why you shouldn't tweet out predictions. 
Be sure to check out Tony Santorsa's blog: PatriotsPlus