Giants vs. Patriots: Unlikely Players That'll Play Major Role in Super Bowl XLVI
February 5, 2012

Elsa/Getty Images
Super Bowls see the most unlikely heroes come to the biggest stage and the 2012 Super Bowl will be no different when the New York Giants and New England Patriots hook up for their epic rematch.
Here are four unlikely candidates that will play major roles in Super Bowl XLVI.
If the Patriots decide to rush the ball out of the gate—which wouldn't be a bad idea—BenJarvus Green-Ellis could have a big Super Bowl.
The running back recorded 667 yards and 11 touchdowns on 181 carries in 2011. When given the opportunity on 200 or more carries, Green-Ellis can produce at a high level; he rushed for 1,008 yards and 13 touchdowns last season.
Green-Ellis is a dark-horse MVP candidate given his ability to score touchdowns with his hard running in between tackles.
Jake Ballard
The first-year NFL tight end has only caught three passes this postseason. Quarterback Eli Manning has been utilizing Victor Cruz, Hakeem Nicks and Mario Manningham in the passing game often overlooking Jake Ballard.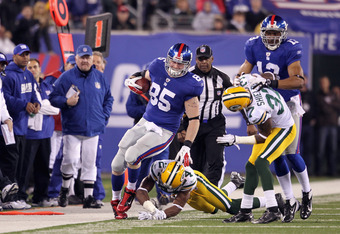 Nick Laham/Getty Images
Ballard caught 38 passes for 604 yards and four touchdowns in 2011. It would be extremely unlikely for Ballard to play a major role in Sunday's game, but it's going to happen.
Manning will be forced to use other weapons other than Nicks and Cruz because they will be the focal point of the Patriots defense.
Ahmad Bradshaw
The quarterbacks of Super Bowl XLVI have been getting most of the attention, and for good reason—quarterbacks are the main attraction when things go well or poorly.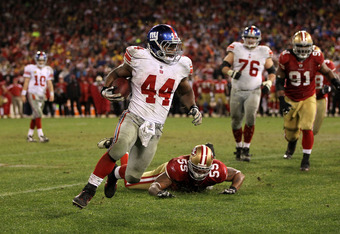 Jamie Squire/Getty Images
Don't forget about the running backs in this game, especially Ahmad Bradshaw, who can catch balls out of the backfield if need be. He caught 34 passes for 267 yards and two touchdowns in the regular season; he caught 14 passes in the postseason.
During the year, Bradshaw ran for 659 yards and nine touchdowns.
Julian Edelman
Talk about a player that will play a major role in the game; Julian Edelman will play both sides of the ball.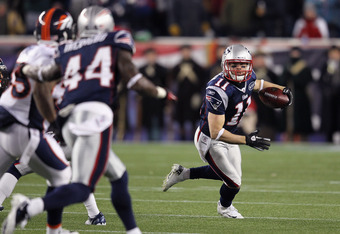 Jim Rogash/Getty Images
Edelman will also play a role in special teams in terms of gaining field position as well as limiting field position. 
He only caught four passes all season long, so he might not have an impact on offense, but he will have a tough task of checking Manningham or Cruz in the slot. The winner of that matchup may be on the winning team when the game is all said and done.