Super Bowl Commercials 2012: Athletes We're Yearning to See During Super Sunday
February 5, 2012

Mike Ehrmann/Getty Images
There will be plenty of star power on the field at Super Bowl XLVI, but for many viewers, the star power in the stands and the commercial breaks will be an even bigger draw.
Most of the celebrity commercials being touted so far are aimed at the nostalgia vote (Matthew Broderick as Ferris Bueller, Mean Joe Greene putting a new spin on his old Coke commercial), but appearances from more contemporary standouts would hardly be out of place.
This trio of athletes would make for especially enticing cameos, this year or down the road:
James has alienated enough sports fans that most are happy to enjoy his absence from a major media event, but the Super Bowl milieu would set him up for a potentially entertaining commercial.
James has commented in the past that he thinks he could've been an NFL player, and someone could make a very funny commercial with him getting schooled by actual NFL stars and saying something to the camera to the effect of, "This is harder than I thought."
Of course, it's hard to imagine James having enough humility or sense of humor about himself to do such an ad, but it would make for great TV.
If Under Armour weren't a competitor of James-endorsed Nike, it would also be a great excuse for the football apparel company to bring back Ray Lewis.
Sidney Crosby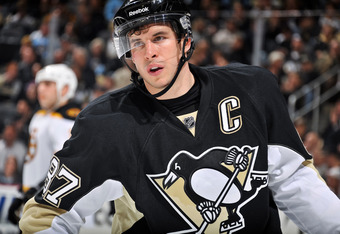 Jamie Sabau/Getty Images
The NHL's most recognizable star has been all but invisible this season, playing just eight games before being sidelined with an injury that was thought to be a concussion, but may be a neck problem instead.
Whatever the cause, the high-scoring center is sorely missed by the Penguins and the league as a whole.
With all the time he's spent on the sidelines in recent years, Crosby might be a good fit for Kindle or some other product that could play on the angle of "I have all this free time to fill now that I can't light up NHL scoreboards."
Shaquille O'Neal
Few athletes have ever loved the spotlight quite like Shaq, and it's hard to imagine that retirement is sitting well with the big man after five weeks of watching other people play NBA hoops.
He's always been as much of a go-to spokesman as a scorer, and with him out of pro basketball, it would be an especially strong opening for some non-sports-related company to snap him up.
He'd be a natural for a car manufacturer or airline looking to promote its legroom, though the latter industry doesn't exactly have excess money for major Super Bowl ads these days.