Super Bowl 2012: Ruthless Patriots Release Tiquan Underwood
February 5, 2012

Patrick Smith/Getty Images
Depending on your perspective, the New England Patriots are either as cold as ice or extremely welcoming. 
Brian McIntyre tweeted that the Patriots have cut WR Tiquan Underwood and signed DE Alex Silvestro.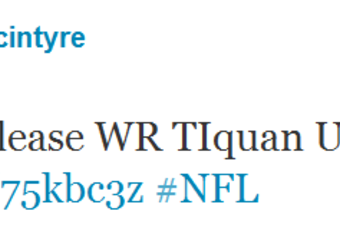 The Patriots also confirmed the move in a statement on their team website. 
Underwood was used sparingly on the Patriots offense, catching three passes for 30 yards in the regular season. 
What it Means
From an on-field perspective, not a lot. Underwood was certainly not an integral part of the Patriots team this season, so they are not going to miss Underwood's presence in the lineup. 
On the other side of the ball, Silvestro is likely not going to be brought in less than 24 hours before the kickoff of the Super Bowl and then be a big part of the team. 
The Patriots certainly need the help on the defensive side of the ball more than on offense. Their passing attack will run almost exclusively through Wes Welker, Rob Gronkowski, Aaron Hernandez and Deion Branch. 
Silvestro plays a position that will bring a little more punch to the Patriots. If anything, the extra lineman will give the New York Giants a different look than what they have been expecting.
What's Next?
Win or lose, I certainly hope that Underwood gets a full share. No matter how you view it from a football perspective, it is cold to cut someone the day before the Super Bowl. 
Still, don't expect it to mean much on the field. If the Patriots are in a spot where the lack of Tiquan Underwood costs them the game, they probably weren't going to win anyway. 
Still, he was a part of the team all season and cutting someone now is extremely bizarre. It at least raises a question as to what happened.
Stay tuned to see if Bill Belichick or any member of the Patriots sheds some light on the matter.