Super Bowl: Patriots' Late Roster Change Adds to Bill Belichick's Seedy Rep
February 5, 2012

Elsa/Getty Images
Really, Bill Belichick? Really?!
Less than 24 hours to go until your New England Patriots face the New York Giants in Super Bowl XLVI and you're still busy making changes to your roster?
I don't know what tricks you've got up your sleeve for rookie defensive end Alex Silvestro, but they better be well worth letting go of wide receiver/kick returner Tiquan Underwood.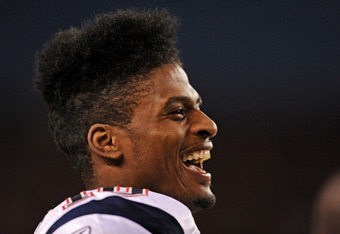 Patrick Smith/Getty Images
Okay, so maybe neither player will or would've figured prominently into The Hoodie's Super Bowl schemes, but still...C'MON, MAN! You're really going to swap one Rutgers Scarlet Knight for another? A flat-top fade for flowing locks?
Underwood was at media day. He lived with Pats teammate and fellow Rutgers alum Devin McCourty. He might've even made use of the minibar in his hotel room.
Hmmm...maybe it was the minibar that did it.
Whatever the case may be, a giant party platter of sandwich meats doesn't have anything on just how cold a cut this was for the Pats.
Underwood worked his way up from a participant in the Pats' preseason camp to a dude out of work to a member of New England's practice squad to earning a spot on the depth chart just ahead of Chad Ochocinco.
Not that playing ahead of Ochocinco means as much as it used to.
Even a cynic like Stephen Colbert (or alleged gold smuggler Dikembe Mutombo) would give this one a wag of the finger.
Now, the pressure is on Silvestro and Ochocinco to make the most of the opportunities they've been given at Underwood's expense.
Let's just hope Tiquan doesn't do anything too rash, like shave his head or divulge all of the Pats' secrets to the Giants on the eve of the Super Bowl.