Gareth Bale Needs FC Barcelona Move to Realise His Potential
February 5, 2012

Paul Gilham/Getty Images
Gareth Bale, the star of Tottenham Hotspur, needs a move to FC Barcelona if he's to take his game to the next level.
Reports say Barca have opened talks with Spurs about Bale, with phone calls, visits to London and meetings with Tottenham representatives all said to have taken place recently.
It has also been reported that the Camp Nou outfit have sent scouts to watch the winger seven times during his career at White Hart Lane, while an opening bid of £40 million could set the ball rolling and tempt chairman Daniel Levy to consider selling his best asset.
The 22-year-old has been in sensational form this season, with nine goals and seven assists so far in the Premier League.
He ended January winning the Premier League Player of the Month award, having scored three times and made two assists.
Bale has been Harry Redknapp's most important player this campaign, with the Welshman winning five man of the match awards, and on average, creating around three goal-scoring chances per game for teammates, more than any other Spurs player—including Luka Modric, widely considered Spurs' best playmaker.
On top of that, Bale also drives play forward better than any of Tottenham's first-team players, completing 38 dribbles this season—four more than the next best player, Modric.
He also sends in more accurate crosses per game, 1.6, than any Spurs player and is more accurate in the cross than Antonio Valencia, David Silva, Craig Bellamy, Ashley Young, Theo Walcott and other of the league's most celebrated wingers.
Not only do Bale's statistics prove just how vital he is to Tottenham's success, they also show a player who could actually make FC Barcelona, current La Liga and UEFA Champions League champions, better.
The young wing wizard does two things different than any Barca player at the moment: create chances for teammates and send accurate balls into the penalty area.
Bale has made 2.8 key passes per game this season in the Premier League, with Barca's best in La Liga being Xavi Hernandez with 2.6, followed by Lionel Messi with 2.3 chances created each match.
He also whacks in more accurate crosses, 1.6 per game, than any Barca player, with La Blaugrana's best being Dani Alves with 1.3 every match.
And besides that, Bale is also a dab hand at the other stuff too. He has a goal and assist combination, i.e. 16 direct goalscoring contributions, which is better than all Barcelona stars barring of course Lionel Messi.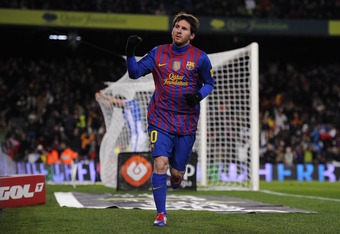 David Ramos/Getty Images
He's scored the same number of league goals as Cesc Fabregas but outranks him in all other attacking departments apart from accurate long passes hit and accurate through balls made.
So it's clear Bale is by all means good enough to make a big impact at the Camp Nou.
And it's an impact, and of course transfer, he should make if he wants to realise his potential and take his career up a level.
The Southampton academy graduate is tearing up the Premier League at the moment and has also performed well in the Champions League before.
However, he'll soon start to reach a performance plateau at Spurs, long before the athletic peak of his career.
To be playing as well as Bale has at such a young stage in his career, the potential for the Wales international is huge.
But at Tottenham he can't realise that full potential, as the club aren't one of the most prestigious in Europe, don't have the very best players or technical staff (although of course the backroom staff at Spurs are damn good) and aren't currently regulars in the Champions League.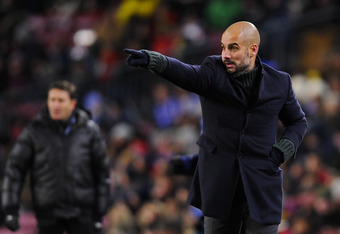 David Ramos/Getty Images
For Gareth Bale to improve, he needs to play, train and learn alongside more of the game's biggest players than just Luka Modric and Rafael van der Vaart, and take notes from a manager who's won more than one FA Cup title and a UEFA Intertoto Cup.
After all, he's still at the stage in career where he can learn a lot and use it to vastly improve his game. At White Hart Lane he won't learn a great deal more.
At Barca though, watching Lionel Messi in training, playing alongside him in matches, he'd learn the true art of finishing, dribbling, fine movement and how to link up play with others inside the penalty area.
By observing Cesc Fabregas and Xavi Hernandez, he'd learn and eventually see how new angles and new options inside the final third suddenly present themselves and how to make passes cutting through an opposition defence that he didn't even think was possible.
And from the likes of Andres Iniesta, Bale would really learn how to change the pace of a game, get play moving and pull a defence to pieces.
Under Pep Guardiola, Bale would experience a new kind of winning mentality and learn how to become a much better player mentally and tactically.
Plus, he'd be playing with and against a lot of top-level players for the majority of the season and would experience what it takes to win major honours and would learn all about the pressure and responsibility that comes with being a member of the best team in the world.
At the moment, Bale is one of the Premier League's best players, but he has the potential to be so much better—even as good as Cristiano Ronaldo one day.
To realise that potential, and open up a world of possibilities, he needs to leave Tottenham Hotspur and join a team like FC Barcelona.
As soon as he does, there's no limit to what he can achieve.