Super Bowl Predictions 2012: Defensive Dynamos Guaranteed to Dominate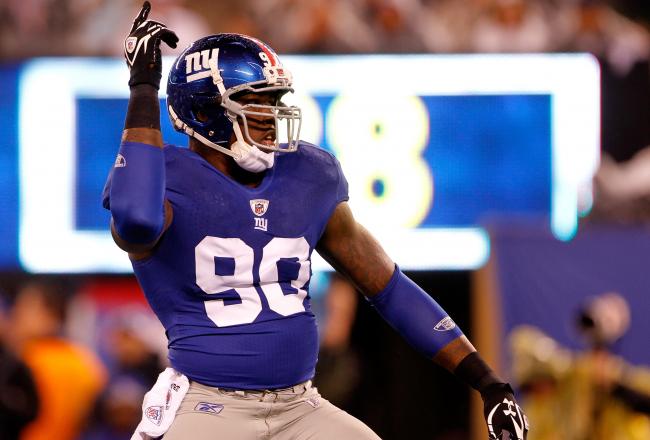 Rich Schultz/Getty Images
With dominant quarterbacks Tom Brady and Eli Manning competing in the Super Bowl, most of the focus heading into the big game is on offense. Both the New England Patriots and New York Giants have excellent defensive players who can take over a game, however.
When the Giants beat the Patriots in the Super Bowl four years ago, it was defense that ruled the day as Brady was sacked five times and the Pats were held to just 14 points. The game may be a bit higher-scoring this time around, but defense will still be of the utmost importance.
Here are three dominant defensive players who will make their presence known on Super Sunday.
Osi Umenyiora (NYG)
This was an injury-plagued year for Giants defensive end Osi Umenyiora, but he still managed to have a positive season with nine sacks. Umenyiora appears to be fully healthy now, and he should be a major part of New York's defense in the Super Bowl.
Umenyiora has looked strong in the playoffs with 3.5 sacks, and Big Blue will need him to be a factor on Sunday.
Umenyiora terrorized Brady four years ago as he racked up two sacks and numerous pressures in a New York win. He is certainly older now, but when he is healthy he is still one of the most dominant pass rushers the league has to offer. The best way to get Brady off of his game is to hit him, and that is precisely what Umenyiora will do.
Vince Wilfork (NE)
Nose tackles rarely put up monster numbers, so they don't always get the recognition they deserve. That is often the case with Patriots behemoth Vince Wilfork. The 6'2", 325-lb. space eater is an integral part of New England's defense as he occupies multiple blockers and allows the pass-rushers to run free.
He has been very noticeable during the postseason, and will need to continue to make plays on Sunday.
The Giants offensive line struggled to protect Manning in the NFC Championship Game, so if Wilfork can create room for his teammates or even rush Manning himself, then the G-Men will have trouble operating on offense.
Even if the statistics don't show it, Wilfork figures to dominate the trenches in the biggest game of the year.
Jason Pierre-Paul (NYG)
The Giants were third in the NFL in sacks during the season for a reason, and perhaps the biggest reason was athletic defensive end Jason Pierre-Paul. In just his second NFL season, JPP was fourth in the league with 16.5 sacks.
New York's dominant pass rush was spearheaded by future Hall of Famer Michael Strahan four years ago, but now Pierre-Paul is the torch bearer.
When the Giants and Pats met during the regular season this year, JPP had one sack, but he also made life miserable for Brady as he was in on several pressures. In all likelihood, the Giants will try to replicate the defensive game plan they used to beat the Patriots four years ago.
If JPP and the four-man front can create pressure, then the G-Men could have a repeat performance.
This article is
What is the duplicate article?
Why is this article offensive?
Where is this article plagiarized from?
Why is this article poorly edited?