Why I'm Cheering for the New England Patriots at the Super Bowl
February 4, 2012

Rob Carr/Getty Images
I am NOT a bandwagon jumper. 
I cheer for David against Goliath almost every time my team's Goliath. Although I talk a heck of a lot about being at Penn State's win over Ohio State in 2005, the best victory I've ever seen was Appalachian State's win over Michigan. Period. And I was in Britain, cheering at my TV and screaming over and over again: "I don't believe what I just saw."
But on Super Bowl Sunday, I'm not cheering for Eli Manning and the New York Giants. I cheering for the other team.
You know? The team with a lot of rings that stomped on Tim Tebow (twice), broke the Ravens' wings and has a fanbase that matches Philadelphia in its delightfulness and tastefulness. Believe me, I'm a New York Yankees fan and I have always hated New England—more for the Boston connection than for the football. 
I don't hate Tom Brady. He's every man's idol. How could you hate a humble guy who came through in the NFL's sixth round, has three Super Bowl rings, and just happens to be married to one of the most stunning women in the world? Really.
But that's not the reason why I'm rooting for the Patriots. 
I love my three cousins and their kids, who are mad-screaming Patriots, Red Sox and Bruins fans. After years of sporting depression, their little spots in New York, Los Angeles and London are very happy places (they all originate from Cambridge, Mass., a few minutes away from Harvard Yard and a not a long way away from the delights of Fenway Park). If there's any reason why I should be supporting the Patriots, it's to keep along with some family loyalty.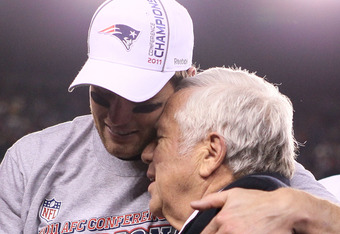 Elsa/Getty Images
But that's not the reason why I'm rooting for the Patriots.
I'm rooting for a little guy called Bob Kraft, the owner of the New England Patriots. His wife Myra died of lung cancer a few weeks before the season started, and in the middle of those awful financial wrangles that nearly ended the season. Myra wanted the deal to get done—even on her death bed, and she was praised by Indianapolis Colts center Jeff Saturday as a person to help the deal get done.
I'm rooting for Bob Kraft because even at this Super Bowl, he'll still be missing his wife like crazy and when the season ends, he's going to wonder what to do with his life - particularly with no Myra to care for, hug and love.
And believe me - as a person who's wife is very ill with cancer and unless medical miracles happen isn't getting better anytime soon—you need someone to hug and love.