Cleveland Browns: Breaking Down Colt McCoy's Game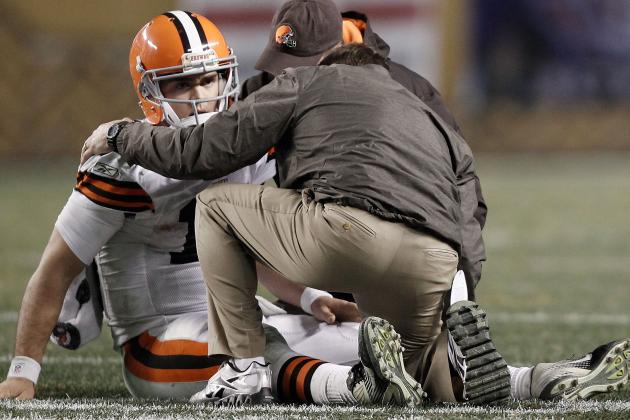 Jared Wickerham/Getty Images
Colt McCoy with the trainer
It is looking more and more like the Browns are not going to get Robert Griffin (Baylor) in the draft. You can bet that the team will bring in either a veteran or a middle-round rookie to compete with Colt McCoy for the starting job.
I brought up the name of ex-Eagle Donovan McNabb on my radio show as a joke. Now somebody picked up on the idea and there is a rumor floating around about McNabb joining the team.
McCoy started off his career under head coach Eric Mangini and behind the eight ball. Mangini never wanted to play rookies. He preferred to play the used Jets player he brought over from his old team.
Mangini did not want McCoy at all. McCoy was the choice of team president Mike Holmgren and GM Tom Heckert. As a result, Colt was not given reps in the preseason.
Despite the cold shoulder he got, he did well when he got into the game in the preseason. When both the veteran starting and backup QBs went down with injuries, McCoy was forced into the game.
In his first start he managed the game and helped the team beat the Saints. In his second start he led the team to a win over the Patriots.
In future articles I will analyze the possible QBs that might come to Cleveland. I wanted to start this series off with my analysis of Colt McCoy's mechanics.
Begin Slideshow

»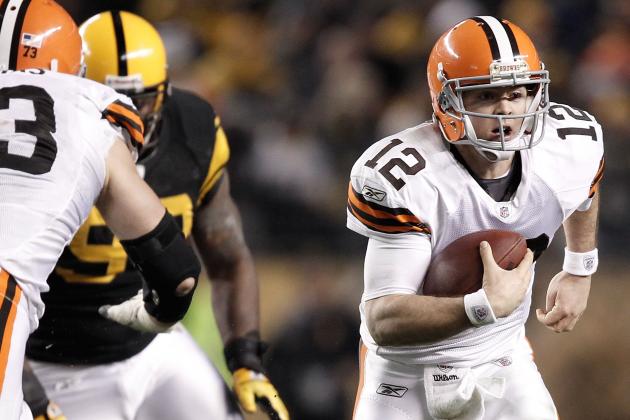 Jared Wickerham/Getty Images
Run Colt, run
Mobility
Colt has good speed and, when he was drafted, a good sense of the pocket. He has lost a lot of the
natural protection clock due to the number of times he was hit.
When he senses pressure, he has the ability to avoid a tackle. He will keep his eyes down field sometimes to find a receiver. At other times he will just run.


Arm Strength
This has been the most talked-about aspect of Colt's game. He is below average in arm strength. While a QB can be a winner without above-average arm strength, it is not the rule.
There are ways to improve arm strength up to 115% of the original measure. Most QBs that lack good arm strength work on it, and Colt will continue to do so, too.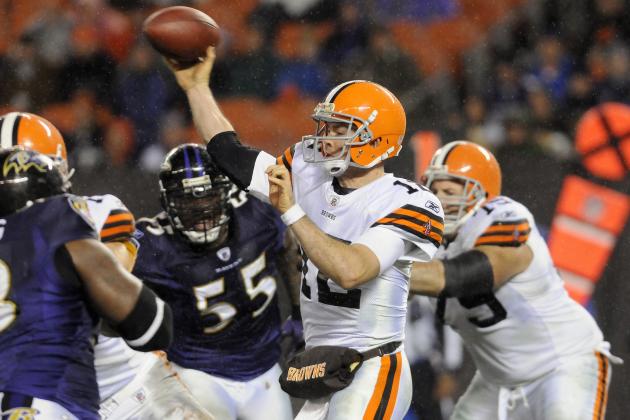 Jason Miller/Getty Images

Field Vision
In Texas, Colt had above-average vision. Despite his physical size, he was able to see open players down field and get the ball to them.
Last year he seemed to have much better vision of the field.
This year he was staring down the receivers. A lot of that was due to a lack of protection. He did not feel he had time to go through his progressions. With better protection and more reliable outside receivers, the number of check-downs should be reduced next season even if Colt is under center.


Anticipation
Perhaps the most important factor that separates the good QB from the great one is anticipation—the ability to throw the ball to a spot before the receiver makes his final brake.
Colt did this very well in college. He also did this in 2011 when he could. In the Oakland game, for example, he anticipated a slant pass to WR Greg Little for a 20-yard gain. He threw to a spot and Little got there.
This pass is important because it shows he has not lost his ability to anticipate the throw.
But it did not happen often because Colt could not trust his receivers. The WRs struggled to get open. The only times I saw him anticipate a throw was when he had someone wide open.
Jason Miller/Getty Images

The measure of accuracy in a West Coast offense (WCO) is different than with almost any other system. The WCO demands the WR get to the spot.
Given the lack of experience and talent at WR, in my opinion it is impossible to judge Colt's accuracy overall.
He had a 60.8 completion percentage in 2010. This year it fell to 57.2.
Neither percentage is good enough in the WCO.
He is not accurate with defenders in his face, which happened way too often in 2011. Most QBs hate pressure up the middle because it eliminates their ability to step up in the pocket.
The two young guards that played for the Browns were turnstiles in pass protection.
When McCoy did have time to throw, he was not as accurate as he should be. Part of that is due to mechanics that I will discuss below. The rest was due to him feeling pressure that was not there.
When a QB is hit as often as Colt, he often feels pressure that does not exist. Colt has lost his feel of pressure in the pocket because so often he has not had any.
On the rollout, he was equally inconsistent. There were times he made some outstanding throws. At other times he missed open receivers. Again, he had very inconsistent mechanics that accounted for the differences in accuracy.
At Texas, he was very efficient outside of the pocket. He developed bad habits in 2011.
He was limited in his ability to roll out because the right side of the line was the least effective at pass protection. RT Tony Pashos played on one leg most of the season. While he was a lot better than the starter last year (Jon St. Clair), he was a shell of the player the team spent a lot of money to get.
The last major impact on McCoy's accuracy was the number of drops he suffered. The Browns ranked among the top four in receiver drops, due to the receivers' inexperience and lack of talent.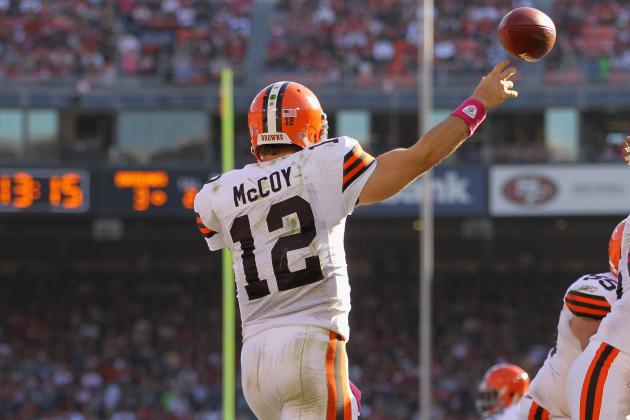 Ezra Shaw/Getty Images

In the pocket, almost every QB needs to find passing lanes between the bigs to throw through.
Colt throws three-quarters overhand most of the time. He needs to standardize his throwing motion to become more accurate.
He needs to get the upper and lower body together to become more accurate. His anticipation of pressure on every snap causes him into bad footwork. He will throw off his back foot or front foot or take an unbalanced position.
This is not going to get better until he feels he has decent protection on most plays. Frankly, that is not possible with the O line that played most of the 2011 season.
When you are running for your life, it is hard to concentrate on mechanics.
A more worrisome issue is McCoy's development of "happy feet" in 2011.
Happy feet are not that happy in this case—he has developed a bounce. This is the last thing a WCO QB should be doing. The WCO depends on timing passes being thrown on the third, fifth or seventh step.
Colt holds the ball way too long. Part of that is the fact that the receivers cannot get open. The rest is due to his indecision.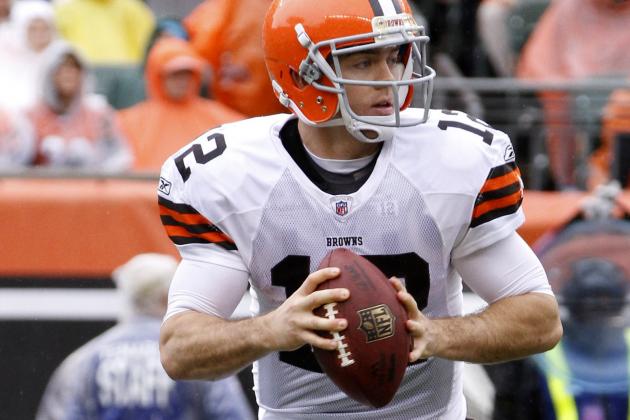 Tyler Barrick/Getty Images

Early in the season he was scanning the field. In most cases all year he waited until a WR came open to throw the ball. That is an indication he did not trust his receivers to get open.
The WRs were not able to get open in time. That led to him holding the ball too long.
He also has trouble with the speed of the game. That is not unusual for a first year QB. The game would have slowed down for him sooner with better protection.
As the season wore on and he accumulated more hits, he tended to abandon the progression and just throw the check-down. That resulted in the offense's inability to advance the ball.
By the end of his season he was staring down his receivers. That not only reduces the chance of a completion, but it also tends to get his receivers hurt. He was not reading his progressions because he did not feel he had time.
That resulted in more picks and defended passes because the safety read his eyes and came to double the receiver.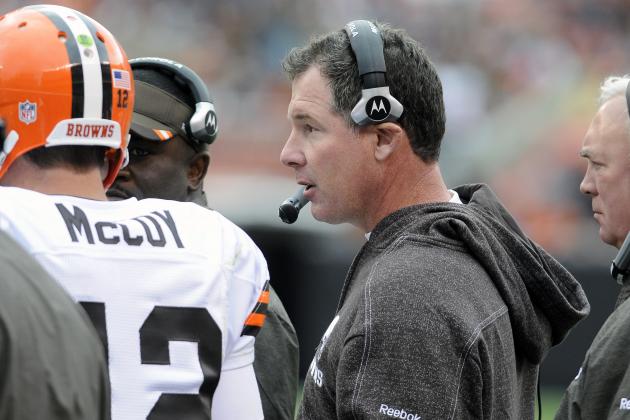 Jason Miller/Getty Images
Colt McCoy and Coach Pat Shurmur
It really doesn't matter what we think about Colt. Holmgren and Heckerd will make the only decision that matters. I think they have decided they want someone else to be the QB.
It is possible that the team will trade up to get Griffin, but I doubt that.
They will more likely bring in a low-priced veteran or take a rookie in the third or fourth round of the draft.
I believe USC QB Matt Barkley is the guy they really want. He has a background in the WCO and has worked more under center than any other QB in this or the next draft.
I think Colt can be a moderately successful QB in the NFL but is better suited to be a backup.
That is what I think. Tell us what you think.
If you are interested in Cleveland area sports, join me on the Internet radio version of News, Notes and Rumors M-Th at 6 PM EST on http://mooheadradio.com/2.0/.
Bill Smith is a former coach of several semi-pro teams, has done color on radio for college football and basketball and has scouted talent. He edits http://fryingpansports.com. He has also published several novels on http://www.eBooks-Library.com/Contemporary/ and a non-fiction work at http://www.merriam-press.com/.