2012 NFL Free Agency: 13 Free Agents Who Need to Stay Put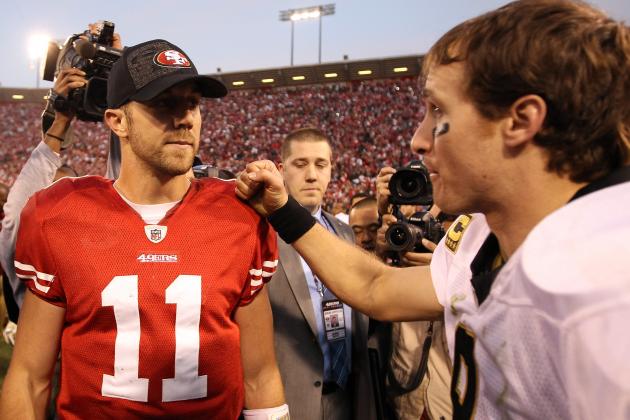 Ezra Shaw/Getty Images
Who will stay and who will go?
The NFL offseason is quickly approaching.
Front offices and coaching staffs are biting their fingernails in fear of losing key contributors to free agency.
Some players are looking for a change of scenery, while others will never find a better situation for their careers.
In recent memory, players like ex-New York Giants' receiver Steve Smith and former Tennessee Titans' defensive tackle Albert Haynesworth have proven why chasing the dollar is not the best career decision.
Sometimes, a fat contract in a questionable situation can put NFL success in the rear-view mirror.
That is why the following 2012 free agents should stay put with their respective teams.
Begin Slideshow

»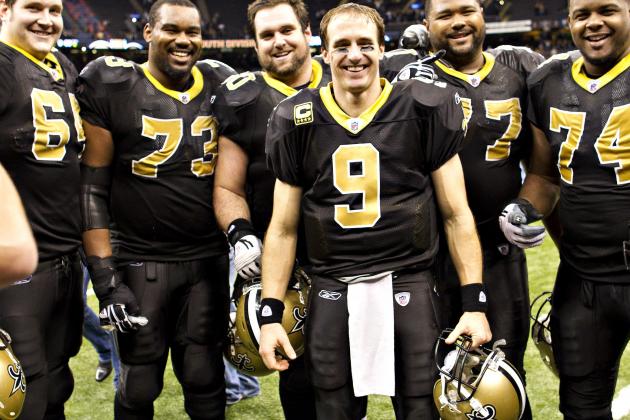 Wesley Hitt/Getty Images
Drew Brees has no reason to leave New Orleans.
Since quarterback Drew Brees joined the New Orleans Saints in 2006, it's fair to say his career has skyrocketed.
No. 9 has been voted to five Pro Bowls as a member of the Saints. He's been the NFC's Most Valuable Player twice and won the Lombardi trophy in Super Bowl XLIV against the Indianapolis Colts.
There's no chance Brees leaves "Who Dat Nation".
After all, where would he go? New York Jets? Miami Dolphins?
That's not going to happen.
The Saints' high-powered offense is what elite quarterbacks dream about. Head coach Sean Payton has a great rapport with the former Purdue Boilermaker.
With a great arsenal of weapons around him, Brees is a Saint for life.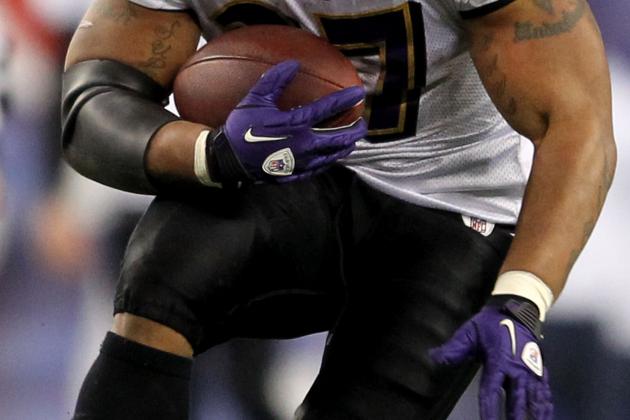 Jim Rogash/Getty Images
Ray Rice is the Ravens' best bet on offense.
If Ray Rice left the Baltimore Ravens, he would leave their offense in complete disarray.
The Rutgers alum is priority No. 1 for the purple and black this offseason.
It's hard to imagine head coach John Harbaugh letting Rice walk away when he's in the prime of his career.
Rice does everything for Baltimore.
In 2011, he had 76 catches for 704 yards and three touchdowns, pretty phenomenal for a running back. Let us not forget that he also added 1,364 rushing yards with 12 scores on the ground.
It doesn't take a great deal of observation to notice that quarterback Joe Flacco needs Rice to alleviate pressure from the passing game.
On another note, Rice would be hard pressed to find another team with such a feisty defense. In the case of the Ravens, their best offense is their defense.
For Rice, Baltimore is the place to be.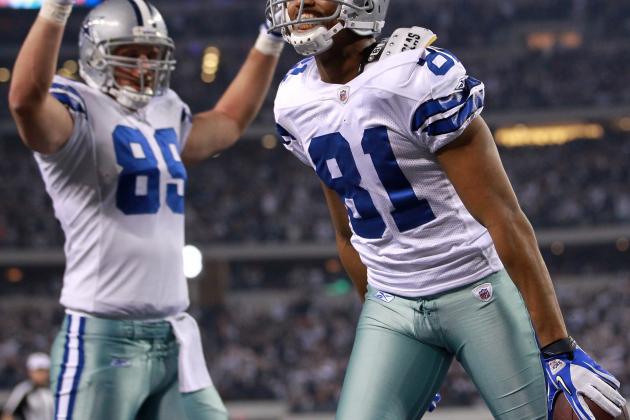 Ronald Martinez/Getty Images
Laurent Robinson has become a serious red zone threat in Dallas.
In Laurent Robinson's first four NFL seasons with the Atlanta Falcons and St. Louis Rams, he scored a total of four touchdowns.
In 2011 with the Dallas Cowboys, Robinson caught 11 touchdowns.
The Cowboys discovered this end zone threat when their top wide-out Miles Austin missed time due to injury. Needless to say, they didn't miss Austin as much as anticipated.
Cowboys' owner Jerry Jones has to love his receiving core. Jason Witten, Dez Bryant, Austin, and the 26-year-old Robinson all have a chance to thrive in this aerial attack.
It is in the Cowboys' best interest to keep this touchdown party going. Clearly QB Tony Romo likes the fifth year receiver from Illinois State.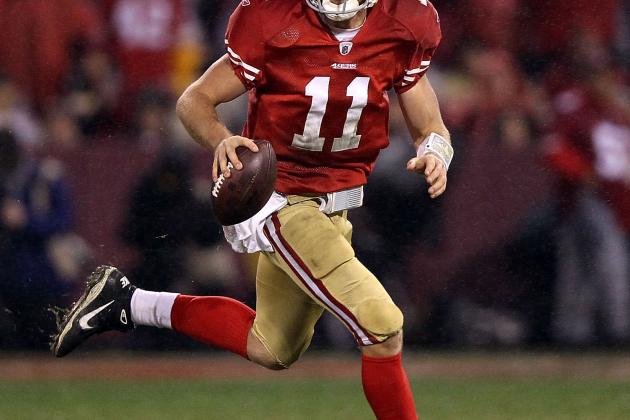 Ezra Shaw/Getty Images
Alex Smith finally found his groove in 2011.
The former first overall pick in the 2005 draft could have succumbed to his critics, instead the former Utah quarterback shut them up.
In his first five seasons, Alex Smith amassed 51 passing touchdowns and 53 interceptions.
In 2011, he passed for 17 scores and just five picks.
Forget the statistics, the fact that Smith led the San Francisco 49ers to their first playoff appearance since 2002 is what's most meaningful.
A touchdown pass from Smith to tight end Vernon Davis sent the New Orleans Saints home and the Niners to the NFC Championship Game.
The incredible play had many Niner fans thinking of "the catch" between Joe Montana and Dwight Clark.
Credit Smith, he could have left the Bay Area long ago for a backup job somewhere else. Yet, he had enough drive to play like he warranted his first round draft selection.
Is he Aaron Rodgers? Absolutely not, but Smith is a competitor and has rejuvenated football for San Franciscans.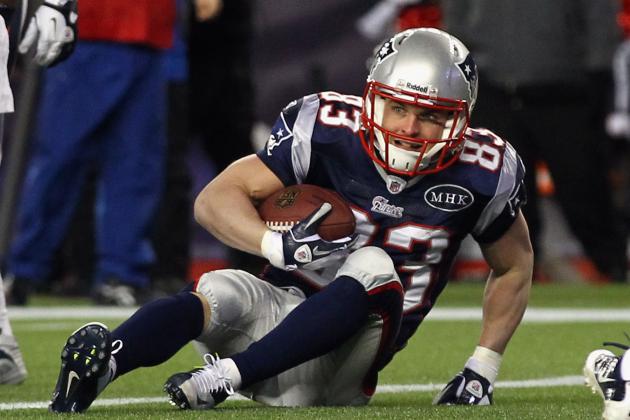 Al Bello/Getty Images
Wes Welker won't leave New England.
Wes Welker has become one of the most dependable receivers in the NFL.
It's hard to believe the little guy out of Texas Tech was let go by both the San Diego Chargers and the Miami Dolphins early on in his career.
Since joining the New England Patriots in 2007, Welker has caught an astounding, 554 receptions for 6,105 yards.
It's hard to imagine No. 83 leaving QB Tom Brady and coach Bill Belichick for another destination. There's no better place for Welker than Foxborough, Massachusetts.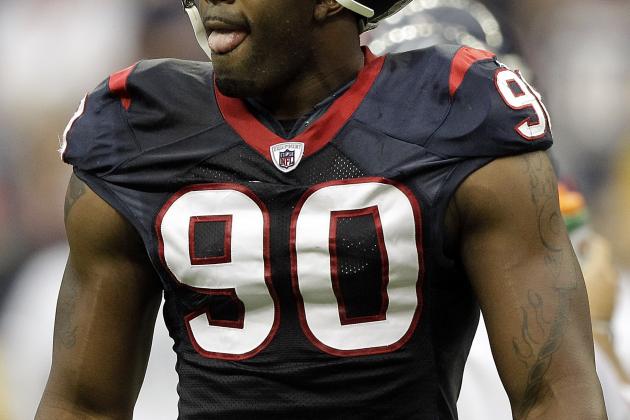 Bob Levey/Getty Images
Mario Williams should stay in Houston.
The No. 1 pick in the 2006 NFL Draft has had an impressive career in Houston.
Even when the Texans' defense was one of the worst in the NFL, Mario Williams put up great numbers: 48 sacks in his first five seasons.
Now the Texans' D is one of the best in the league and the team made the playoffs for the first time in history. So why wouldn't Super Mario want to return?
Since Williams tore a pectoral muscle early on in 2011 and was placed on injured reserve, his stock has dropped a bit. Expect to see Williams back in Houston for the 2012 season.
There's not many better situations for a pass-rusher than playing alongside guys like DeMeco Ryans, Brooks Reed, Johnathan Joseph, and J.J. Watt.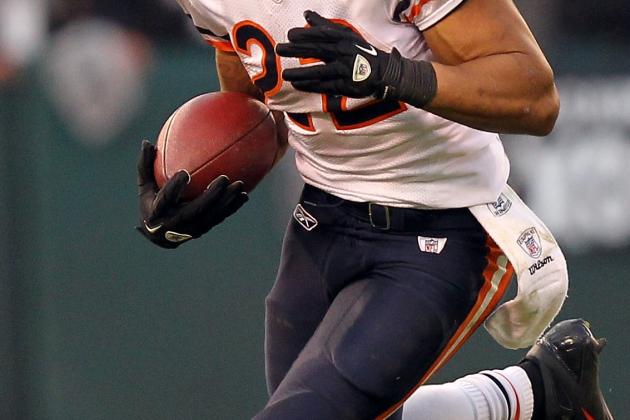 Ezra Shaw/Getty Images
Matt Forte is a stud in the Chicago Bears' backfield.
The 26-year-old Matt Forte has helped the Chicago Bears' offense not only with his rushing attempts, but also with his ability to catch passes.
The former Tulane star has 4,233 rushing yards in his four NFL seasons and also has caught 223 balls for 1,985 yards.
Streaky quarterback Jay Cutler needs No. 22 to stay in town. With a lack of reliable receivers, Forte is the pride of the offense.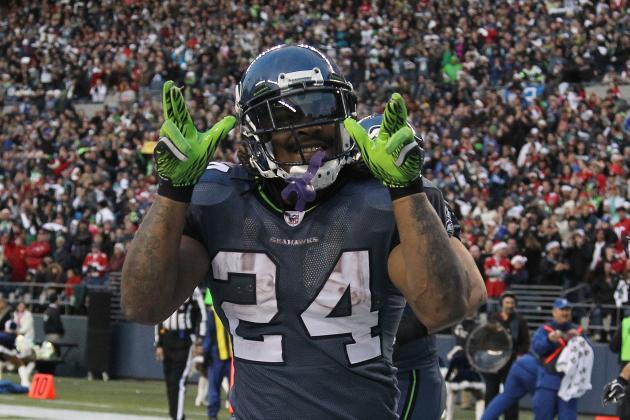 Otto Greule Jr/Getty Images
Marshawn Lynch knows he's valued in Seattle.
Skittles and all, Marshawn Lynch is the pacemaker in the Seattle Seahawks stagnant offense.
Ever since his "beast-mode" 67 yard scamper against the Saints in last season's playoffs, Lynch has been lighting defenses up.
Without a consistent quarterback in place, the former California Golden Bear took the reigns to the offense. This season, Lynch rushed for 1,204 yards and 12 TDs.
Early reports point to Lynch returning to Seattle in 2012, as he may be slapped with the franchise tag.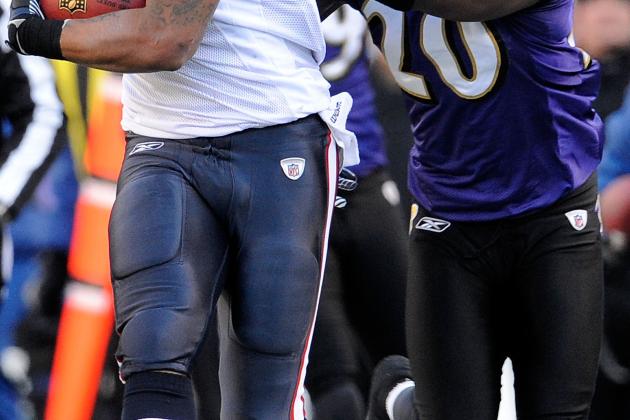 Patrick McDermott/Getty Images
Arian Foster was a diamond in the rough for the Houston Texans.
Arian Foster's underdog story has continued through the 2011 season.
The undrafted free agent out of Tennessee has been a true asset for the Houston Texans.
Since his promotion from the Texan's practice squad in 2009, Foster has been one of the top backs in the NFL.
Because Foster is a lock for over 1,000 rushing yards and over 600 receiving yards in a season, there's no way the Texans part ways with the restricted free agent.
At age 25, Foster's best years could still be ahead of him.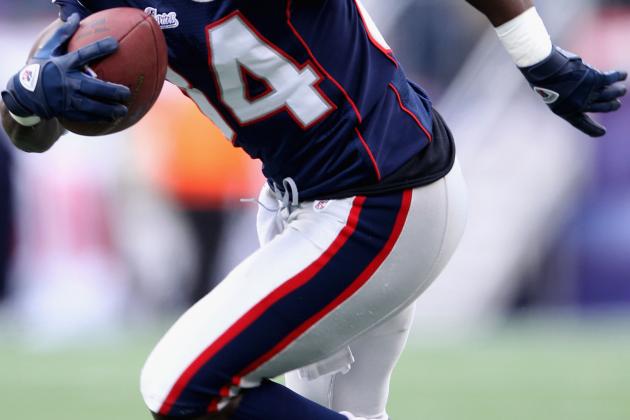 Elsa/Getty Images
Deion Branch is one of Tom Brady's most trusted receivers.
What happened last time Deion Branch left the New England Patriots?
The former Louisville Cardinal was stuck in Seattle for four disappointing seasons. Fading away on another mediocre NFL franchise doesn't seem like a route Branch wants to take again.
Tom Brady and Deion Branch have a great history together. Since 2002, they've been chipping away at defenses and going deep into the playoffs.
The Super Bowl XXXIX MVP has surged in New England and is a fan favorite. At age 32, it appears as though Branch wants to finish his NFL career where it started.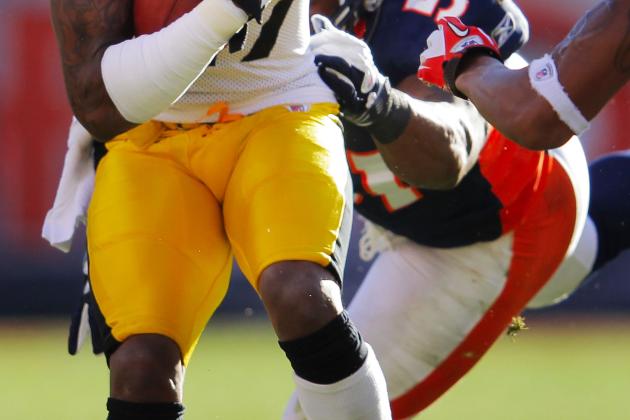 Doug Pensinger/Getty Images
Mike Wallace has been more than just a deep threat for the Pittsburgh Steelers.
Mike Wallace is a true speed demon for the Pittsburgh Steelers.
The receiver has had back-to-back 1,000 yard seasons and knows how to spread the field.
Quarterback Ben Roethlisberger relies on Wallace time and time again to get separation and haul in a big pass.
Although Pittsburgh has developed some other young wide-outs like Emmanuel Sanders and Antonio Brown, Wallace is still at the top of the receiving core.
As a restricted free agent, it's unlikely that the Wallace ventures elsewhere this offseason.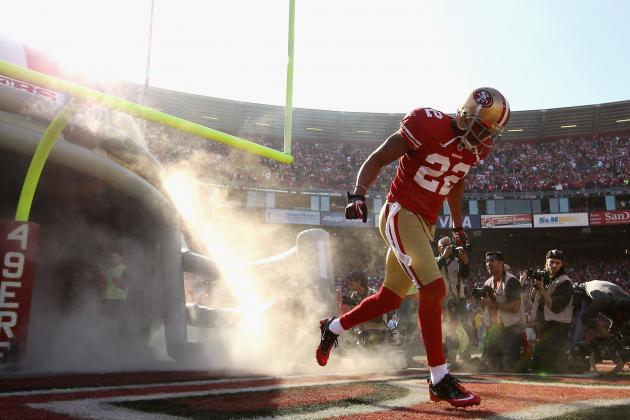 Ezra Shaw/Getty Images
Carlos Rogers has found a place he can call home.
Carlos Rogers finally showed why he was a first round pick back in the 2005 draft.
After six average seasons with the Washington Redskins, the cornerback stepped into the spotlight for the San Francisco 49ers this season.
Rogers intercepted six passes and played a vital role in the Niners playoff run.
San Francisco's defense is fearsome, and it looks as though Rogers wants to stay part of it.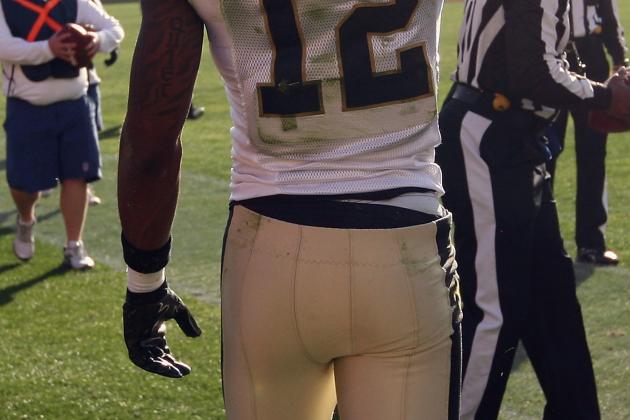 Ezra Shaw/Getty Images
Marques Colston is needed in New Orleans.
Marques Colston was an absolute steal for the New Orleans Saints back in the 2006 NFL Draft.
The former Hofstra receiver was a seventh rounder, while under-performing receivers like Chad Jackson and Sinorice Moss were taken in the second round.
Jackson and Moss are now out of the league.
Colston on the other hand has five 1,000 yard receiving seasons and is a Super Bowl champion.
Even though the football is distributed evenly in New Orleans, Colston still gets his chances to make plays.
Ultimately, there's no reason to believe No. 12 would want to stop catching passes from future Hall of Fame quarterback Drew Brees.