Super Bowl 2012: 4 Exciting Matchups Viewers Must Watch in NFL's Title Game
February 4, 2012

Ezra Shaw/Getty Images
Eli Manning vs. Tom Brady
Obviously the most obvious and publicized matchup of this Super Bowl is that of Giants quarterback Eli Manning versus Patriots quarterback Tom Brady.  
While one has Tom Brady as unquestionably already solidified himself in the Hall of Fame, Manning will look to do just that. 
Both quarterbacks have played in their share of big games and while Manning seems to be the hottest of the two right now, Brady is hard to pick against in a big game. 
Will Manning advance to 2-0 against Brady in the Super Bowl or will Brady obtain revenge?
Patriots Defensive Line vs. Giants Offensive Line
Every member of the Giants offensive line is aware that they will have to play better than they did last game against the 49ers if they want to beat the Patriots.  
While squeaking out a 20-17 overtime win in the NFC Championship Game, the Giants offensive line allowed Manning to be sacked six times and hit 12 more.  Luckily for them, Manning played unfazed, finishing with 316 yards, two touchdowns and no turnovers. 
On the other side of the ball, Patriots defensive tackle Vince Wilfork was a one-man wrecking crew against the Ravens. Wilfork bust through Baltimore's offensive line on numerous occasions, finishing with one sack, a quarterback hit and three tackles for a loss on the day.  However, with Wilfork listed at 6'2", 325 pounds, a free hit from him may not be quite as easy to bounce back from for Manning. 
The combination of David Bass, David Diehl and Chris Snee are going to have to find a way to slow down the Patriots' attack and protect their quarterback. 
Patriots Secondary vs. Cruz, Nicks and Manningham
The Patriots secondary is undoubtedly one of the team's top concerns going into this game. 
Having been a questionable area all season long, the Giants' three-headed receiving monster of Victor Cruz, Hakeem Nicks and Mario Manningham is likely chomping at the bit to give these guys a run for their money. 
Against the Ravens in the AFC Championship Game, Flacco totaled 306 yards and two touchdowns in the loss. 
Statistically, the Patriots defense finished 31st in the league for passing yards allowed this season, but on the other hand, they successfully relied on turnovers, finishing second in the league for interceptions with 23. 
However, relying on turnovers is definitely not a good plan against Manning who has eight touchdowns to one interception in the playoffs. 
Giants Defensive Line vs. Patriots Offensive Line
The Patriots offensive line has been their usual steady self in the postseason, allowing just one sack on Tom Brady.  On Sunday though, the Giants will serve them a big test as they have made it clear that their goal is to get to the quarterback.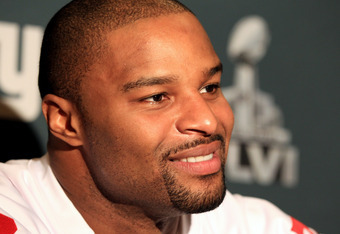 Scott Halleran/Getty Images
The relentless defensive end trio of Jason Pierre-Paul, Osi Umenyiora and Justin Tuck recorded two-and-a-half sacks, four hits on the quarterback and three tackles for a loss last game. 
Patriots offensive line coach Dante Scarencchia is sure to have his guys ready though, as he has not forgotten the five sacks the Giants recorded on Brady during their last Super Bowl matchup.