Boston Red Sox 2012 Rotation: There's a Big 3 Up Front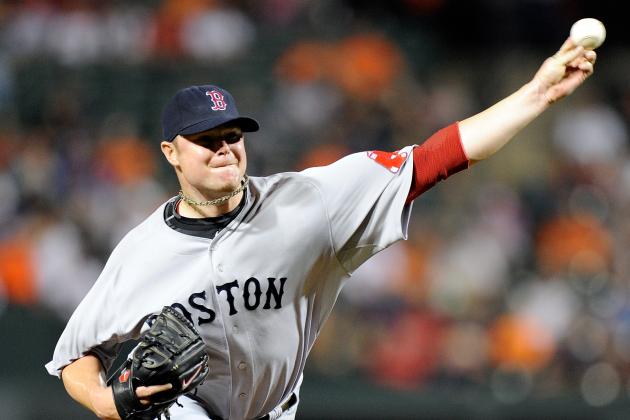 Greg Fiume/Getty Images
Jon Lester is one of the better lefties in baseball.
It's not that there aren't some legitimate questions about the Red Sox and their rotation heading into the 2012 season.
It's not that the two pitchers who eventually end up getting the bulk of the starts out of the number four and number five slots in the rotation won't have a dramatic impact on how the upcoming season pans out.
It's just that it's also important to remember that the first three slots in the starting pitching rotation otherwise known as "the heart of the rotation" for the bulk of major league teams is or could be pretty darned good.
Yes, John Lackey and Daisuke Matsuzaka are hurt, and no, the Sox never did land any of the high profile starting pitchers that dotted the free-agent landscape for just over three months.
John Maine, Vicente Padilla and Aaron Cook are on the list of potential back-of-the-rotation starters. It's the type of list that might elicit one of those "Who the heck are these guys??" types of statements as seen in the movie Major League.
There are three guys who will definitely start this season. In fact they're going to be called the "number one, number two and number three starters." They're pretty good too. Who are they? Well in case you forgot....
Begin Slideshow

»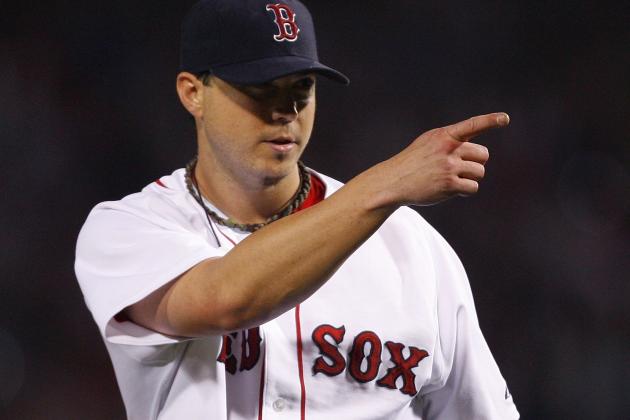 Jim Rogash/Getty Images
Josh Beckett dominated the Angels in the 2007 playoffs.
Beer and fried chicken might be some of the first things that some fans will think of when the name Josh Beckett is brought up but that would be a shame.
While not quite in the Roy Halladay or Justin Verlander class of starting pitchers make no mistake about it, Josh Beckett is one of the better starters in the American League. Very few teams would turn down a chance to have him in the rotation.
While the 2011 season ended poorly for Beckett the 2011 season as a whole was very impressive.
Fifth in the American League in earned run average, fourth in whip ratio and third in opponents batting average. Put simply Beckett was one of the toughest guys to hit in the American League in 2011 and that's all when a truly terrible September is taken into account as well.
Beckett is still only 31 and he's known for having an extremely competitive attitude. It's probably not a stretch to assume that Beckett may enter the 2012 season feeling as if he has something to prove.
Fairly or unfairly Beckett received a pretty good amount of blame for the September swoon of 2011 as well as the rampant rumors that swirled in the aftermath involving clubhouse drinking.
The Red Sox have a new manager for the 2012 season and even though as of now there's no reason to think that Beckett and Bobby Valentine have a bad relationship Valentine did at one time question the manner in which Beckett conducts himself on the mound.
Baseball fans and Red Sox fans in particular know the Beckett can be one of the most fierce competitors in baseball. Over the course of his career he's led two different teams to World Series titles.
He was only 23 when he hoisted the Florida (now Miami) Marlins on his back and led them to a World Series title by shutting down the New York Yankees in the Bronx in a legendary Game 6 performance.
Four seasons later he was wearing a Red Sox uniform and the Red Sox were winning their second series of the decade behind Beckett's dominating regular season and even more dominant post season performance.
There are a few pitchers in baseball that one could safely say are better than Beckett but Red Sox fans should still be happy he's at the top of the rotation as the 2012 season approaches.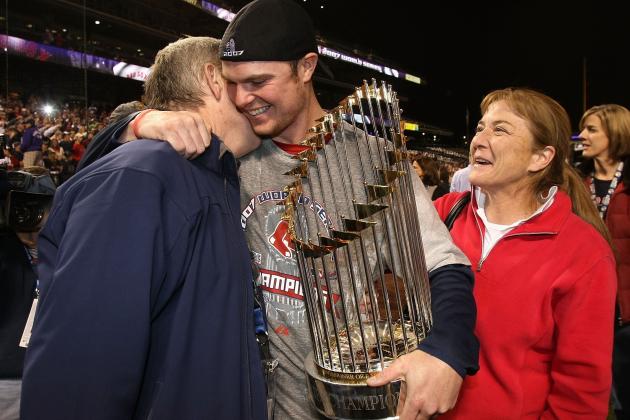 Jed Jacobsohn/Getty Images
Jon Lester only a year removed from treatment for cancer hugs both his parents and the World Series trophy following game four of the 2007 World Series.
Jon Lester has thrown a no-hitter, he's won a World Series, and he's beaten non-Hodgkin's lymphoma.
That's an impressive trifecta, and when one considers those victories and then takes into account that Lester is still only 28 years old, it's apparent that the "challenge" of bouncing back from that bad ending of the 2011 season may not be a tough road for Lester to traverse.
Lester has made the all star team the past two seasons in spite of moments of inconsistency. Lester still hasn't quite reached that point where he's at or near his best every time he takes the mound.
Still he's had four consecutive seasons of 15 or more wins. His earned run average has been under 3.50 in each of the last four seasons as well. Lester still has starts in which he struggles with his control, sometime those starts result in bad outings but more often than not Lester is a left handed pitcher that most teams would prefer to avoid.
The upcoming season will present a new set of challenges with a new manager to prove himself to. Lester seems like a good candidate to be up to the challenge.
Jim Rogash/Getty Images
If Clay Buchholz can stay healthy then he can be a very good pitcher.
Clay Buchholz burst onto the scene on September 1, 2007. That night against the Baltimore Orioles Buchholz, who was making just his second major league start, threw a complete game no-hitter. He was only 23 years old and his future looked as bright as any young pitcher in all of baseball.
The future still looks bright for Buchholz but in order for him to become the pitcher that fans and baseball experts all think he can become he's going to need to stay healthy.
That's been a problem for Buchholz.
First there were some growing pains in 2008 as Buchholz struggled with the sky-high expectations that a no-hitter will inevitably lead to.
Then there were injuries in 2009 and last season even more injuries, this time a nagging back injury which led to Buchholz missing all of the second half of last year.
In between there was a 2010 season in which Buchholz made 28 starts, was named to the All-Star team, won 17 games and sported an impressive 2.33 earned run average.
Clearly when Buchholz is healthy he can be a very good pitcher. Staying healthy has been an issue though.
At the end of December new Red Sox manager Bobby Valentine seemed very optimistic about Buchholz' health heading into the 2012 season.
Starting the season healthy is one thing, making it through the entire season is another. If he does stay healthy then Buchholz is a number three starter that could be a number two on many teams. Nothing wrong with that.