MLB: 5 Bold Predictions for the Detroit Tigers' 2012 Season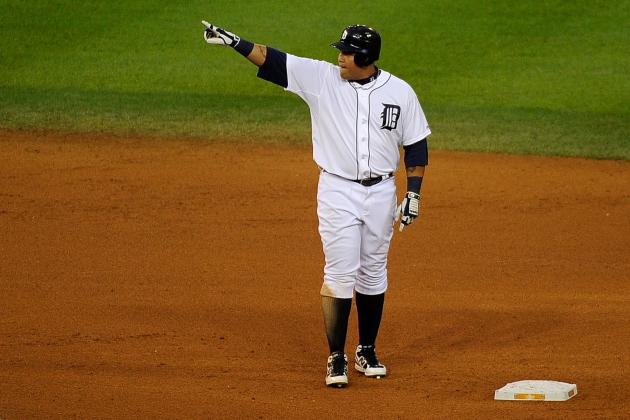 Kevork Djansezian/Getty Images

The Detroit Tigers are most likely to win the AL Central division with very little competition from the other division rivals—there is no arguing that. But what about the fine print? What could the Tigers do to shake things up? Will any of the lesser known players break out and become all-stars?
With no one expecting the loss of Victor Martinez to an ACL tear, truly anything could happen this year. I have made some bold predictions, and I am going to tell you why.
Begin Slideshow

»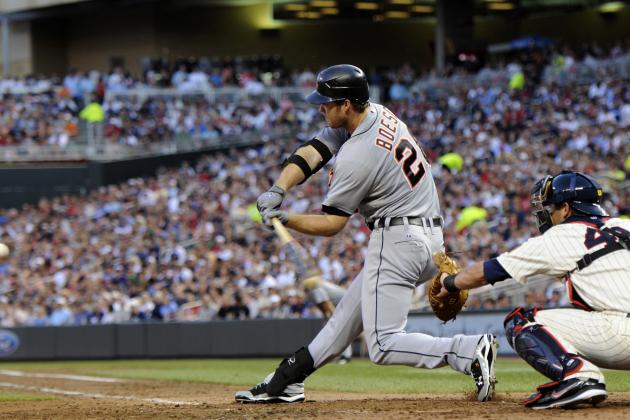 Hannah Foslien/Getty Images

Brennan Boesch is a five-tool player. He can do a little bit of everything, and without Magglio Ordonez blocking him in right field, he can do his thing all season long.
In terms of hitting, Boesch can hit for average and power. Last year, he posted an average BABIP and ground ball percentage suggests that he should not regress at all. He is also striking out less—that suggests he is building plate discipline. Overall, his sabermetric projection for 2012 is going to look like this:
550AB / 70R / 20 HR / 85RBI / .280BA / .340OBP / .460SLG / .800 OPS
Very productive numbers in my opinion.
His defense is average, but an improvement over Ordonez in right field. He is also a threat to steal a bit of bases in the season, something Ordonez could not do since 2001. Brennan Boesch is going to have a good year in Detroit.
Harry How/Getty Images

The last time Miguel Cabrera played third base was in 2008, and it lasted just 14 games. He committed so many errors and was so bad defensively, the Tigers moved him to first, and Jim Leyland never looked back.
Back when he was with the Marlins, Cabrera was costing the team about 20 runs a season on defense alone—that was when he was about 30 pounds lighter and four years younger.
In my opinion, every so often Miguel Cabrera is going to have to take a couple of days off from third base because he is either committing so many errors or the extra agility needed at third base will start to take its toll on his knees and back.
They still have Brandon Inge and Don Kelly to take over at the hot corner if he ever needs a day or two—or week—off from the position.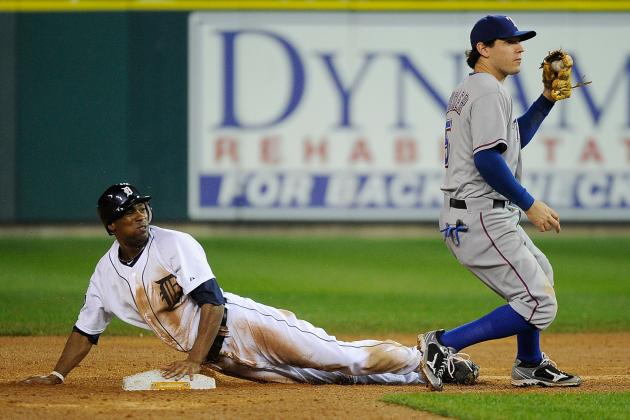 Kevork Djansezian/Getty Images

Austin Jackson followed up an impressive rookie season with a not-so-impressive one, falling victim to the sophomore jinx.
Last season, there were some bright points as he had started to walk more and took more pitches. With more plate discipline, there is reason to suggest a possible drop in strikeouts next season from his 181 in 2011. His sabermetric slash line looks like this:
550AB / 100R / 10 HR / 55RBI / .280BA / .340OBP / .390SLG / .730 OPS / 150 SO
Jackson has great fielding and some speed on the bases to go along with his improved slash line. Hitting behind Fielder and Cabrera, it is not a stretch to say he will score over 100 runs in 2012. The key to this projection is that he starts to learn the pitchers and strikeout less though.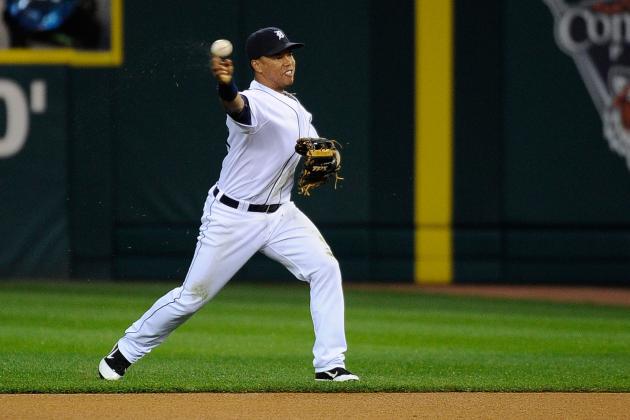 Kevork Djansezian/Getty Images

Ramon Santiago had an impressive second half in 2011 with a .295 BA and .816 OPS. He doesn't have the skill set to keep up those numbers for a full season though. My prediction is that he is going to struggle early on in the season, and the Tigers will trade for a second baseman before the trade deadline.
They could trade for a second baseman that has only one year left on their contract for as little as one prospect including:
Kelly Johnson - Toronto
Brian Roberts - Baltimore
Brandon Phillips - Cinncinati
Baltimore is, or at least should be, in rebuilding mode and would listen to offers for Brian Roberts. If he has a rebound year, you can bet he will be dangled by Baltimore. Kelly Johnson and Brandon Phillips will only be an option if Toronto and Cincinnati fall out of contention early before the All-Star break.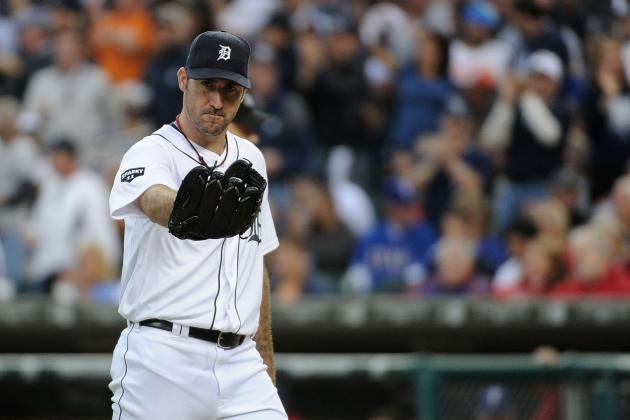 Harry How/Getty Images

WHAT?! That might be your reaction to this prediction, and you have a right to think that. Justin Verlander has been a consistent starter, pitching 200 innings or more in five seasons in a row. What could possibly change?
His consistency of a high workload is actually my reason for predicting this. Justin Verlander hits 29 this season, the considered aging zone for pitchers. It is actually scientifically proven that fast-twitch muscle fibers start to weaken between ages 25 through 30. His arm might not be able to handle 200 innings this season.
Strange thing is, that it has happened to other talented pitchers as well:
Roy Halladay
2002-2003: two seasons of 230+ innings pitched, wins Cy Young award
2004: Halladay placed on DL twice for right shoulder problems (Age: 27)
Pedro Martinez
1997-2000: four straight seasons of 200 innings pitched, 17+ wins a season
2001: placed on DL for rotator cuff injury (Age :29)
Adam Wainwright
2008-2010: has two Cy Young caliber seasons, wins 50 games
2011: misses entire season, undergoes Tommy John surgery (Age: 29)
Now I don't see Justin Verlander undergoing something serious like Tommy John, but he could miss a few starts with something like tightness in his throwing shoulder.