Where Does the Atlanta Braves' Outfield Rank in the NL East?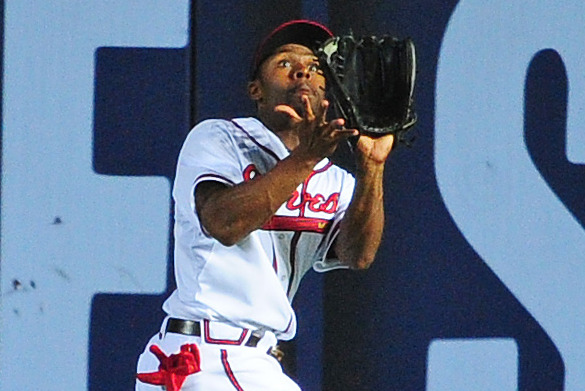 Scott Cunningham/Getty Images
Michael Bourn will spend a full season atop the Braves' lineup.
This season, Atlanta Braves fans were hoping to see some changes to the offense after the team's historic September collapse in 2011. The one area fans were hoping to see a change made was the outfield, or more specifically left field. As of now no changes were made, as the front office decided they are happy with the outfield for right now.
This article takes a look at the other NL East outfields, and where the Braves' group ranks within their division.
Begin Slideshow

»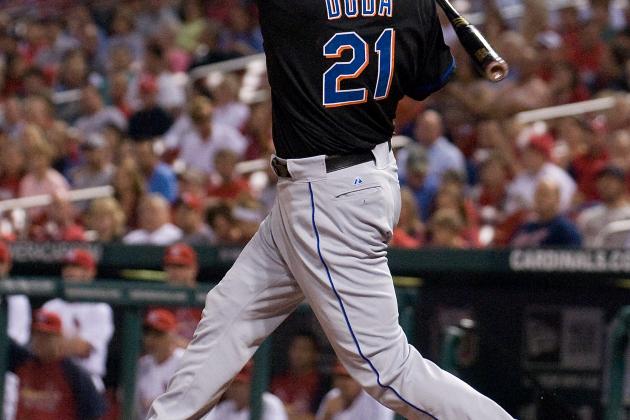 Jeff Curry/Getty Images
Lucas Duda was a surprise for the Mets last year.
In left field the Mets have Jason Bay, a veteran who has been a major disappointment since signing with the club in December 2009. At that time, Bay was coming off a season where he hit 36 homers and drove in 119 runs for the Red Sox and was viewed as a big addition.
In the 218 games he has played in New York, however, he has hit .251 with 18 homers. There's a chance he bounces back, but at age 33 it's not likely.
Offseason trade acquisition Andres Torres will patrol center. After he hit .268 with 16 homers and 26 steals in his breakout season with the Giants in 2010, he fell back to Earth last year. In 112 games last year he hit just .221 with four homers and 19 steals. He is 34 years old, so it's not likely that he returns to his 2010 form.
The Mets' biggest surprise from last season was Lucas Duda, a rookie that hit .292 with 10 homers and 50 RBI's in 92 games. Duda wasn't much of a prospect, so most didn't expect him to be more than a solid bench bat. Duda will spend this year in right field trying to prove that last year wasn't a fluke.
The fourth outfielder will be versatile veteran Scott Hairston, a journeyman that can play all three outfield positions as well as second base. Hairston is a career .244 hitter who has had five seasons with double digit home run totals. He's a very solid fourth outfielder.
The Mets' outfield just doesn't stack up well with the rest of the division. This group could potentially be worse than it appears, as Bay and Torres are older players with injury issues, and Duda may have been a fluke last season.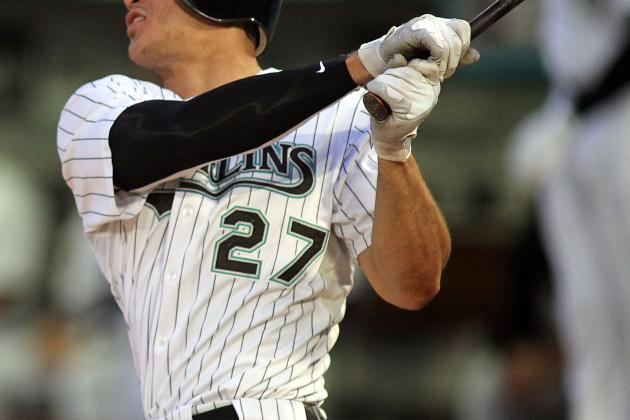 Marc Serota/Getty Images
Young slugger Mike Stanton could really break out this season.
The Marlins outfield is led by 22-year-old right fielder Mike Stanton. The youngster has already smacked 56 homers in his first 250 career games, and it wouldn't surprise anyone if he hit 40 or 50 this year. Stanton is still developing, but he's a legitimate cornerstone already.
Emilio Bonifacio spent most of 2011 at shortstop, but also saw significant time at third base and all three outfield positions. He's expected to be the starting center fielder, and will use his speed to help create runs.
Last year, he hit .296 with five homers and 36 RBI's while stealing 40 bases in 51 attempts. It was a breakout year for the speedster, but he is only going to be 27 years old this year, and also displayed improved on-base skills last year.
In left field, the Marlins have Logan Morrison. Morrison started out hot last year, but was injured early and never got back to that level the rest of the season. In fact, he made the news for comments on Twitter and a short-lived demotion than his play in the second half.
Overall he hit .247 with 23 homers in 123 games last year, numbers he should be able to surpass this year, as he will still only be 24.
The fourth outfielder is likely Chris Coghlan, the 2009 National League Rookie of the Year. Coghlan hasn't been the same player since that year, as injuries have limited him to only 156 games combined over the past two seasons. He doesn't have much power or speed, but when he's healthy he will hit for a solid average and get on-base often.
The best news for the Marlins is the fact that all of their top four guys will be younger than 27 this year. Just how good the group is depends on how much Stanton and Morrison develop and whether Bonifacio can repeat his successful 2010 season.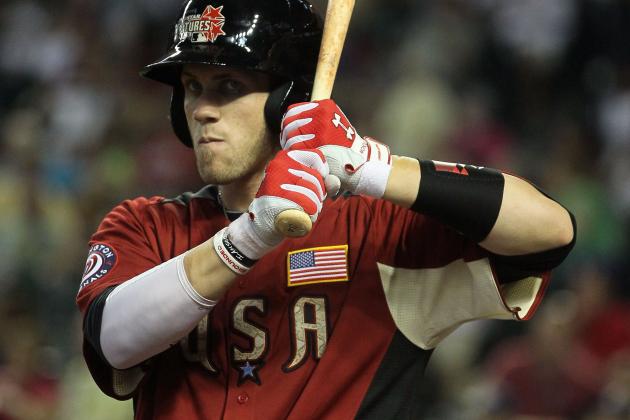 Jeff Gross/Getty Images
Bryce Harper could be a wild-card if he makes his big league debut this year.
The Nationals projected Opening Day outfield starts with Jayson Werth in right field. Prior to last season Werth signed a seven-year, $126 million contract after a strong four-year stint in Philadelphia.
So that makes his 2011 season a major disappointment, as he hit just .232 with 20 homers. While he was a bit better in the second half, he still only managed a .255 batting average. The Nationals need him to be closer to the player he was in Philadelphia if they would like to compete this year.
As of now, the Opening Day center fielder is Roger Bernadina. A career .242 hitter that has hit 18 homers and stolen 33 bases over 798 plate appearances the past two seasons, Bernadina looks like he may finally get a chance to play full-time over the course of a whole season. He's a solid, but not special player, and he won't hurt the team.
Mike Morse, who filled in at first base last year while Adam LaRoche was injured, is expected to play left field. Morse broke out last year when he hit .303 with 31 homers and 95 RBI's. It's not like the breakout was totally unexpected though, as he had a huge spring and some were calling for a breakout prior to that based upon what he did in 2010.
As long as Morse plays at the same level, and the peripheral numbers indicate that it's very possible, he could become an All-Star this year.
The fourth outfielder is a question right now. There are only two other outfielders on the 40-man roster, and Eury Perez will not make the Opening Day roster. While super-prospect Bryce Harper could make the team out of spring, he would be best served returning to the minors for a bit first. That leaves Mark DeRosa, a utility player that has spent most of his career playing in the infield, unless the club adds someone else via free agency.
This outfield is a little unpredictable as Werth may or may not rebound, Morse still has to prove he can replicate his stats and Harper may or may not provide an impact if he plays in Washington this year at age 19.
The outfield should at least come together as solid in the end, and there is a chance it could surpass Philadelphia and Atlanta as the best in the NL East—if they get the right breaks.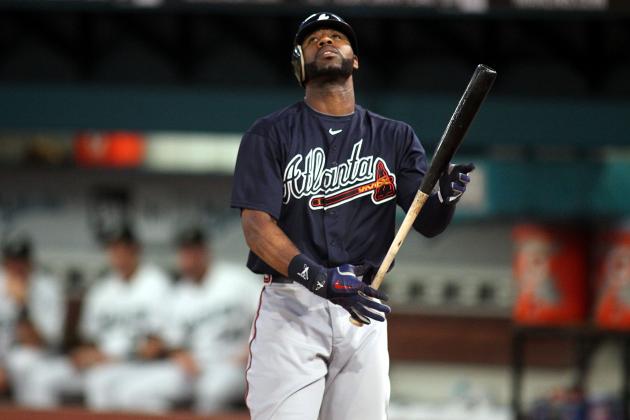 Marc Serota/Getty Images
Jason Heyward could enjoy a bounceback season in 2012.
The safest player in the Braves outfield is Michael Bourn, a two-time Gold Glove Award winner that has led the National League in steals in each of the past three seasons. Bourn has a great year last year, hitting .294 between Houston and Atlanta, and will give the Braves their first real leadoff threat since Rafael Furcal left town.
Over in left is Martin Prado. Prado struggled last season because of injuries, but hit .307 with 15 homers in 2010. He should be healthy, and that means he should be able to improve upon hit .260 average and 13 homers from last season. Prado isn't a middle of the order threat, but he is a very solid player that does a good job of making contact.
The right fielder is going to be Jason Heyward. After hitting .277 with 18 homers and 72 RBI's in 142 games as a rookie at age 20, he was expected to have a breakout season in 2011. So when he battled through more injuries and only managed to hit .227 with 14 homers and 42 RBI's, it was a major disappointment.
Heyward spent the off-season totally changing his approach and working hard on improving. While I won't call for a breakout season, Heyward should at least bounce back this year.
The fourth outfielder is expected to be split between Jose Constanza and Eric Hinske. Constanza, a career minor leaguer, was a huge surprise last year when he hit .303 over a 42-game trial in his big league debut. He started out very hot before coming back to Earth before the season ended. He isn't likely to repeat his 2011 production, but could be a solid big league reserve with his speed and defense.
Hinske is a corner utility player that will play some in right and left field in addition to first base. He's a power threat off the bench, as he has hit .246 with 21 homers and 79 RBI's in 584 at-bats over the past two seasons with the Braves. He's expected to provide the same type of production off the bench again.
The Braves look very solid, but have the potential to be a great group if Heyward can be the player everyone expected him to be in 2011. Bourn is an impact player atop the lineup and Prado is just a strong big league hitter when he's healthy.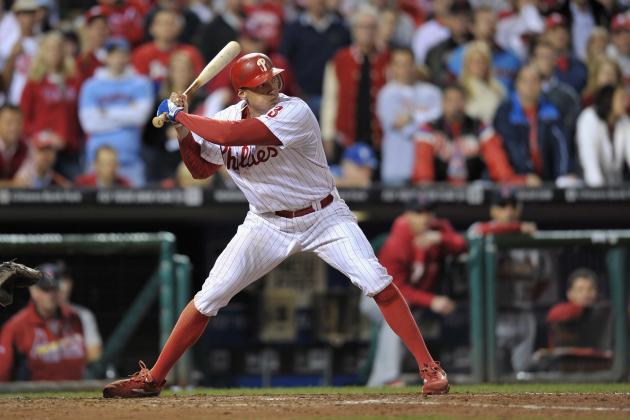 Drew Hallowell/Getty Images
Hunter Pence was great during a 55-game stint with the Phillies last season.
The best outfield in the NL East belongs to the Phillies.
The outfield wouldn't be here if it wasn't for a July deal for right fielder Hunter Pence. Pence hit .314 with 22 homers and 97 RBI's between Houston and Philadelphia last year, but it's his production in Philly that makes him such a stud.
Playing with a better lineup and in a good hitters park, Pence hit .324 with 11 homers and 35 RBI's over his last 55 games. While he isn't expected to hit at that same rate this year, it wouldn't be a shock it he did, either.
In center field is Shane Victorino, a two-time All-Star. Victorino hit .279 with 17 homers, 61 RBI's and 19 steals last year, in addition to a National League-leading 16 triples. This strong production came over the course of just 132 games, as he missed some time with an injury. He isn't just a producer with the bat, as he's also won a pair of Gold Glove Awards.
Victorino should continue to be among the best outfielders in the league again.
John Mayberry broke out last season. The former 19th pick of the 2005 MLB Draft hit .273 with 15 homers and 49 RBI's in 296 plate appearances last season. He really came alive in the second half, when he hit .299 with 10 homers and 30 RBI's in his final 54 games. The talent has always been there for Mayberry, and he will potentially get a full season worth of at-bats to prove he can play.
If Mayberry doesn't get the full season of at-bats, it's because Dom Brown beat him out for the job. The former top prospect isn't likely to be the fourth outfielder—as he would likely be sent to Triple-A if he failed to beat out Mayberry—but he has the potential to be an impact bat. Brown hit .245 with five homers in 184 at-bats last season, but he could easily hit .280 with 20 homers if he gets enough at-bats.
The Phillies outfield has a pair of All-Stars and another pair of players with some potential to be if things come together. The Phillies could drop a bit if Mayberry struggles and Brown doesn't produce, but overall the group will be strong because of Pence and Victorino.