Super Bowl 2012: Top Celebrity Picks for Giants and Patriots
February 4, 2012

Carlos Alvarez/Getty Images
By now, you and I have already made our picks for the Super Bowl. Some of us like the New York Giants, some of us like the New England Patriots.
But it doesn't matter what we think. We're not celebrities. We're regular folks. Normies, if you will.
Luckily for us, celebrities have cast their picks for the big game, too. Their picks are worth much more than all of ours put together.
Scripps Howard was kind enough to publish a list of celebrity picks. There are some heavy hitters on the list, and they're more or less split right down the middle between the Giants and Patriots.
Let's take a look at a handful of the very best, starting with the Patriots.
New England Patriots
Arnold Schwarzenegger: Patriots 31, Giants 24
"I can't pick against my neighbor, especially when he is playing at such a high level. Tom Brady will be the Super Bowl MVP."
I totally forgot Brady lived next to the Terminator. There's a little bit too much awesome in that neighborhood, wherever it is.
I applaud Ah-nuld for making a good political pick, but there's not much here in the way of football knowledge. You have to take his pick for what it's worth.
It can't hurt to have the best actor in the history of the world in your corner, though.
Jack Nicklaus: Patriots 31, Giants 28
How many games have the Patriots lost? Three. How many games have the Giants lost? Seven. I realize the Giants are hot right now, but over the course of a season I think the Patriots have performed better and I like their body of work. Eli is a great quarterback and I am a big fan. It just so happens I root for the AFC, because I am a long-time Dolphins' fan.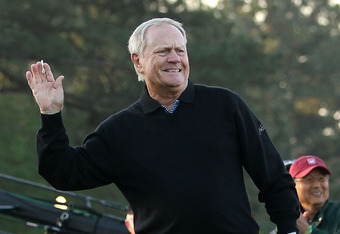 Andrew Redington/Getty Images
The Golden Bear neglected to mention (or perhaps didn't notice) that one of New England's losses was to the Giants. 
In addition, the Giants have looked like a better team than the Pats recently, and that's what really counts here.
Lastly, nobody gives a crap about the Dolphins. So says I, who has 18 fewer majors than Jack Nicklaus.
Paul Pierce: Patriots 35, Giants 17
"It all starts and ends with Tom Brady, but he will have support and contributions from many teammates. The defense will surprise a lot of people, too."
If Paul Pierce doesn't pick the Patriots to win, the city of Boston would cast him out. Picking against the Pats is almost as bad as picking against the Red Sox.
Still, you can tell "The Truth" knows his Patriots. Brady will need some help from the team's various role players and their defense has been playing better of late.
Not a bad pick, Mr. Pierce.
Abby Wambach: Patriots 27, Giants 17
"I'm a Buffalo Bills fan. It's really hard to root for the Giants."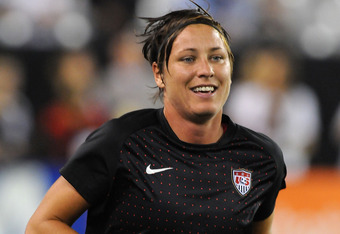 Norm Hall/Getty Images
If Abby Wambach is a Bills fan, shouldn't she be rooting against the Patriots? Aren't they division rivals?
She's probably confused because she plays the other kind of football. You know, the one that nobody cares about.
The rest of the known world isn't a real place, for the record. 
New York Giants
Arnold Palmer: Giants 28, Patriots 17
"Eli Manning is feeling his oats. I think he will have a good game in the Super Bowl."
I don't know what it means for one to feel one's oats, and I don't want to look it up either. I'll trust that it's a good thing.
Despite my ignorance of the expression, I think I understand what Arnold Palmer is saying here. Manning is playing as well as he ever has right now. I think he'll have a good game in the Super Bowl, too.
If he does, he should celebrate by having an Arnold Palmer with Arnold Palmer.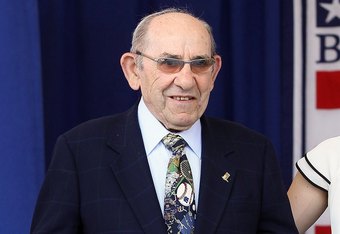 Jim McIsaac/Getty Images
Yogi Berra: Giants 23, Patriots 20
"Better defense should be the difference."
This is absolutely true, but I'm a little disappointed. You'd think Yogi Berra would say something like, "Better defense should be the difference, so the Giants will win because they have a better offense."
Dick Vitale: Giants 27, Patriots 21
"Eli Manning is going to stand tall, and [the Giants] defense is going to contain Brady and control the offensive schemes of the Patriots."
Palmer says Manning is feeling his oats, and Dick Vitale says he's going to stand tall. These celebrities have been reading too much Lewis Carroll. 
Pretty good football analysis from Dickie V, though. The Giants likely will control what the Patriots will try to do offensively.
That's the object of the game of football, you see.
Haley Joel Osment: Giants 34, Patriots 31
It's just destined to be won at the last second by a field goal. I still beat myself up over my 2008 pick; I should have never doubted my team! This time, they're an even better squad and, in particular, the Patriots defense has no chance against our receivers. Go G-Men!
Dude, Haley Joel, whatever happened to you, man?
He's probably been off devising some fiendish device that accurately predicts Super Bowl winners. He's picked 11 of the last 12, with the only miss being Super Bowl XLII.
Therefore, he'll probably miss again here. The Giants should consider themselves doomed.