NBA Rumors: Lakers Signing Gilbert Arenas Would Be a Wrong Turn for LA
February 4, 2012

Sam Greenwood/Getty Images
It has been a roller coaster of a season thus far for the Los Angeles Lakers. The team has been on and off in their play this season, and despite coming off of back-to-back 106-point performances, many still believe the team, and more important Kobe Bryant, are in need of help.
One player who has yet to be signed and remains to be talked about is Gilbert Arenas.
According to Alex Kennedy of Hoopsworld.com, there apparently is a mutual interest between the Lakers and the aging former star guard of the Washington Wizards.
In all honesty, this is just a terrible move for coach Mike Brown's team. The team is hurting, and there is no doubt about that. One thing they don't need though is a player like Arenas, who isn't a true point guard or a consistent scorer.
Arenas isn't going to score unless he is given a plethora of opportunities. With Bryant, Gasol and Bynum all getting touches, there is just no way that he is going to get the amount of opportunities to actually put up points.
Back in the day—as in the mid 2000s—Arenas was good for shooting at least 42 percent for a majority of his seasons.
In his last season with the Orlando Magic, where the heavy scoring load was taken off of him by center Dwight Howard, Arenas still struggled mightily by only shooting 34.4 percent while adding just eight points per game.
Is that really going to help the Lakers?
Not really. And it isn't that the Lakers don't need help, because they do. Point guard Derek Fisher is only adding 5.7 PPG, while additions like Jason Kapono have been invisible.
Especially with Steve Blake still sitting out with an injury to his ribs, the Lakers are running extremely thin in their depth at guard.
Arenas just isn't that guy. All he would be is just another one of those guys.
Could he come back and play like he did for those 32 games back during the 2009-10 season where he scored 22.6 PPG while dishing 7.2 assists? Maybe, but he just didn't look like that player last year for the Magic, especially playing the bench role.
The Lakers need someone who can add a good amount of points off the bench with little time on the floor.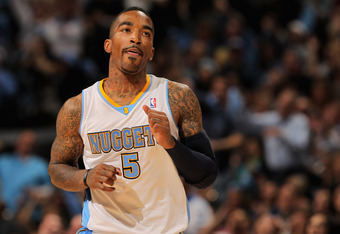 Doug Pensinger/Getty Images
A player who would better suit this team, and fulfill just that role, is a guy like J.R. Smith because he can come in and just score, but he doesn't demand the ball like Arenas does.
Smith is coming off of a good season with the Denver Nuggets, scoring 12.3 PPG while shooting 43.5 percent from the floor and 39 percent from beyond the arc.
Since he is still in China, the Lakers may not have the patience to wait on that to happen. He is worth the wait, though, as he is a much better fit for what this team needs.
Arenas, although a nice initial thought, just ultimately isn't the right piece to this puzzle.
Jeff Chase is a Featured Columnist for the Chicago Cubs and Arizona State football.