Patriots vs. Giants: Tom Brady Launches into Joe Montana Territory with Title
February 2, 2012

Elsa/Getty Images
There have been only two quarterbacks in the history of the NFL with more championships than New England Patriots quarterback Tom Brady—Terry Bradshaw and Joe Montana.
Montana has long been the measuring stick for quarterbacks. He's the Michael Jordan of football. To even suggest anyone comes close is opening yourself up to massive criticism.
But, as a die-hard San Francisco 49ers fan, I'm ready for the criticism: If Brady wins his fourth championship against the New York Giants on Sunday, he enters Joe Montana territory.
First it must be said that Montana played when NFL rules were much less stringent on defenses. Up until recently, physicality was almost standard among defenders in the NFL.
But it also must be said that Brady has never had the defenses Montana had during his career. There's something to be said about that.
Brady also has a significantly better touchdown-to-interception ratio. While Montana passed for 273 touchdowns and 139 interceptions, Brady has already passed for 300 touchdowns and 115 interceptions.
Brady also has a 14-5 record in the playoffs. Montana had a 16-7 record in the postseason.
And while Montana had 31 fourth-quarter comebacks (Brady has 25), Brady has two more game-winning drives than Montana (35 to 33).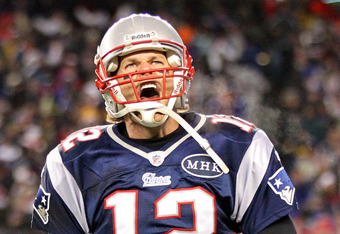 Jim Rogash/Getty Images
It's almost blasphemy to include Brady in Montana's territory, especially for 49ers fans—but if you look at the overall picture there are certainly cases for Brady.
Brady cannot be considered in the same class as Montana if he loses for the second time in four years to Eli Manning and the Giants. But if he wins his fourth title, especially if he wins his third Super Bowl MVP, it's time to start breaking the mold and considering him in Montana's company.