Boxing World Reacts to Death of Angelo Dundee, Legendary Boxing Trainer
February 2, 2012

Angelo Dundee, the legendary boxing trainer who was every bit as talented if not as colorful as his most famous proteges, died Wednesday at his home in Tampa, Fla.
As a cornerman, Dundee lead Muhammad Ali and Sugar Ray Leonard to the pinnacle of boxing in the '70s and '80s, a time many consider boxing's last great golden era.
At the age of 90, Dundee was hospitalized for a blood clot last week but was released recently and returned to his Tampa home before passing away Wednesday surrounded by family.
Dundee, the master trainer, was boxing's last great ambassador, a man whose knowledge and integrity were without question. Today he is remembered by fans, fighters and boxing greats across the world.
"He was one of the nicest people you'll ever meet. Nobody wasn't touched by him, didn't enjoy that chance encounter—oh, and P.S.—he was a great trainer, too," said boxing historian Bert Sugar, who wrote a book with Dundee, View From the Corner.
"Nobody knows what a great trainer is. It has more sides than a Rubik's Cube, but Angelo seemed to make it  work," said Sugar, reached at his New York home Thursday morning.
Dundee taught hundreds of boxers the value of the left jab, a lost art in the last 20 years. But more importantly, he taught them how to be gentleman.
"It doesn't cost anything more to be nice," Dundee often said.
Dundee, the master motivator and ring technician, was in the young Ali's corner (then known as Cassius Clay) for his famous upset of Sonny Liston in 1964, for Ali's three historic bouts against Joe Frazier and every match along Ali's storied career.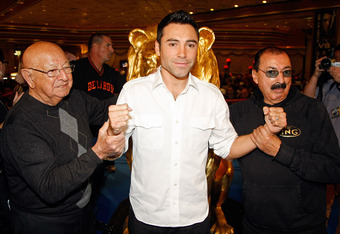 Ethan Miller/Getty Images
George Foreman faced off against Ali (and Dundee) in the epic Rumble in the Jungle in 1974.
Before the fight Ali bragged about how he would win with speed and endurance, but early on he turned to what became known as the "rope-a-dope."
Ali wore Foreman down, eventually winning by TKO in the 8th round.
After the fight, Foreman accused Dundee of "loosening the ropes" to aid Ali in ducking Foreman's punches.
But today Foreman had nothing but good things to say about Dundee.
"He was the king of cornermen, the best there was," said Foreman. "And, he was the nicest guy you could meet, a real human being."
When Foreman started his comeback in 1987 he started with his own team.
"I had my own guys, I thought I knew everything I needed to know," said Foreman, who is in Arizona for his son, George III''s, headlining bout with the New Legends of Boxing at the Cocopah Casino.
But in the early 1990s, as Foreman edged closer to an eventual title shot, he turned to the man opposite him during that fateful night in Zaire 20 years earlier.
"I knew I needed the best, I needed Angelo," said Foreman, who regained his title by knocking out Michael Moorer in 10 rounds at the MGM Grand after trailing badly on all three cards.
"I couldn't have done it with Angelo. He made that possible," he said.
In 1976, Dundee took on Sugar Ray Leonard, who won junior welterweight gold in the Summer Olympics that year.
Dundee managed and trained Leonard, carefully selecting his matches until Leonard won his first title against Wilfred Benitez as a welterweight in 1979.
With Dundee by his side, Leonard would go on to take part in some of boxing's most memorable matches, including his 1981 title fight with Tommy Hearns, in which Dundee could be heard yelling, "you're blowing it, son, you're blowing it," as Leonard fell behind early, only to win by knockout in the 13th round.
Hearns' longtime trainer, Emanuel Steward, said Dundee was the trainer by which all other trainers are judged.
"What made him special is Angelo knew how to work with the personalities, he was great with them, he knew how to treat people," said Steward, reached at his Kronk offices Thursday.
While boxing fans will always remember the Hearns-Leonard bouts, Steward says the moments that defined Dundee often came out of the spotlight and outside the ring.
He says perhaps his greatest memory of Dundee came in between those two epic battles, after Hearns fought a relative no-name, Ernie Singletary in the Bahamas.
Singletary cut Hearns late in the bout, opening a gash that clearly required stitches. After the bout Steward drove around for over an hour looking for a hospital to treat Hearns but could not find one. 
"It was a like a third world country," Steward said.
Finally, in frustration he returned to his hotel room to make some phone calls and reevaluate his options. Waiting there in the lobby was Dundee.
"I hear you need some help with Tommy," Dundee said.
The two, with Hearns in tow, retreated to Steward's room, where a plastic surgeon — who Dundee always had on standby for his fighters — came to tend to Hearns' bloody gash.
"The (doctor) cut a hole in a pillowcase, put it over his eye, and went to work. A bottle of whiskey and about 100 stitches later, Tommy was fixed up," said Steward.
"That's the kind of guy Angelo was," Steward said. 
Lou Duva, who himself trained more than 20 champions — some who faced off against Dundee boxers — said Dundee was the consummate boxing man.
"He was a good guy and he couldn't do enough for boxing or a boxer," said Duva, who still trains a select few fighters today at the age of 88.
Dundee would always offer advice to other fighters, whether they were in his camp or not, Duva said.
"He always found time to help somebody else, some other boxer out, to help someone that was in trouble that needed a hand," said Duva.
Dundee prepared Leonard for one of the most amazing shutdowns ever, when he forced the notoriously tough Roberto Duran to quit in Leonard-Duran II, the November 1980 rematch, known today as simply, the "No Mas" fight. Duran, known for his "hands of stone," quit like a dog in the 8th round, saying he would not fight anymore.
Dundee was inducted into the International Boxing Hall of Fame in 1994 after training 25 world champions, including Ali, Leonard, George Foreman and many more.