NBA Trade Rumors: What Could Cavaliers Get from Lakers for Ramon Sessions?
February 2, 2012

Kevin C. Cox/Getty Images
As first reported last week by Yahoo! Sports, the Los Angeles Lakers have shown interest in Cleveland Cavaliers guard Ramon Sessions.
And why shouldn't they? The Lakers have often times looked old and slow this season, with Kobe Bryant logging heavy minutes for an L.A. team desperate for another playmaker.
They rank 19th overall in the NBA in scoring at only 93.6 points per game. Derek Fisher is 37 years old and dragging along a player efficiency rating of well below average at 9.54.
Obviously, L.A. could use an upgrade.
Enter the Cavaliers, who already have their point guard of the future in Kyrie Irving and also possess a pretty darn good backup in Sessions.
His stats for the year read like this: 9.0 points, 3.1 rebounds and 4.6 assists per game in 22 minutes off the bench. 
Inflate these to starters minutes of about 36 per game and his stats look much better. Sessions' possible 14.5 points, 5 rebounds and 7.5 assists per game would be a welcome upgrade for the Lakers.
Keep in mind that Sessions has had a down shooting year at only .348 percent. This number should begin to crawl back up, though, only increasing his points per game.
With all of this being said, why would the Cavaliers want to give up someone so valuable?
A couple of reasons.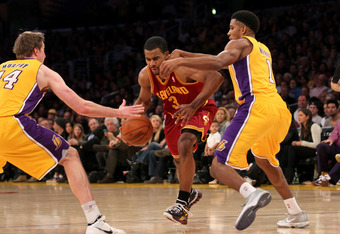 Stephen Dunn/Getty Images
One, Sessions knows that as long as Kyrie is healthy, he's doomed to a bench role in Cleveland. At only 25 years of age and with an ever-improving game, Ramon should be seeking a starting opportunity.
He can pursue this opportunity after this season, as he holds a player option on his contract for next year at about $4.6 million.
While it's entirely possible Sessions could exercise this option, I wouldn't be surprised if he decided to hit the open market and pursue a starting job elsewhere.
I would love the Cavaliers to offer Sessions a four- or five-year, $20-$30 million extension as a sixth man to run the second team offense, but there has been no talk of that.
So, should the Cavs deal arguably their best trade piece to the Lakers? Let's take a look at what L.A. would have to offer...
First off, the Lakers own their first-round pick for this season, which will likely fall around No. 18-22 where some NBA mock drafts predict players like Austin Rivers, James McAdoo and Kendall Marshall to go. If I'm the Cavs, I demand that pick for Sessions.
In terms of money, the Lakers are waaaaaay over the salary cap, but have a $8.9 million trade exception they acquired by trading Lamar Odom to the Dallas Mavericks. This would more than cover the $4.3 million Sessions is owed this year, so they wouldn't have to worry about matching up salaries.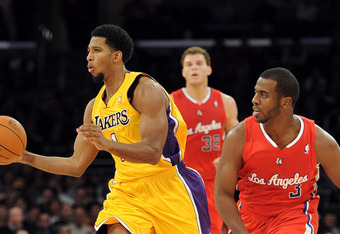 Harry How/Getty Images
So, would a mid to late first-rounder be a fair trade for Sessions?
I think they could get more.
In terms of young talent that the Cavaliers would also be seeking, L.A. doesn't have much to offer. The three likely candidates on the Lakers' roster would be Devin Ebanks, Darius Morris and Andrew Goudelock.
All are 23 years old or younger with limited experience in the NBA, so it's unclear what you'd get with any of them.
Ebanks is a second-year forward from West Virginia who began the season as the Lakers' starting small forward only to lose the job to Matt Barnes.
Morris was the Lakers second-round draft pick this past June and for a while was L.A.'s primary point guard off the bench.
Goudelock was another second-round pick and is probably playing the best out of the three, logging 15-23 minutes per game over the last four contests.
Would one or two of these players along with a first-round pick be enough for the Cavaliers to trade Sessions? Maybe, if Chris Grant and company see something they like in one of those three.
Here's what a final trade could look like:
Los Angeles Lakers Receive: Ramon Sessions
Cleveland Cavaliers Receive: Andrew Goudelock, Lakers' 2012 first-round pick, $4.3 trade exception
If Grant feels Sessions is going to leave anyway, why not pull the trigger on this deal? The Cavaliers would get two young players instead of nothing.
If he believes Sessions will exercise his players option then it would be wise to hold onto Ramon, even if only for one more year to let the 25-year-old increase his production and trade value.
In the end, I think a deal could be reached, but Cleveland should take their time and make sure they get the best offer possible for such a talented player.