Arsenal vs. Blackburn: 10 Bold Predictions for This Crucial Fixture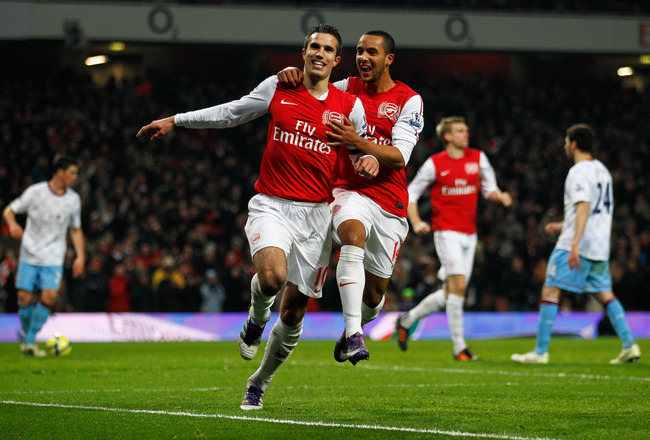 Paul Gilham/Getty Images
Arsenal will take on Blackburn at the Emirates on Saturday in a very important encounter for both clubs. The Gunners are in poor form securing only one point in four games and they need to win this game in order to get their season back on track.
With so much competition in front of them, they need to be consistent and will hope to win against relegation strugglers Blackburn Rovers. Arsenal created many opportunities against Bolton in the previous game but failed to clinically finish them, which eventually led to them dropping points.
Blackburn have come under huge pressure from their own supporters, but they have been decent in the last few games, including a win against Fulham. It will be difficult for them to get points against Arsenal, but they will know that it is possible to win against the Gunners having beaten them at home earlier in the season.
It will be an interesting game at the Emirates. Here are 10 predictions for this Premier League encounter.
Gunners to Win Comfortably Against Blackburn at the Emirates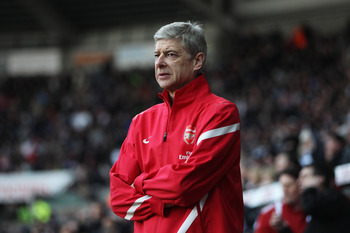 Michael Steele/Getty Images
The Gunners have not won a single league game in 2012 and have obtained only one point in four games, which is a very poor return for a club like Arsenal. They ended the last year with plenty of optimism and have had a dismal start to 2012.
However, with Chelsea and the rest of the clubs still in touching distance, Arsenal do have the chance to close the gap if they can find their form and put in consistent performances. They have a great opportunity to get the result they want against Blackburn, who have struggled throughout the season.
Arsenal are desperate for results and Wenger will most probably field his strongest side against Blackburn. He will expect no less than a win in a home game that they are expected to win. Though Blackburn are likely to put up a fight, they do seem to miss the goal-scoring threat of Yakubu, who will be serving the last game of his ban against Arsenal.
This is a very vital game for both teams for varying reasons. Arsenal will go into the game expecting to take all three points from this fixture.
Robin Van Persie to Score and Reach the 20-Goal Mark This Season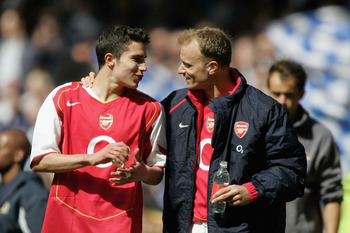 Clive Mason/Getty Images
Robin van Persie has been in sensational form this season and is currently the league's leading goal scorer with 19 goals this season.
The Dutchman, who has suffered many injuries during his Arsenal career, has enjoyed the responsibility of being appointed as the captain of the side and has lead from the front. He is not a typical poacher type of a striker but his intelligent runs into the box means that he is able to get at the end of crosses and other openings to convert them.
His movement is excellent, which is why it is very difficult for defenders to mark him. Also, he is very good on the ball supplying many sumptuous passes to others, though many in the current team have not been clinical.
If Van Persie does score at Blackburn, he will overtake the number of goals scored by his compatriot Dennis Bergkamp, who is considered a Arsenal legend. Gunners fans will hope that he does score goals in the next game and continue his form till the end of the season.
Tomas Rosicky to Start Ahead of Aaron Ramsey for the Blackburn Game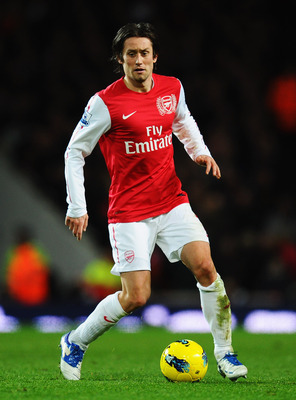 Mike Hewitt/Getty Images
Aaron Ramsey is one of the most talented Arsenal players currently at the Emirates and he has been ever-present for the Gunners this season. It is perhaps surprising that he has played so many games since coming back from a long-term injury.
Ramsey has performed superbly in many games this season but has looked fatigued and out of form in the last couple of games, which is why he could be benched for the game against Blackburn.
Tomas Rosicky did play some games for the Gunners during Arteta's injury and has shown that he can be a very effective player in midfield. His experience and technical ability could be very useful in breaking down stubborn defenses. There is not much risk in starting the Czech midfielder ahead of the Welsh captain for this game.
Ramsey could do well with much-needed rest, which will help him come back even stronger.
Blackburn to Score a Goal in This Fixture at the Emirates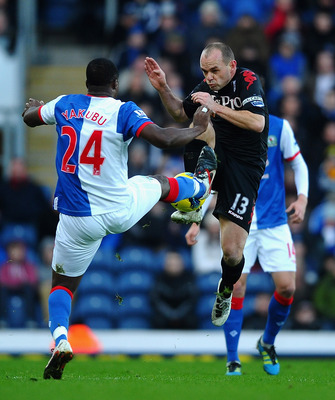 Laurence Griffiths/Getty Images
Blackburn have shown good fighting spirit and desire in the last few games, especially in their victory against Fulham after the sending-off of Yakubu. They find themselves still in the relegation zone but have the ability to stay up this season.
Though the "Yak" will be missing for Blackburn, they do have physical players to trouble Arsenal's defense, which has been far from solid.
With Thomas Vermaelen most likely to continue as the left-back, Laurent Koscielny and Per Mertesacker will be the centre-backs for the game. They could be targeted by Blackburn, who are certain to provide a difficult challenge for the back line.
Though Arsenal could handle them well, they could once again not get a clean sheet—even if they are only small mistakes—because Blackburn will need to capitalize on their opportunities this season.
Blackburn's David Hoilett to Cause Problems for the Gunners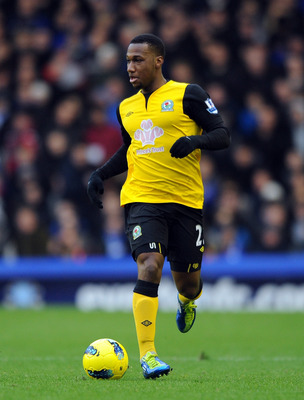 Chris Brunskill/Getty Images
Blackburn's David Hoilett is one of their best players and they would be happy that they managed to hold on to him in this January transfer window. The youngster is sure to attract many big clubs if he continues to perform consistently.
Blackburn will need him to be at his best for them to avoid relegation. Hoilett could cause them problems for the Gunners.
The Gunners' back line has not been very solid, though the return of Bacary Sagna has certainly helped. Hoilett, if he plays on the left, could come up against Sagna and it will be an interesting contest because the Frenchman is one of the best right backs in the world.
Hoilett's pace could be utilized if he can isolate Per Mertesacker. He could be the main attacking players for Blackburn.
Alex Oxlade-Chamberlain to Score His First League Goal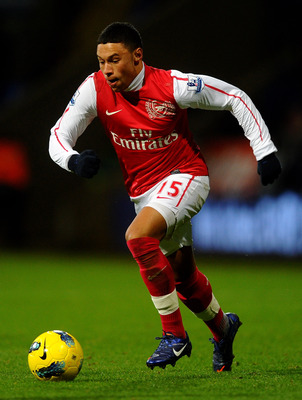 Laurence Griffiths/Getty Images
Arsene Wenger has signed many young players during his tenure as the manager of Arsenal and many have developed into excellent players. Alex Oxlade-Chamberlain is another such youngster signed from Southampton. Though he cost quite a lot for a youngster, he certainly seems to have the quality to be a key player for the Gunners in the future.
This is Oxlade-Chamberlain's first season for the Gunners and he has already impressed Arsenal fans, who are excited by his talent.
The youngster started his first league game against Manchester United at the Emirates and performed superbly. He has since held on his place in the starting eleven for the FA Cup tie against Aston Villa and the league game against Bolton. He performed well in both games and could start again against Blackburn.
He will get opportunities to score if he starts in the game against Blackburn and he could score his first league goal against them at the Emirates.
Andrei Arshavin to Start the Game Instead of Theo Walcott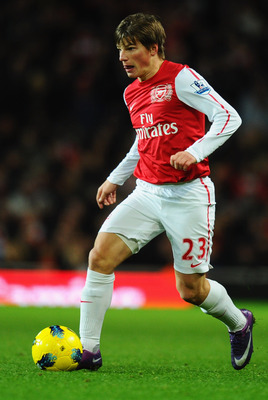 Mike Hewitt/Getty Images
Andrei Arshavin has come under increasing criticism in recent weeks, especially after the game against Manchester United where he failed to do enough to stop Antonio Valencia's run which led to their winner.
However, it does seem like Arsenal manager Arsene Wenger has faith in the quality of the much-criticized Russian international. The midfielder seems to lack confidence at present and Wenger could give him an opportunity on Saturday against Blackburn, who are one of the weaker sides in the league.
Arshavin still can make good passes and make right decisions in the final third, but his problem lies in tracking back and his work rate has been criticized by Arsenal fans in the past.
With Theo Walcott also going through a bad run of form recently, Wenger could give an opportunity to Arshavin to recover his form. If he does hit form, it could be very vital to the Gunners.
Per Mertesacker to Have an Excellent Game Against Blackburn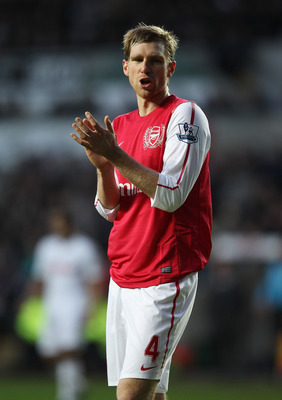 Michael Steele/Getty Images
Per Mertesacker was signed in the summer by Arsene Wenger and he has had to adjust to the physicality of the Premiership quickly because he was only signed in August.
Mertesacker does not have much pace, which is why he can be exposed, but his reading of the game is excellent and he has shown improvement in recent weeks. He has looked more assured and has made many important interceptions.
With Laurent Koscielny in excellent form, Mertesacker has shown his quality in some games and will continue to improve with time.
Though Thomas Vermaelen is arguably Arsenal's best centre-back, he has been forced to play at left-back due to injuries and Mertesacker has done a very decent job in central defense.
Against Blackburn, there will be plenty of crosses and aerial balls to deal with and Mertesacker will be a key player for the Gunners. With Blackburn not having many fast players, the German international could be at his best on Saturday.
Arsenal Fans to Go on with a "Bin Bags" Protest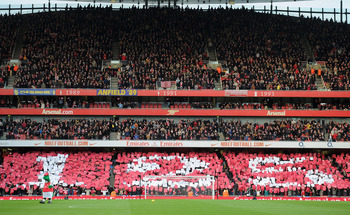 Michael Regan/Getty Images
Arsenal fans pay high ticket prices to watch games at the Emirates and they have been frustrated by the lack of trophies at the club. They enjoyed plenty of success at Highbury under Arsene Wenger, but since the move to the Emirates, there has not been much success with regard to trophies and the manager has come under increasing criticism for not spending the money to sign big players.
There are plenty of frustrated fans who are divided over whether they want the manager to continue or not.
According to the Mirror, a group of fans have planned to protest using black bin bags which they will use to put on empty seats at the Emirates to highlight the fall in attendances. The frustration of Arsenal supporters is understandable and as long as it does not affect the atmosphere at the Emirates, the protest should not be a problem for the team.
The board and Wenger will have to look at which direction the club is heading.
Arsenal to Win the Game by a Minimum of 2 Goals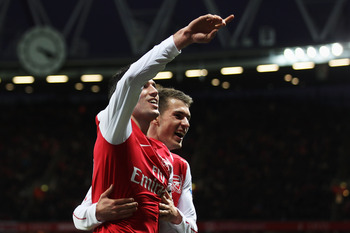 Clive Mason/Getty Images
Though Arsenal are in bad form, they will start as the favorites for this encounter and are sure to have opportunities to score goals against this struggling Blackburn side. However, if they are complacent, it could lead to yet another frustrating game for the Gunners.
Arsene Wenger and his players will understand the importance of this game and will be keen to take all three points.
With the home support behind them, Arsenal have a great opportunity to end their bad run and get back on track, especially with Chelsea playing Manchester United the next day. With the in-form Van Persie leading the line, the Gunners will probably score goals.
My prediction is a 3-1 victory for the Gunners with Alex-Oxlade Chamberlain, Van Persie and Aaron Ramsey getting on the scoresheet for Arsenal.
Keep Reading

Arsenal: Like this team?