Dallas Cowboys: A Case for Keeping Linebacker Anthony Spencer
February 2, 2012

With the Dallas Cowboys in full reflection mode following a second straight season without postseason play, there are numerous areas of the roster to evaluate. This should be expected of a team that went 8-8 in 2011. The 7-9 team from 2010 had the same job and followed suit with numerous changes for the following season.
The easy thing to do when trying to determine what moves need to be made is to look at statistical performance and then compare that to other league leaders for perspective. Sometimes, contract status becomes even bigger than stats when trying to gauge whether a team will keep a player or simply let him walk.
The Cowboys have no bigger decision to make, at the front of their odd 3-4 scheme, than how exactly they man the outside linebacker spot opposite DeMarcus Ware.
Anthony Spencer was the first Dallas selection in the 2007 NFL Draft out of Purdue. At the time a defensive end, the Cowboys were planning on pulling the same maneuver they did with Ware in changing Spencer's position to outside linebacker in the NFL. Dallas did exactly that, and after five full seasons, the results have been about what should have been expected.
Realizing that Spencer had to wait a couple of seasons before getting a starting role, I can't really factor in the volume of Spencer's first two years because Dallas generally had Greg Ellis operating at outside linebacker, and with good results, in 2007 and 2008.
So, starting from 2009, I see that Spencer has averaged just over 5.5 sacks per season and just over 65 total tackles.
Most would say that these numbers don't exactly justify a big free-agent contract, especially with Spencer set to hit the open market for the first time in his career. I can't say that I disagree with the assessment being offered by fans and analysts from all over that Spencer should be free to walk and go look for more money.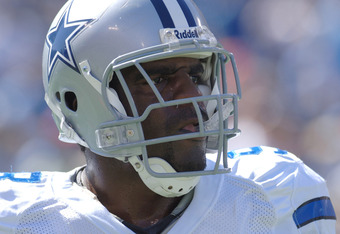 Joe Murphy/Getty Images
But before owner/general manager Jerry Jones allows Spencer to play the field, he needs to ask himself a very important question regarding his veteran first-round selection. Was it realistic to expect more out of Spencer over the past three seasons?
Whether he sees it clearly or not, the answer is definitely no.
A defense that tallies lots of sacks doesn't do so because it just has overwhelming talent at every position that the NFL can't keep up with. I have seen that happen only once in about 30 years as an NFL enthusiast, and that happened in 1985 with the Chicago Bears.
On the contrary, an NFL sack-leading defense is almost always accompanied by two things:
First off, there's probably a very stingy run defense that creates a lot of 3rd-and-long situations.
Second, there is likely a pretty good offense that puts up points, which, in turn, forces the opposition to present many opportunities to get sacks and interceptions.
Teams that can find that symbiotic relationship between both sides of the ball will contend for a championship. Teams that do not find this end up trying to contend for a playoff spot.
Which one does Dallas sound like to you?
Assuming the answer is obvious, let's get back to Spencer. His six sacks in 2011 matched a career high in 2009, his first year starting with the Cowboys. In 2010, while playing on a historically bad defense all around, Spencer tallied five sacks.
Since we know that the Cowboys have had their work cut out on both sides of the ball recently, we can't really say that the two elements I mentioned just above have been present. Assuming they were there, is it realistic to expect that Spencer's sack totals, which is really what this whole thing is all about anyway, would be higher?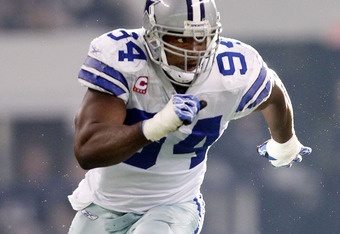 Layne Murdoch/Getty Images
Of course it is.
The 2011 Dallas defense gave up 4.4 yards per carry and preceded that average with 4.2 in 2010. Factor in offenses that were stymied both seasons with numerous injuries, especially to quarterback Tony Romo, and that formula for lots of sacks and turnovers is far from Valley Ranch.
You will not generate sacks if you can't stop the run better than the Cowboys have the last two seasons. Anything is possible, but in this discussion, it is far from likely. Why would an offense not called by head coach Jason Garrett throw the ball around the yard 40-50 times when they are averaging that kind of yardage on the ground?
Most won't do that.
And before we try to place blame on Spencer for that sub-par defensive stat, consider who the Dallas tackling leaders are. Inside linebacker Sean Lee was the leader with 105 combined tackles. Second and third were safeties Gerald Sensabaugh and Abram Elam.
Now we're getting to the heart of the problem.
Opposing offenses are not running at Ware and Spencer nearly as often as they're going right up the middle after blowing out the Cowboys dramatically undersized nose guard, Jay Ratliff. Since Ratliff is easily moved by constant double teams consisting of over 600 pounds of men, Lee, Sensabaugh and Elam are often the last line of defense following a good carry between the tackles.
This must stop.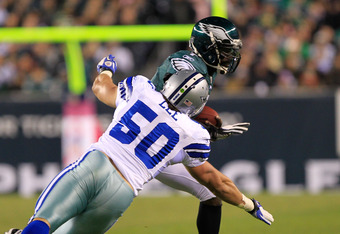 Chris Trotman/Getty Images
Also factoring into Dallas' decision making is whether or not to switch back to the 4-3 scheme permanently, a rumor that Garrett himself has fueled recently. I personally favor this idea, and I can see how this might force the Cowboys to allow Spencer to walk away.
Then again, is it impossible to move Spencer to either weakside linebacker or defensive end in a 4-3 alignment? I would think that a player of Spencer's skill set would be part of that discussion. Are the Cowboys positive that there is a better replacement in the draft? Is Dallas even sure he will be available?
No and no.
And if the Cowboys decide to stay committed to the 3-4 alignment, then they could double Spencer's sack totals by simply moving Ratliff to defensive end, his natural position. By filling his vacated spot with a true space-eating nose tackle, Dallas will surely help the 4.4 yards per carry average of 2011 drop.   
Spencer is durable, productive and built extremely well for his position in the base 3-4 scheme. Because his stats aren't likely to cost another team a whole lot of money, it's important to realize that Spencer might offer the same break for the Cowboys on a financial level.
You should never have a problem giving an employee a raise if they are productive. And you certainly should not shy away from doing so if there's hard evidence to support the idea that the same employee will significantly increase their productivity along with the increase.
Such is the case with Anthony Spencer, who has given Dallas everything it could have expected from day one.