Lakers Rumors: D12, Gilbert Arenas and Kenyon Martin for the Twin Towers
February 2, 2012

Kevin C. Cox/Getty Images
Not only do the rumors keep flying, but they're getting even better. Dwight Howard, Gilbert Arenas and Kenyon Martin would be the best thing for the Lakers—since Pau Gasol came gift-wrapped in a trade four years ago.
But again, these are all rumors.
According to ESPN.com, the Lakers have contacted Arenas while Kenyon Martin has an interest in various teams—including the Clippers, Knicks. And most recently, he had a contract offered by the Miami Heat. 
This is too good to pass up and Mitch Kupchak and Mike Brown need to shake the Lakers' roster up. 
With the available talent in the free-agent pool and the trade the city and people of Los Angeles have been vying for, the Lakers could have one of the leagues heaviest, battle-tested rosters with acquisitions like these.
The Lakers need to find somehow, someway to sign Arenas and Martin. 
Arenas has an IQ of the game that may or may not be at the level of Kobe. He would shore up the Lakers' scoring issues from the point guard spot without question.
And this has to be said: From 2005 to 2007 in Washington, Arenas was as good if not better than Kobe.
And Martin? Well, he's kind of like a gangster in the post.
Trade Gasol and Andrew Bynum to Orlando for D12, this way Orlando loses nothing in the trade and everybody wins—especially the Lakers.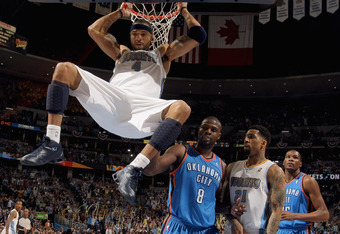 Doug Pensinger/Getty Images
What kind of starting lineups could the Lakers have with that roster?
Derek Fisher, Kobe Bryant, Matt Barnes, Martin and Howard, or let's try Arenas, Bryant, Barnes, Martin and Howard.
Maybe Arenas, Bryant, Metta World-Peace, Martin and Howard?
The point is would LeBron, Durant or Dirk want to deal with a frontcourt like that?
Probably not. With all due respect to the Twin Towers and their seven-foot frames, the presence in the post is different with an abrasive Martin and an assertive Howard. 
Black Mamba would just lie-in-waiting for the kill.
There's not a team in the NBA that could hang with a roster like that in a seven-game series. 
How many people can you really fit on Figueroa?