Super Bowl XLVI Media Day: The Question Never Asked
February 1, 2012

Andy Lyons/Getty Images
Super Bowl XLVI Media Day. Coaches and players are paraded in front of cameras and tape recorders to face a seemingly unending barrage of redundant questions as journalists search desperately for fresh angles on a game that often is rendered anticlimactic.
Microanalyzing everything from game strategy to team meals to manufactured drama surrounding players' families, overzealous reporters inevitably run out of sensible queries and have reeled off such inanities as "Do you believe you can win?" and "So why do they call you 'Boomer'" (asked of Joe Montana).
Surprisingly, one question that is never posed to the visiting head coach, however, is whether he will choose heads or tails in the opening coin toss.
It's a significant question—certainly more so than "Do you prefer crunchy or smooth peanut butter?" which was asked yesterday.
Winning the coin toss gives a team the opportunity to jump to an early lead and can ultimately affect the outcome of the game.
And imagine if the Super Bowl reaches overtime.
Amazingly, none of the 45 previous contests have necessitated a tie-breaking quarter...but what if?
Successfully calling the overtime coin toss could capture the Super Bowl without the opponent ever getting to touch the ball, if the coin-toss winner scores a touchdown on its opening drive.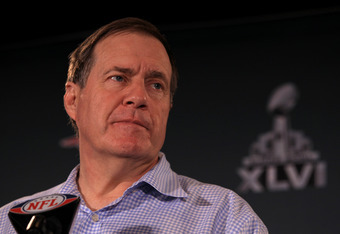 Scott Halleran/Getty Images
(Of course, the defensive team would claim Super Bowl victory on an opening-drive safety—a scenario about as likely as halftime-guest Madonna performing in an angora sweater and ankle skirt.)
And let's not forget the millions of gamblers across the nation who will be wagering their rent on which side of the coin faces up.
You can bet they'll be climbing the walls wanting to know what New York Giants head coach Tom Coughlin is planning.
Coughlin is an intense gridiron motivator, already having led New York to victory in Super Bowl XLII, against Bill Belichick and these same New England Patriots.
He and his assistant coaches undoubtedly are spending the two weeks between conference championship and Super Bowl working 18-hour days as they study game films of past Super Bowl coin flips, take a crash course in probability theory, and gauge the musculo-dynamic tendencies of the honorary coin-flipper's thumb, in hopes of knowing whether to instruct Eli Manning to call heads or tails.
So it remains curious that reporters starved for insightful commentary on the year's most prestigious sporting event always fail to inquire about the visiting head coach's first strategic move of the game.
Bill Belichick, likely still steaming from the Super Bowl XLII loss that deprived him of a perfect season, is familiar with Coughlin's coin-flipping philosophy.
These Super Bowl combatants have met three times before, and, more significantly, both Belichick and Coughlin are disciples of Bill Parcells, even working side by side for three years as his assistants.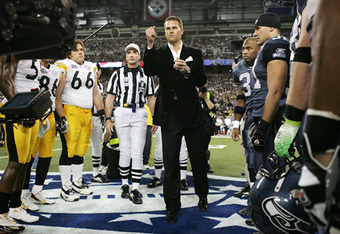 Surely, they were well mentored in the art of the coin flip.
Belichick may well know what Coughlin is thinking, although the Patriots head coach, a master of head games and one-upmanship, has remained silent on what he believes his counterpart will call.
Ironically, Tom Brady is one of the few active players to have served as an honorary coin-flipper, which he did before Super Bowl XL between the Pittsburgh Steelers and the Seattle Seahawks.
As an active player about to take the Super Bowl field, his actual hands-on experience in the coin flip could tip the scale in favor of New England. 
Either way, the pre-game clash at midfield should prove a classic struggle.
So may the best team win the coin toss.
Or as Super Bowl XXXVIII honorary coin-tosser Y.A. Tittle might have put it: "God, I hate my surname."