Ring of Honor Wrestling and Chikara Pro Team Up to Bring You Synergy
February 1, 2012
Madame de Stael said, "In life one must choose between boredom and suffering"
De Stael is dead. There's always an alternative.
Hello again my dear fans (there's that one guy in Medicine Hat, Alberta, Canada) and friends. If you're like me then you're tired of raspy-voiced authority figures, botch-filled diva matches, a funkasaurus telling us to call his momma and little bastard leprechauns. Are you fed up with absurd storylines, swerves that happen for no reason and a man giving out footballs during a WRESTLING show.
Well now, you happen to be in luck. I have the answer to all your problems—Ring of Honor and Chikara Pro.
They've got every style on display that you could think of—lucha libre, technical mat wrestling, American Strong Style, European, Japanese and a good dose of comedy.
These top Indy Promotions came together last month at RoH's Homecoming 2012 show in Philadelphia, when the Chikara team of Jigsaw and Hallowicked won a Proving Ground match against the current RoH tag team champions, the Briscoe Brothers. These Chikara warriors went into unknown and hostile territory, but they weren't alone. Mike Quackenbush, The Colony, Ultramantis Black and Dasher Hatfield made their way down to the ring to support their Chikara brethren.
Some of the chaos and the outcome of the match can be viewed here.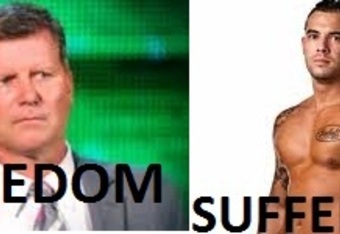 On April 28, at the Frontier Fieldhouse in Chicago, IL., Ring of Honor Wrestling and Chikara Pro will come together once again as they present Synergy. This double card will start off with Chikara's Hot off the Griddle and then Ring of Honor's Unity. It will be during Unity that the RoH tag titles will be on the line against Hallowicked and Jigsaw. There is a lot of time between now and then, so will the Briscoes still be champions?
There are no matches announced yet for Hot off the Griddle and only the tag title match is scheduled for Unity, but as the date gets closer and both cards are announced, I'll be the first (and only) to cover it.
Please check out RoH if you haven't already and SUPPORT INDEPENDENT WRESTLING!