Boston Red Sox Rumors: Could Jason Bartlett Be the Answer at Shortstop?
February 1, 2012

Kevin C. Cox/Getty Images
A few weeks back, the Red Sox shipped off starting shortstop Marco Scutaro to the Rockies and in the process freed up about $6 million with which they were expected to pursue starting pitcher Roy Oswalt.
However, in the days since the move the Red Sox have made offers to both Oswalt and Edwin Jackson with no success landing either pitcher. That could still change, but as it stands now, the loss of Scutaro without any gain elsewhere on the roster no doubt hurts the team in 2012.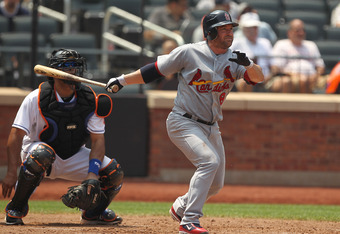 Al Bello/Getty Images
Should everything remain unchanged, the Red Sox will open the season with a combination of free-agent signing Nick Punto and former Royal Mike Aviles manning the shortstop position.
Punto has been a solid utility player throughout his career and contributed to the Cardinals World Series team last year, but he is the definition of a light-hitting, solid-glove guy with a .249 career average and he would no doubt be better suited sticking to a utility infield role.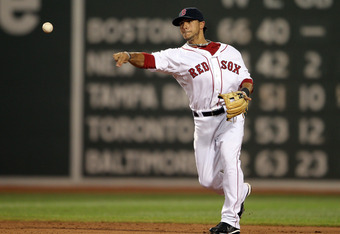 Elsa/Getty Images
As for Aviles, he was acquired at the deadline last year and hit well in limited action with the team down the stretch with a .317 BA, 2 HR, 8 RBI, 17 R line in 38 games. However, he has been used primarily as a third baseman the past few seasons and has not played shortstop on a regular basis since his rookie year in 2008.
In terms of other options, the free-agent market is pretty well tapped out as Edgar Renteria, Aaron Miles and former Red Sox Alex Cora are really the only remaining veteran options.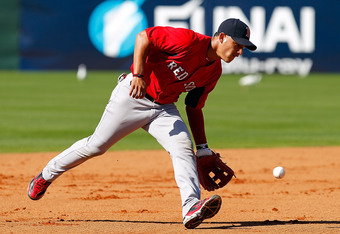 J. Meric/Getty Images
Internally, the team could hope that 22-year-old prospect Jose Iglesias will take a big step offensively and be ready to slide into the everyday role by mid-season, but aside from him the rest of their shortstop talent is still in the low-minors.
That brings us to the trade market and one player in particular who has been on the market all winter, Padres shortstop Jason Bartlett. Jayson Stark recently pointed to him as a potential target for the Red Sox and there could be something there.
It took the Padres four players to acquire Bartlett from the Rays last offseason, as they shipped young relievers Adam Russell (3.03 ERA, 32.2 IP), Brandon Gomes (2.92 ERA, 37 IP) and Cesar Ramos (3.92 ERA, 43.2 IP) along with minor league infielder Cole Figueroa.
San Diego paired Bartlett him with newly-signed Orlando Hudson in a move they thought would shore up their middle infield, but instead both players slumped and hit below .250, as the team failed to match their surprise 2010 success.
That has led the team to put both infielders on the block and the Padres have internal options like Logan Forsythe and Everth Cabrera who could step in if they are in fact moved.
So, what would make Bartlett a better option for the Red Sox than simply sticking with Punto and Aviles?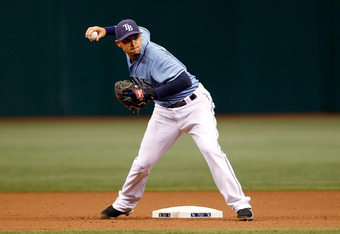 J. Meric/Getty Images
While his numbers have been down the past two seasons, he is just two years removed from a .320 BA, 14 HR, 66 RBI, 30 SB season and at 32 he should still be capable of that sort of production in the right system. Whereas you know exactly what you are going to get from Punto and Aviles, there is actually some upside that comes with Bartlett.
Also, he is a natural shortstop unlike the other two and an above-average defender, so he would be a welcome addition to the infield defense as well.
The biggest issue with trading for Bartlett would not be what the Red Sox have to give up, as he could likely be had for a pair of mid-level prospects, but the salary commitment that the Red Sox would be making.
Bartlett will make $5.5 million this coming season, plus he has a $5.5 million option for 2013 that becomes guaranteed if he makes 423 plate appearances in the 2012 season and has a $1.5 million buyout if not.
For a Red Sox team trying to stay under the luxury tax cap, that may be too steep for them to handle and the Padres will likely want anyone who deals for Bartlett to be willing to take on most of that salary. However, if the two sides can make this work, Bartlett could be the stopgap option the Red Sox need to get through the 2012 season.