St. Louis Rams: Shane's News and Nuggets at Noon (Wednesday Edition)
February 1, 2012
What an amazing and memorable day February 1 is shaping up to be.  
Not only was the St. Louis Convention and Visitors Commission presenting its plan to upgrade the Edward Jones Dome and retain the St. Louis Rams, the nation's No. 1 college football recruit, Dorial Green-Beckham, was to announce his collegiate destination.  
As many of you know, Green-Beckham has announced his intention to head to Mizzou and play football for Gary Pinkel and the Missouri Tigers.
Mizzou will play football in the Southeastern Conference (SEC) this fall as a new member of the nation's premier football conference.
As for St. Louis and the Rams, I just completed a piece sharing Rams' fans sentiments regarding the Rams' long-term home as well as other related analysis.
In related news, St. Louis Hall of Fame inductee Marshall Faulk shared his thoughts on a variety of Rams topics, including the aforementioned future of the Rams in St. Louis, the hires of Jeff Fisher and offensive coordinator Brian Schottenheimer and former Rams offensive coordinator and head coach Mike Martz.
Faulk said, "I would hate to see the city without the team." 
As Springfield, Missouri is in the limelight today and since running backs are on the brain due to Faulk speaking out, my friend, Harlem Globetrotter legend Michael "Memphis" Douglas' son Chris did some very nice things at Missouri State in Springfield.  Hopefully, he will get a chance to latch on to an NFL team either through the draft or as undrafted free agent.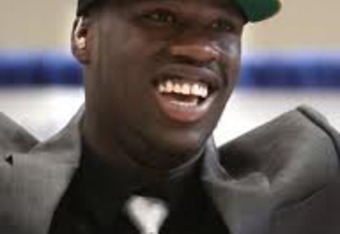 In 2010, Douglas ran for 1,051 yards on just 152 carries, 6.9 yards a pop.
Draftinsider.net has him as as a candidate as an undrafted free agent.  His father operates the Harlem Legends basketball team and runs a youth foundation.
On a sad note for the state of Missouri, former Missouri State (SMSU at the time) and St. Louis University basketball coach Charlie Spoonhour has passed away.  Spoonhour was 72 and died in his home at Chapel Hill, North Carolina.
Finally, on this DGB day, I thought it would be fun to share a clip of some of Springfield, Missouri's own Dorial Green-Beckham.
Have a great day, Rams Nation.  
Shane Gray covers the St. Louis Rams year-round. You are encouraged to check out the rest of his work here and to follow him on Twitter.