Lakers Rumors: Ramon Sessions Would Bolster Los Angeles' Roster
February 1, 2012

Stephen Dunn/Getty Images
There's at least thing we all can agree on:  The Los Angeles Lakers will never win a championship with its current set of point guards.
Don't get me wrong, I like Derek Fisher; a great leader, has made big shot after big shot in his illustrious 16 year career.  But that career is rapidly slowing down.
Let's see:  there's the injured Steve Blake and two second-round draft choices as backup for the 37-year-old Fisher, who no longer can guard the younger, quicker point guards that dominate the NBA. 
Andrew Goudelock is an excellent outside shooter who never played the point until a month ago—he's going to do well in the league and had 12 points in last night's blowout of the horrible Charlotte Bobcats.  Still, come on, this team needs some depth. 
So, what's a general manager to do?  You go to bed every night and say a prayer because the Lakers really need a miracle to bring New Jersey's Deron Williams to Los Angeles. 
Utah's Devon Harris, Indiana's Darren Collison or Golden State's Monta Ellis sure would add immeasurably to the Lakers' PG position, but the likelihood of snaring any one of that trio is slim.  A lot of teams just don't want to deal with the championship-rich Lakers.
But there is reason to be hopeful that Lakers management is working on some sort of deal to bring a point guard to Los Angeles.   In all likelihood, the player they bring in will give the team just enough of a boost to last it through the winter and spring months—until they realize they are still missing a couple of bigger parts and not going to win a title this year.
Cleveland point guard Ramon Sessions is at the center of recent rumors swirling around Staples Center—as someone who could very well end up with the Lakers before the trading deadline.  Adding the 6'3", 190-pound point guard would be like changing the oil on your car and giving it a minor tune-up.  The car is going to run better, but you know that soon you'll need an overhaul.
Sessions would address some of the offensive issues the Lakers currently have—the main one being the need for a strong perimeter passing guard who can effectively get the ball into the big forwards and center in the paint.  He has a career average of five assists per game, those coming in just under 25 minutes of action.
John Hollinger of ESPN.com Insider writes of Sessions: "Far and away Cleveland's best offensive weapon last season, Sessions helped the Cavs become more competent when he ascended to the starting point guard role.  A nifty pick-and-roll creator with Sam Casell-cleverness and good size, he averaged a point every two minutes while leading all point guards in free-throw rate.  He rebounds well, ranking 12th among point guards in rebound rate."
Sessions averaged 13 points in 26 minutes last year as the Cavs starter, his best since being drafted by Milwaukee in 2008.  This season, he is only seeing 21 minutes of play as a backup to super rookie, Kyrie Irving.
Sessions contract with the Cavs is for $4.26 million this season—the Lakers have a trade exception worth $8.9 million from the Lamar Odom trade with Dallas. 
It's almost a no brainer, because this deal would still allow the team to pursue Dwight Howard or even entertain a deal for forward Pau Gasol—I was intrigued by a scenario that ESPN.com's Austin Link shared in a recent column: Gasol to Atlanta for forward Josh Smith, point guard Jeff Teague, small forward Marvin Williams plus a No. 1 pick in the 2012 draft.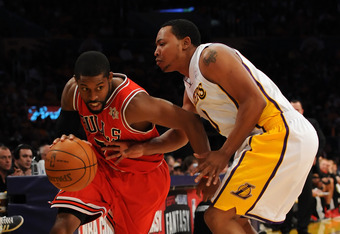 Lisa Blumenfeld/Getty Images
It's been reported the Lakers are also considering guards Gilbert Arenas (a lot of injuries, a lot of baggage) and Morris Peterson, the former Raptor/Hornet/Thunder who currently is out of basketball.  Both would be a mistake—I think they're just kicking tires here. 
The trade deadline is March 15—will the Lakers make this minor move for Sessions that could very well solve some issues and take them to another level? What have they got to lose? 
Actually...nothing.