At 16-5, the Miami Heat have suffered few setbacks this season. The team is off to its best start since 1999, the last time the league locked out its players.
One of those defeats however, came at home to the 9-11 Milwaukee Bucks on Jan. 22. In fact, it is the Heat's only loss in its last nine games, a stretch that's seen them beat up on the Spurs and Lakers while besting fellow Eastern conference division leaders Philadelphia and Chicago.
The Bucks were able to turn Miami over 21 times while holding them to a season-low 37 percent shooting from the field, outscoring Miami 26-19 in the final period.
Milwaukee handled the skidding Detroit Pistons Monday at the Bradley Center to run its home record to 6-2, the same home court where Dwyane Wade played his college ball at Marquette.
Miami, too, comes off a one-sided contest with the league-owned New Orleans Hornets. Heat Head Coach Erik Spoelstra was able to rest both Wade and LeBron James for the entire fourth quarter Monday after Miami blew the game open in the third quarter, 36-19.
James on Monday was named Eastern Conference Player of the Week for the third time in five tries this season, edging out Boston's Paul Pierce for the honor.
Brandon Jennings is making his own bid for league-wide recognition, averaging a career-high 20.1 points per game. If the Bucks remain in the playoff picture with center Andrew Bogut out 2-3 months with a fractured left ankle, Jennings could get strong consideration as an Eastern conference All-Star.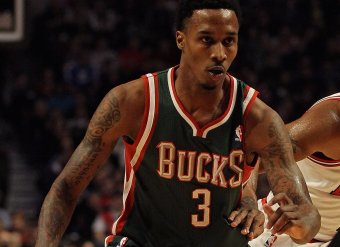 Jonathan Daniel/Getty Images
This matchup is a possible first round playoff preview with the Heat just one game back of Chicago (and tied in the loss column) for the top seed while the Bucks continue to hold off Cleveland for no. 8.
One of the keys to this game will be Milwaukee's ability to shoot the ball and get back in transition. The Bucks shot 35 percent on Jan. 22, but took relatively good care of the basketball committing 14 turnovers.
The rebound battle was dead even at 42. This is vital to the Bucks' chances of halting the Heat's fast break opportunities. If Scott Skiles' club can shoot a decent percentage, take care of the ball and hold the Heat to one shot per possession, fans may again be in for a grind-it-out game settling somewhere in the 80s or low 90s scoring-wise.
However, if the Heat are allowed to run off of Milwaukee miscues and missed shots, this one could get out of hand early.
Wade has averaged 22.2 points per game while sporting an 8-5 record in 13 games at the Bradley Center since joining the Heat in 2003. His most memorable performance was an early February contest back in 2007. In a game where he watched Marquette raise his jersey to the rafters at halftime, he scored 32 points with eight rebounds, 11 assists, four steals and four dunks.
Will Brandon Jennings be named an All-Star this season?
James has looked pretty comfortable in Milwaukee over the years as well, posting two of his nine career 50 point games at the Bradley Center. The most recent outburst on Feb. 20, 2009 saw James score 22 points over a 3:12 stretch spanning the second and third quarters as part of a 26-7 run that turned an 11 point deficit into an eight point advantage.
Look for Miami to make a statement against a scrappy Bucks team they could see later in the season when the stakes are much higher.