Super Bowl Predictions 2012: Projecting Top QB, WR and RB Performances
January 31, 2012

Andy Lyons/Getty Images
These stars are ready to shine on the biggest stage and be the top performers at their position. 
This Super Bowl is loaded with offensive talent, and both teams are destined to have players that fill up the stat sheet.
For mortals, this makes projecting things a bit murky, but with my super power of observation and analyzation the matchups and circumstances surrounding each team make the projections as clear as an azure sky of deepest summer. 
QB Eli Manning
The battle for top QB is going to be the most important on the field. Both of these QBs are the absolute heart of their team, and both are capable of dominating the game. 
In the end, Eli is going to shine the brightest because he enjoys the luxury of facing the Patriots' secondary. 
New England has been horrendous on pass defense all year. They finished the regular season 31st in total passing defense, and that defense has not gotten much better in the playoffs. 
They held the Broncos to 108 passing yards, but that was against Tim Tebow, and his passing has a knack for limiting itself.  
The following week, Joe Flacco tossed for over three bills as the Patriots secondary showed their true colors. 
The one thing New England is doing well on pass defense is rushing the passer. They have eight sacks in two playoff games. They are going to get their pressure and hits on Eli, but he can handle it.
Manning was battered in the NFC Championship and still succeeded to the tune of 316 passing yards, two touchdowns and no interceptions. 
He will do more against the Patriots.
Prediction: 354 passing yards, 3 TDs, 0 INTs
RB BenJarvus Green-Ellis
Elsa/Getty Images
Green-Ellis is a solid runner that does nothing fancy. He seldom stars, and is typically nothing more than a complimentary piece to this offense.
He will be given a little more opportunity to shine in this game. The Giants' defense has made big strides recently, but that is mostly in their pass defense. Last week, San Francisco rushed for 150 yards at 5.4 yards per carry against them. 
This weakness is largely due to the fact that New York's defensive line is there to do one thing, and that is rush the passer. 
New England will combat this by giving Green-Ellis plenty of opportunities to run between the tackles. This will help them move the ball, and slow down the Giants' pass rush. 
Green-Ellis' numbers won't be overwhelming, but in a game that is going to be more focused on passing, it will be enough for him to be the most productive back on the field. 
Prediction: 19 carries, 94 yards, 1 TD
WR Wes Welker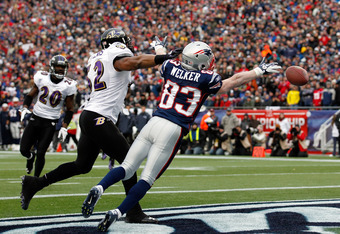 Rob Carr/Getty Images
There are going to be some fantastic wide receivers on the field in this game. All but one of them will be on the Giants. 
That means Wes Welker is primed for a huge day. Welker is Brady's overwhelmingly favorite target when he throws to receivers. In the regular season, Welker had 71 more catches than the Patriots next closest receiver, Deion Branch. 
That is not all that will propel Welker to a big day. New England uses their TEs to make up for the production they don't get from other receivers, and their main target there is Rob Gronkowski. 
Gronk is dealing with a high ankle sprain, and it is likely he will be somewhat limited in this game. This is going to funnel even more of the action to Welker.
Prediction: 10 catches, 137 yards, 1 TD