Arsenal Transfers: Arsene Wenger's Empty Shopping Bag a Catastrophe for Gunners
January 31, 2012

Clive Mason/Getty Images
Truly, honestly, I thought Arsene Wenger might surprise us this time.
Surely he knows that something is amiss.
Eight defeats in 22 league games–that must definitely have given him food for thought.
45 goals conceded in all competitions up to the end of January–certainly a cause for concern. And only 58 scored–unprecedented!
43 percent of all goals scored by just one player–over-dependence, don't you think? Especially when that player has missed approximately 35 percent of games played during his time with the club due to injury.
This is unsubstantiated by research, but it is almost without doubt that Arsenal's possession stats have been the lowest this season as compared to any of the "Wenger years"–shouldn't that set some alarm bells ringing?
And even if we forget all the statistical mumbo-jumbo, doesn't this Arsenal squad look less potent and more fragile than any we've seen since 1997?
And still, the best we can do is an unknown German youngster who has never made it even to the subs bench at Borussia Dortmund?
I know I'm not qualified to criticize an Arsenal legend like Arsene Wenger, and I barely have in the past, but the least I can say is that he's taken a massive gamble on the last four months of this season.
Unlike others, I believe we're fine at the back. With Bacary Sagna and Kieran Gibbs returning to full fitness, and Carl Jenkinson not far behind, our full back situation appears to have settled. People might point to nine league points dropped in January, but I don't attribute that to our paucity of fit full backs.
For me, from the earliest weeks of the season, the problem has been further afield.
We have not created enough goal scoring chances, we have not kept the ball well, we have often been devoid of ideas and barring the magnificent Robin Van Persie, we have been inept and impotent in front of goal.
At this point in time, Arsene Wenger's ideal first choice front four would be Robin Van Persie, Gervinho, Theo Walcott and Jack Wilshere. Of the four, Gervinho is in Africa, Wilshere may not be seen at all this season and Walcott is not yet the finished article. And may never be.
That leaves us with the captain. The man of the moment. The Atlas propping up Arsenal's season on his infinitely broad shoulders. A player who has seemingly put his injury nightmare behind him. Yes, seemingly. It unfortunately takes only one moment of madness from a Dan Smith, a Martin Taylor or a Ryan Shawcross to change that completely.
If Van Persie stays fit till season-end, Arsenal will definitely challenge on all remaining fronts. If Wilshere can return on time from injury, he will make us even better. And if Gervinho finds some goal scoring form in Africa, he will present a tremendous threat to opposing defenses when he comes back.
But is it prudent to base the remainder of this crucial season on three massive ifs? Do we fancy our chances against AC Milan without Van Persie? As we approach the run-in, can we build a consistent sequence of results (and no, I don't mean losses) in the league without the special talent of Wilshere? Can we afford to finish outside the top four? Wouldn't it have been sensible to add something exceptional to the squad?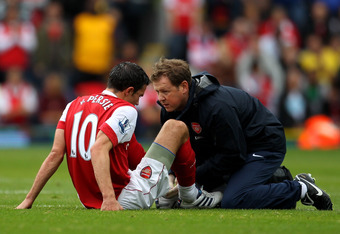 Alex Livesey/Getty Images
Now I fully understand that us fans are not always aware of the ground realities. Maybe there were no easy targets available on the market. No Sergio Aguero, Alexis Sanchez or Samir Nasri known to be wanting out of their club. 
But it doesn't have to be easy. As many have said in the past, every player is available at a price. And while I'm definitely a believer in Arsene Wenger's principles surrounding financial prudence, we have the cash, and I refuse to believe that £30 million would not have got us the quality we want. And more importantly, need. You know the names–the usual suspects.
There are two hours to go for the transfer window to close as I type this. After that, we've got to live with what we have till the end of the season. 
Did you know that Barcelona just released Alexander Hleb?
Hmmm....