Fantasy Football 2012: Ranking the Top Non-QBs for Next Year's Draft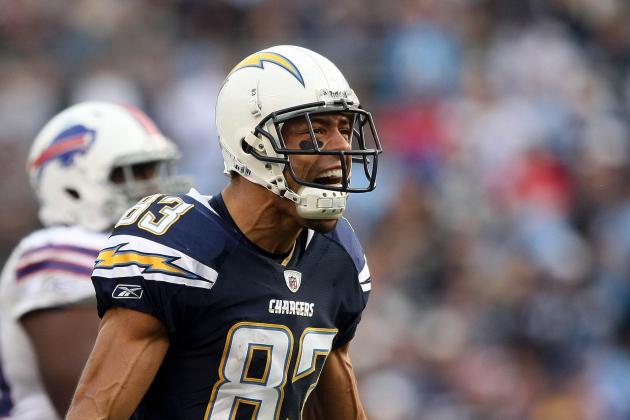 Donald Miralle/Getty Images
Vincent Jackson is screaming because he just missed the cut for the top 32 2012 fantasy players
If you want a break from Super Bowl XLVI, or college signings, or even the 2012 draft, then take a gander at this article, which really does matter: fantasy football and the top picks in your 2012 fantasy draft.
Sure, it's almost seven months away, but why on Earth are you going to wait till the week before the game to draft? Oh, that's right—you want to wait till you know who is playing where and how the injured players have healed.
That's certainly a good strategy, and I commend you for it. If you're like me, then you also put it off so long just so you can read every single fantasy football article possible before you draft. Then you can impress everyone by nabbing Jamaal Charles early and then watching him immediately end his season (and most likely yours as well).
Well, here's a primer from Uncle Eric to get you started on your path to your 2012 fantasy football championship.
This is a non-QB issue, so I'm giving you the top running backs, wide receivers and sweetening up the pot with a tight end or two (gee, I wonder who the No. 1 tight end will be).
If you're a FF geek—and there's a good chance you are if you are reading a FF article in early February—then please allow me to explain my rankings.
I looked at the top 50 scorers in non-PPR leagues for the last three years. I combined the standard fantasy points for each year a player was in the top 50, then I calculated the average of each deserving player's points divided by the number of years in which the player was a top 50 scorer.
Are you confused? Good.
A prime example is Andre Johnson, WR for the Houston Texans. He has played the last three years, but he missed too many games in 2011 to be a top 50 scorer overall. Therefore, I calculated his average score from the 2009 and 2010 seasons.
I then ranked the players by the average of their score. Some players, like Adrian Peterson, have dropped on my board because I don't know if or when he'll start playing again. Other players like A.J. Green, WR for the Cincinnati Bengals, made the cut even though his point total didn't rank in the top 32. He's a beast (in a good way) and will be even better next year.
Again, this is a non-QB list that I narrowed down to the top 32 players for 2012.
Feel free to let me know how stupid I am.
Begin Slideshow

»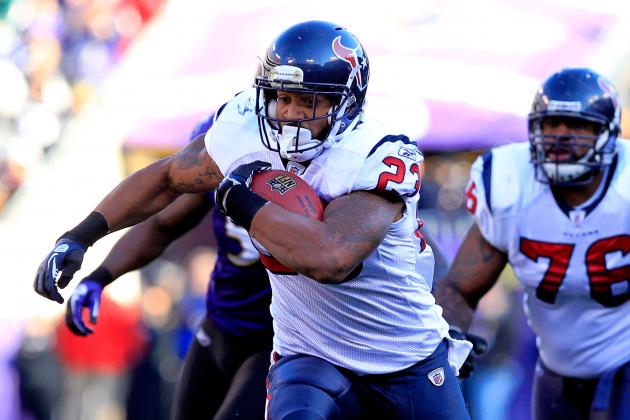 Chris Trotman/Getty Images
2012 will not have a "who should I take with the No. 1 pick" debate
Arian Foster is an absolute fantasy juggernaut.
He's had more than 4,000 total yards and 30 touchdowns in the last two years.
(Remember, class, I don't count years in which a player didn't place in the top 50. Foster finished strong at the end of 2009, but I didn't count those stats.)
All this while missing the first two games of 2011 and sharing the backfield with another talented RB who takes some of his carries away.
If you have the 2012 No. 1 pick and don't know who to take, then just end your fantasy football career now.
Try something like synchronized swimming by yourself.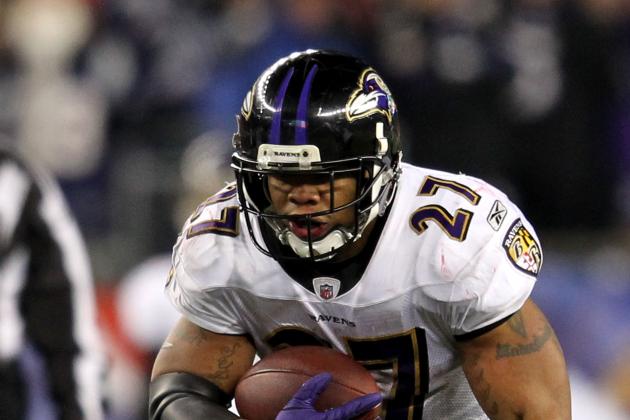 Jim Rogash/Getty Images
I'll have a side of Rice with that
I like Ray Rice so much that I took him over Foster in one of my leagues last year.
Yeah, that's right—I lost.
Rice and No. 3 on my list are practically interchangeable.
Why is Rice here? Because he's been doing it for three years now.
He's had almost 6,000 total yards over the last three years, scored 29 touchdowns and even threw one in 2011.
I also believe that the Baltimore Ravens will be better next year with an improved Joe Flacco and an increasingly talented wideout named Torrey Smith.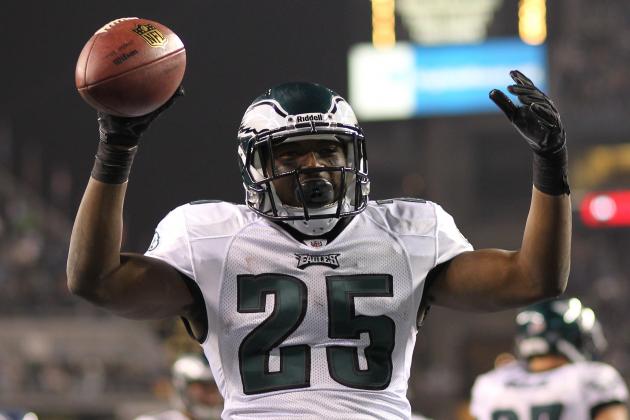 Otto Greule Jr/Getty Images
McCoy was virtually the only positive from last year's Eagle offense
Shady is for real!
If you wanted to take him before Rice, I couldn't disagree.
LeSean McCoy was the only positive for last year's Philadelphia Eagles offense.
Last year was a banner year, with more than 1,600 yards and 20 touchdowns.
I don't know what is going on with Michael Vick, but I know that head coach Andy Reid will want to ride McCoy into the playoffs if possible.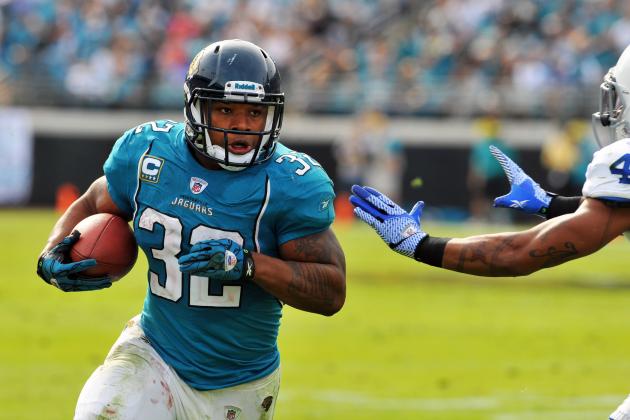 Al Messerschmidt/Getty Images
MJD, Mr. Consistent
Oh, the joy to have one of my beloved Jacksonville Jaguars in the top 10.
Now if the Jags can find, buy or steal another player to lighten MJD's load.
Maurice Jones-Drew led the league in rushing in 2011.
Over the last three years, he's had more than 5,300 total yards from scrimmage and 33 touchdowns.
Ronald Martinez/Getty Images
Megatron has transformed into the best wide receiver in football
MEGATRON!
Is No. 5 too low for the most talented wide receiver in the NFL?
Calvin Johnson caught 1,681 yards and 16 touchdowns and was a huge reason why the Detroit Lions made it to the playoffs for the first time since Barry Sanders.
No defender can stop him. It's scary to believe that he can have a better year in 2012.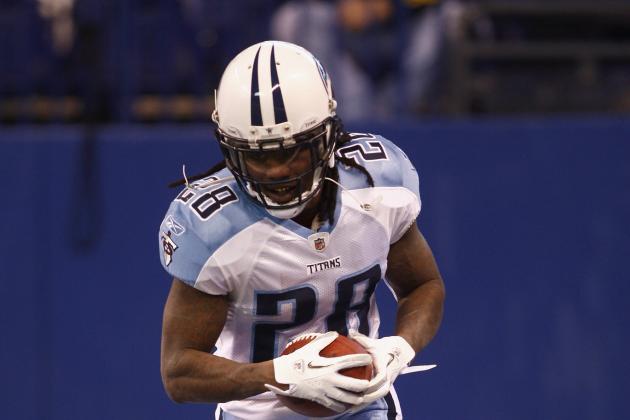 John Grieshop/Getty Images
CJ2K--let's get more pictures of you in the end zone in 2012
Let the arguments begin.
My first five are solid, no one should question them, though I could understand a re-numbering of them.
Enter Chris Johnson. The Tennessee Titan was a holdout and got the big money he wanted.
This year, maybe Mr. Johnson should arrive early to training camp and mesh with his team.
CJ2K ruined my draft last year, but he came on strong after I traded him.
How elite are you when you total more than 1,400 yards and every owner is upset to own you?
I'm going on record and saying he gets back on track this year.
I'm wagering my imaginary money that Johnson rushes for more than 1,400 yards and eight touchdowns and returns to dominance.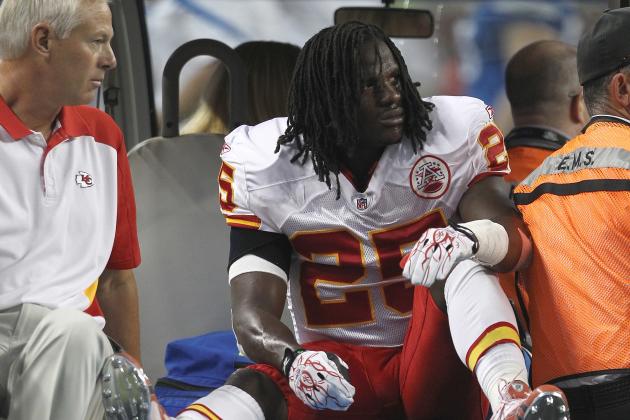 Dave Reginek/Getty Images
Jamaal, will you please try to make it through at least 5 games this year
The debates continue.
This position would have been fine last year. Perhaps it's a little too high this year.
The fact remains that Jamaal Charles is an amazing talent.
The reason for him being so high is because he was the earliest to get injured, therefore he has more time to recover.
Remember this—Charles racked up more than 4,200 total yards and 17 touchdowns in the two years before his injury, and that was with sharing the carries.
I believe Charles will be fully recovered for the start of the season and new head coach Romeo Crennel will pound opponents all day long with his speedy runner.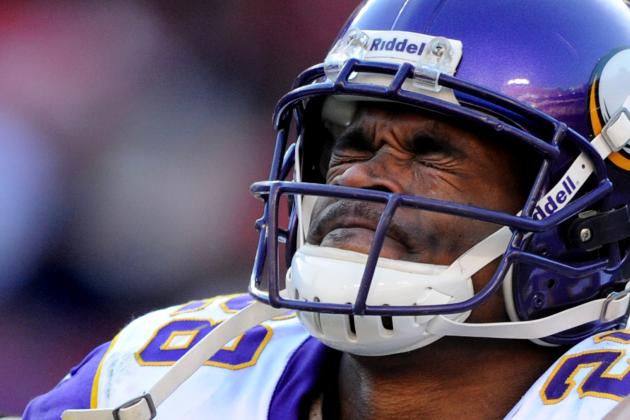 Patrick Smith/Getty Images
AP, you can open your eyes, the nightmare is over
Fresh off the news wire—this position is solely based on past production.
Adrian Peterson, AP, Mr. Fantasy, whatever you want to call him, he has been the gold standard for three years.
AP always misses games to injury, but my guess is that this will be a slow recovery for him and the Minnesota Vikings.
If I'm the Vikings brain-trust, there is no way I'm rushing him back onto the field.
Why so high then? Everyone below him is recovering from injury or just isn't as talented.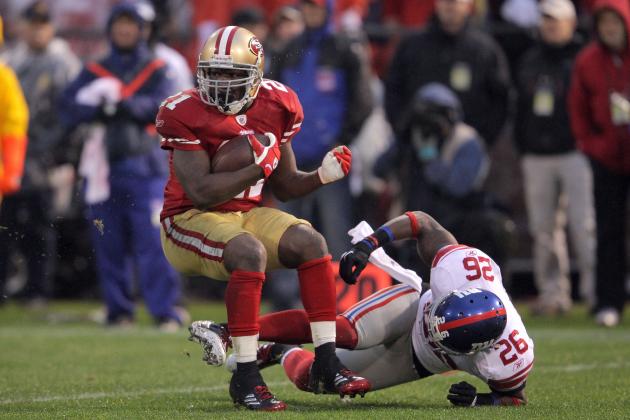 Doug Pensinger/Getty Images
Here's to an injury free 2012
Last year's San Francisco 49ers found an improved running game from a healthy Frank Gore.
I was a loud advocate against drafting Gore in fantasy leagues last year.
I didn't like the sound of his hip injury—it sounded like the injury that ruined Bo Jackson's career.
He had a solid 1,200 yards and eight touchdowns in 2011.
If the 49ers improve their wideouts and continue to reestablish tight end Vernon Davis, then I see Gore easily increasing his yardage total and touchdown total.
I'm already contemplating moving him up the ladder.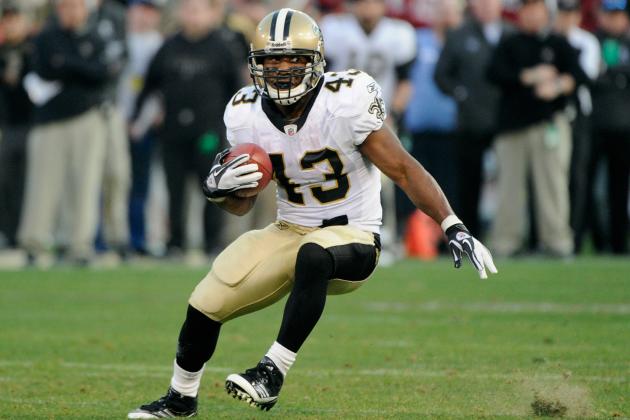 Thearon W. Henderson/Getty Images
Reggie who?
Darren Sproles here? This high?
The answer is a definitive and loud "yes" if your league counts return yardage.
Sproles had more than 2,600 total yards for the New Orleans Saints last year.
The Saints wanted him to come in and act like Reggie Bush. Instead, the diminutive one waged an all-out war on defenses and became a huge weapon for quarterback Drew Brees and head coach Sean Payton.
Even with a running back by committee and receiving corps by committee, expect Sproles to raise his game with another year in Payton's system and more time in the offseason for training.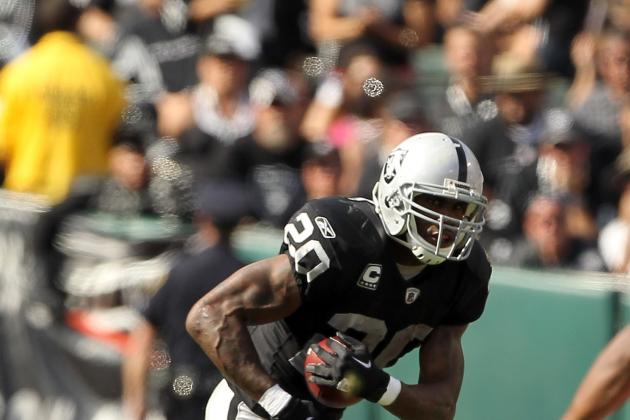 Ezra Shaw/Getty Images
Forget Run DMC, how about crutch DMC
DMC is this high based on pure talent alone.
Before going down with an injury last season, Darren McFadden was shredding defenses.
He barely made it to this list, but we like to be optimistic sometimes, and we feel that he can't be injured forever.
The Oakland Raiders just hired a new head coach, and new head coaches like to run the ball. Besides, would you rather place your trust in a fragile DMC or in a deteriorating Carson Palmer?
That does not sound like a terrific choice for a new coach.
FYI: In a partially healthy 2010, McFadden totaled more than 1,600 yards from scrimmage and scored 10 times.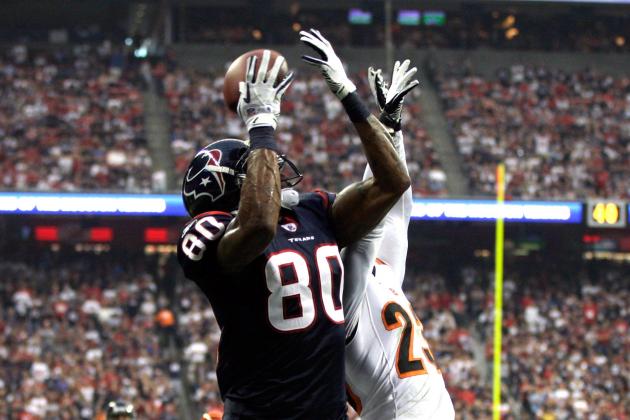 Jamie Squire/Getty Images
When he's healthy, there are few better
He's baaaaaack...
Or let's hope so anyway.
Andre Johnson missed most of 2011 with injuries. In the two years before that, he was the NFL's most fearsome wide receiver, with more than 2,700 yards receiving and 17 touchdowns.
The Houston Texans will continue to pound the ball with Foster, but that will just open up the field for a healthier Johnson.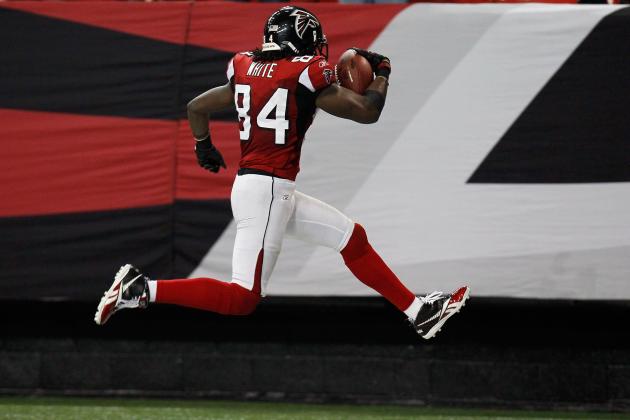 Kevin C. Cox/Getty Images
This may be White's last year as the best WR on his own team
If you wanted to argue that Roddy White belongs on the previous slide, I won't argue too much.
However, I'm not sure he's the best wide receiver on his own team.
Matt Ryan is going to be throwing more and more to the immensely talented Julio Jones.
I don't see White giving up the throne yet, and he's one of the only receivers to appear in the top 50 in scoring the last three years.
His averages from 2009 to 2011 were shades below 1,300 yards per season and just below 10 touchdowns a season.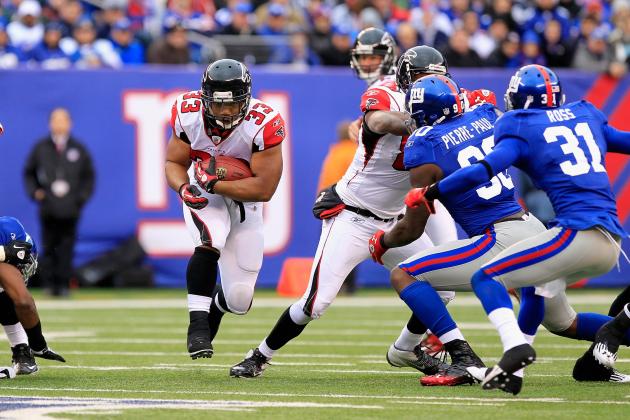 Chris Trotman/Getty Images
Turner should find more holes with his dynamic set of receivers
Two slides, two Atlanta Falcons.
2011 was supposed to be the year that Michael Turner slowed down and became less effective.
He only responded with 1,300 yards and 11 touchdowns.
Instead of Turner deteriorating, his offense has been invigorated. It will be a very long time before Turner sees eight defenders in the box.
With the Falcons wide receiving corps spreading the secondary, Turner has more comfortable running lanes.
Jim Rogash/Getty Images
Gronkowski has become Brady's no. 1 option for touchdowns
New England Patriots tight end Rob Gronkowski had a more electrifying 2011 than anyone not named Tebow.
Shortly after Antonio Gates redefined the tight end position, Gronkowski re-redefined it.
It's amazing what Gronkowski did in 2011—more than 1,300 yards and 17 touchdowns.
Seventeen touchdowns? Many tight ends don't score that many in their careers.
Even during the Gates period, tight ends should not have been drafted in the second round.
Gronkowski owners could successfully argue that a first-round selection isn't too high.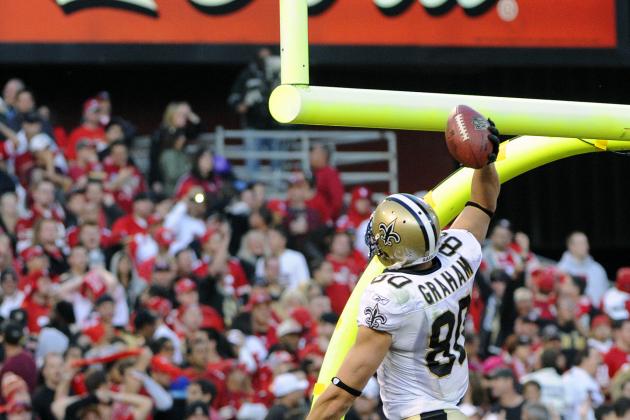 Thearon W. Henderson/Getty Images
Graham has a freakish combination of physical gifts
What happens when second place isn't good enough?
Jimmy Graham had 1,310 yards and 11 touchdowns but wasn't the best tight end in the league.
If you're looking for reasons why Drew Brees broke Dan Marino's record, then look no further than the "other" tight end.
Last year was the final year that a fantasy owner could be so happy about "stealing" Graham in the 10th round or below.
From now on, Graham won't make it past the third round.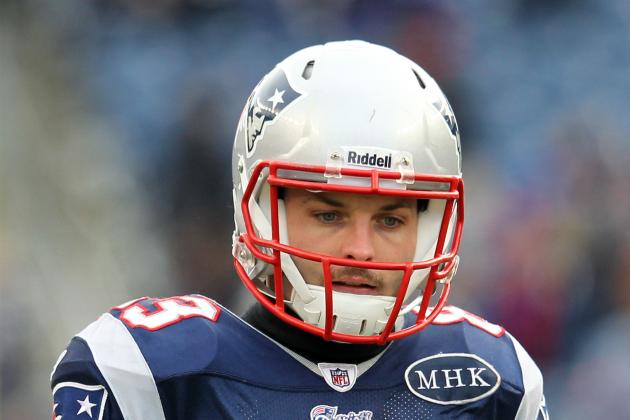 Jim Rogash/Getty Images
Welker is a matchup nightmare for many defensive backs
If anyone knows how Jimmy Graham feels about being overshadowed, it's Wes Welker,
Welker began his New England Patriots career in the shadow of Tom Brady and Randy Moss.
After Moss left, Gronkowski traipsed in and stole the show (as if Gronkowski could ever traipse).
Just like Graham and Welker fantasy owners, Welker is fine with where he's at.
Still proving everyone wrong, Welker had 1,569 (only trailed Calvin Johnson) and hauled in nine touchdowns.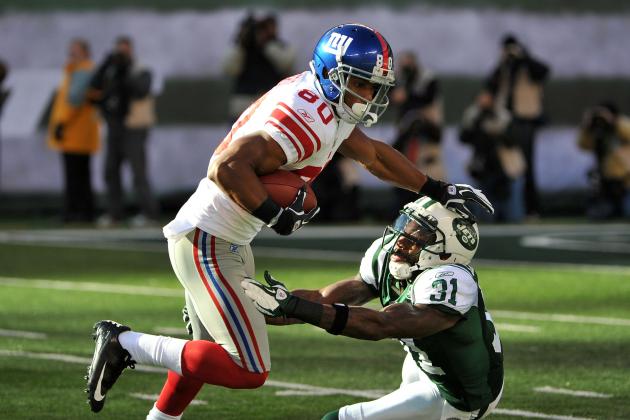 Christopher Pasatieri/Getty Images
Cruz was a waiver wire steal/gem in 2011
This may be a bit too high for the one-hit wonder.
In fact, the jury is still out if he's the best wide receiver on his own team.
Whoever grabbed Victor Cruz early off fantasy wires found one of the best gems of 2011.
I'm saying now that he repeats his 2011 season and catches 1,300 yards and eight touchdowns.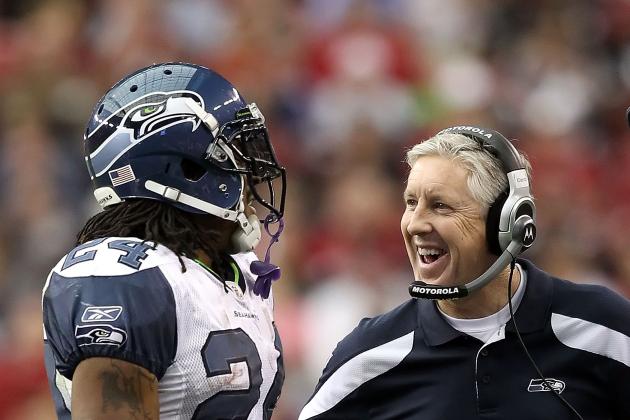 Christian Petersen/Getty Images
Carroll will try to ride Lynch into the playoffs as will his fantasy owners
You don't have to like Skittles to like this pick.
A team finally had an opportunity to utilize Marshawn Lynch extensively, and Lynch rewarded them with 1,204 yards rushing and 13 touchdowns overall.
If Pete Carroll is smart, he will do the same thing in 2012.
Do you really expect them to keep it in Tarvaris Jackson's hands?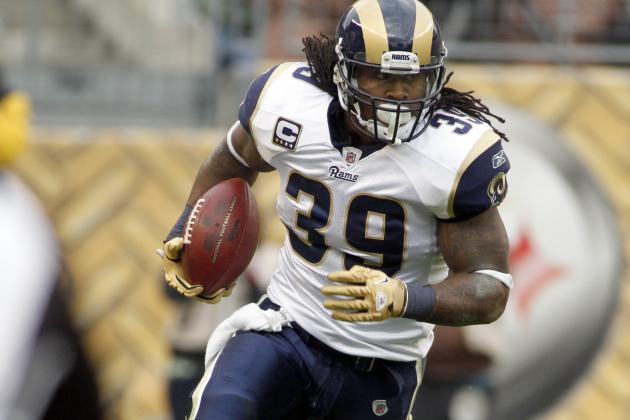 Justin K. Aller/Getty Images
Is this the year Jackson gets help on offense
Oh, the questions that pop up when fantasy owners discuss Steven Jackson.
Generally statements begin, "If Jackson was on a good team..."
That's never a good sign for an organization, and it may have been difficult for Jackson as well.
Even with no quarterbacks and constant rebuilding, Jackson has managed almost 5,000 yards and 16 touchdowns when every defender keyed on him.
Here's hoping the Rams do something in the draft.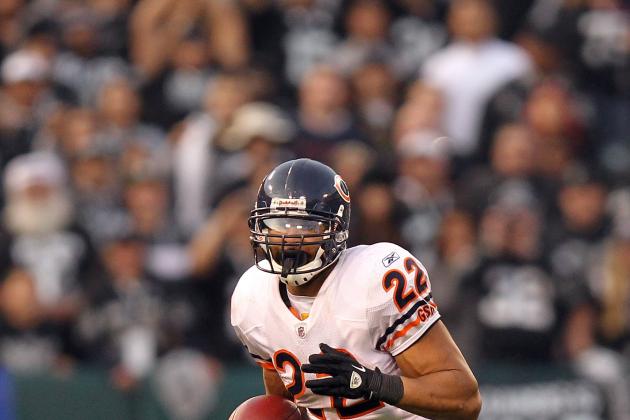 Ezra Shaw/Getty Images
Forte has been consistently spectacular the last three years
Here are two running backs that deserve to be higher.
Both were injured in the latter portion of the season, and both have been carrying the load for their teams the last three years.
Neither Forte nor Mendenhall has had a terrific offensive line to run behind, but each player has been integral to their team's success.
Forte's numbers for 2009-2011: more than 4,500 total yards and 13 touchdowns
Mendenhall's numbers for the same time: more than 3,800 total yards and 30 touchdowns.
Jared Wickerham/Getty Images
Is Wallace the fastest wide receiver in the NFL
I feel a need for speed.
Forgive the Pittsburgh Steelers if they are veering away from three yards and a cloud of dust.
Mike Wallace is leading a trio of young, talented and fast Steelers receivers into a new offensive era.
Ben Roethlisberger's arm is a perfect match for Wallace's legs.
If the Steelers can solidify their O-line (big if), then the Steelers could have a top-five offense.
Wallace's 2011 totals—1,193 receiving yards, eight touchdowns.
Wallace's 2010 totals—1,257 receiving yards, 10 touchdowns.
2012 prediction: 1,200 yards, nine touchdowns.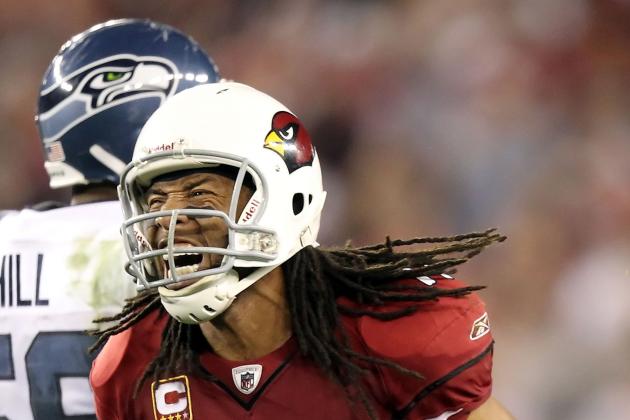 Christian Petersen/Getty Images
Living proof that quarterbacks matter
Can we please get another quarterback for Larry Fitzgerald?
When Fitzgerald has a competent passer, he is a top-five receiver.
Kevin Kolb doesn't look like the answer and only makes John Skelton look legitimate. Both make Fitzgerald look average.
Even with weak QB play, Fitzgerald is one of the few WRs to make the top 50 list three years in a row.
Prediction for 2012: 1,300 yards, seven touchdowns.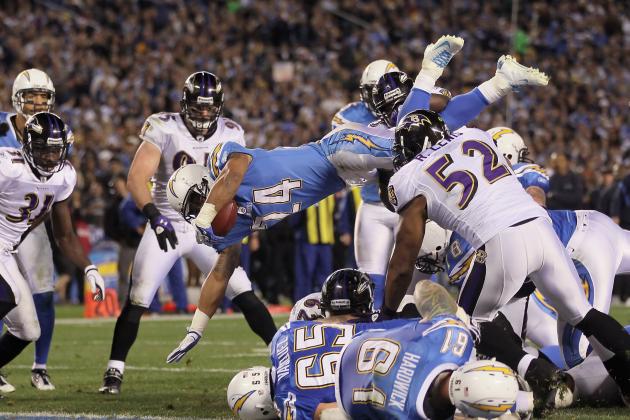 Jeff Gross/Getty Images
Mathews is set for a big year
Nab him in the second round or hope he's still available in the third.
Ryan Matthews was the 20th-rated scorer in 2011. Norv Turner loves the RB.
In his third year, Matthews could make the jump to top-five running back whether MIke Tolbert takes carries away or not.
Splitting carries with Tolbert in 2011, Matthews had more than 1,500 total yards and six touchdowns.
Expect these numbers to climb in 2011.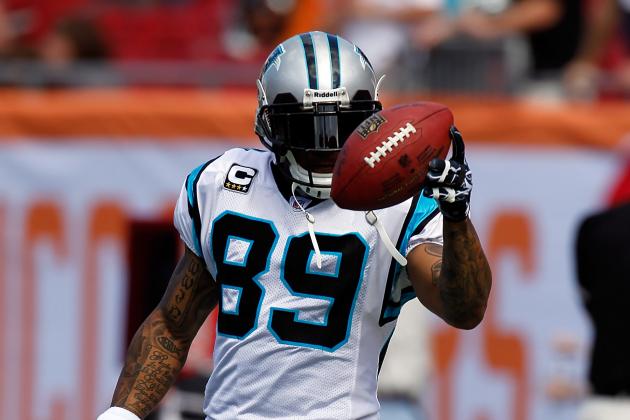 J. Meric/Getty Images
Newton has single-handedly made Smith relevant again
Steve Smith found the fountain of youth—its name is Cam Newton.
Did Newton make Smith better or did Smith make Newton better?
Whatever the answer is, Steve Smith of the Carolina Panthers made his fantasy owners better.
It may be unrealistic to expect almost 1,400 yards and seven touchdowns again, but 1,250 yards and six touchdowns is a given.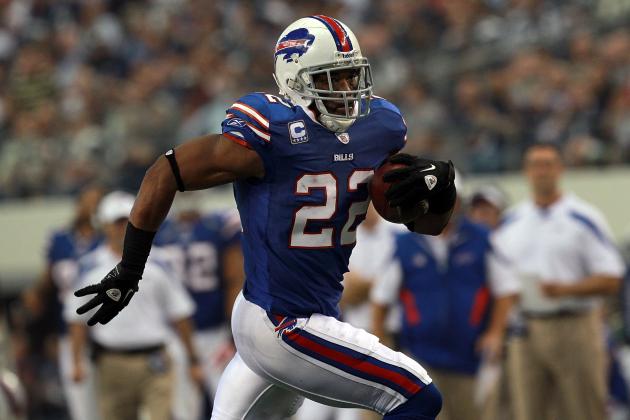 Ronald Martinez/Getty Images
Jackson has been the Bills most potent fantasy weapon since Thurman Thomas
Do non-Buffalo Bills fans know how productive the other RB Jackson has been over the last three years?
Despite Buffalo's attempt to displace him with Lynch and then C.J. Spiller, Jackson has fought off all comers to be a potent fantasy play over the past three years.
Here's hoping his season-ending injury doesn't derail his career.
In 2012, expect another 1,100 yards and five touchdowns.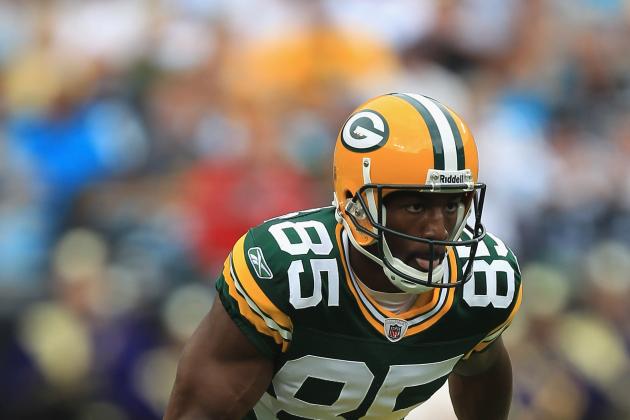 Streeter Lecka/Getty Images
Even on a team with a lot of weapons, Jennings was sneaky good
Greg Jennings and Hakeem Nicks are two of the best available wide receivers on prolific scoring teams.
They each have to share the ball with numerous other targets.
Both Jennings and Nicks have the ability to score in the upper-echelon of fantasy scoring, but both have experienced nagging injuries along with losing points to their own teammates.
In 2012, expect Jennings to come on strong for the Green Bay Packers and assert himself again.
Expect the same of Nicks—he wants to be the Batman to Victor Cruz's Robin. If Nicks plays 16 games (big if), then owners can expect 1,300 yards and 10 touchdowns.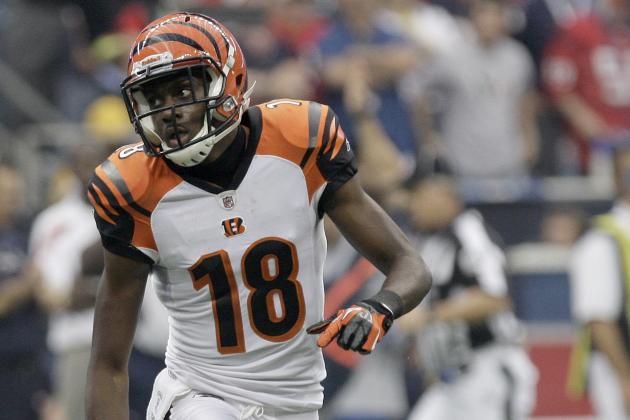 Thomas B. Shea/Getty Images
Is Green the mini-Megatron?
The young guns, wide receivers Julio Jones and A.J. Green.
Both of these guys will lead their owners to the promised land in the years to come.
In Atlanta, Jones will become the alpha male of the receiving corps. In Cincinnati, Green is already there
They say that receivers make the leap in the third year. Both of these guys are ahead of the curve.
Expect 1,200 yards an eight touchdowns from both players in 2012.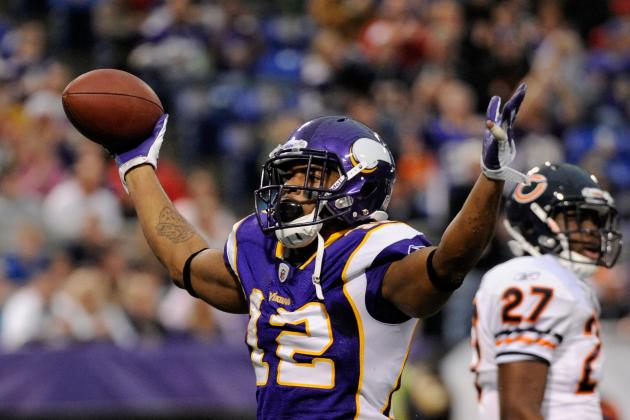 Hannah Foslien/Getty Images
Harvin only going to get better with Christian Ponder
Don't laugh. Percy Harvin deserves to be here.
Most owners don't realize that Harvin was on the top 50 list the last three years, and that includes five different quarterbacks, migraines and a wounded AP.
Admission—I love this guy.
He can get you points as a WR, RB and returner. In 2012, he may even get you points throwing the ball.
Make no mistake, Christian Ponder is going to get better and make Harvin better. Plus, Harvin doesn't really have to share targets with anyone yet.
If Harvin falls to the third round, grab him as fast as you can.
I see another 1,800 all-purpose yards and nine touchdowns.