Super Bowl 2012: Pick Against the Spread, O/U and Much More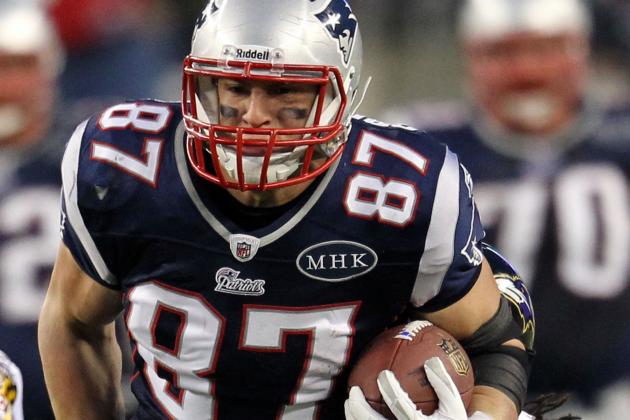 Jim Rogash/Getty Images

This year's Super Bowl matchup, pitting the New England Patriots against the New York Giants, could be one of the best Super Bowls of all time. These teams are seemingly evenly matched and will definitely put on a great show for football fans around the globe.
When the Super Bowl comes around, anyone with any "financial" interest in the big game asks, "Who will cover the spread this year? Will they hit the over?" Well, here are my picks for this Super Bowl against the spread, the Over/Under and various prop bets for both teams.
Begin Slideshow

»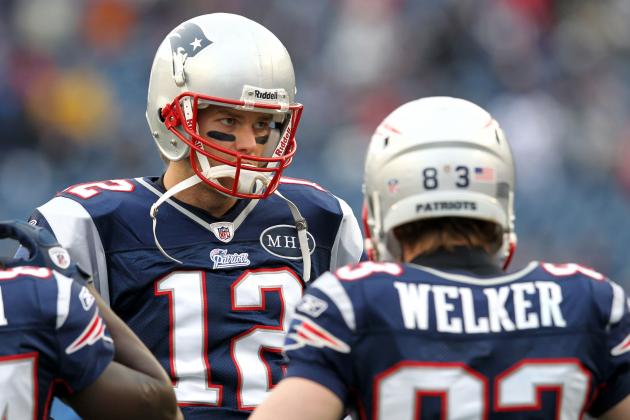 Jim Rogash/Getty Images

I have been going back and forth about who to pick in this game for the past week. However, the fact that I am not a fan of either team has really allowed me to take a step back and analyze this game fairly. So, I'm picking New England to defeat New York, and for New England to cover the 2.5 point spread.
My main rationale for taking New England against the spread is that I simply think Brady and the Patriots offense will simply be too much for Eli and the Giants. Brady's going to have a big game. I think that the Pats defense is going to rise up and slow down Eli and the Giants offense enough for the Patriots to get the win.
Bill Belichick has had two weeks to study film and come up with a game plan to confuse Manning and scuttle the Giants' offense. I think that Coach Belichick will put in the right game plan and allow the Patriots to win, likely by a margin of three to seven points.
The major question mark going into this year's big game is whether Rob Gronkowski will be able to play, and play well for the Patriots.
For some reason, I think that his injury is being over stated by the Patriots. Gronk was able to return to the game during the AFC Championship, and will have had a full two weeks of rest and rehab before Sunday's game. Gronk's going to be fired up and I expect him to have a great game, playing much better than the public and media are anticipating. Call it 6 catches for around 100 yards and a touchdown for the big guy.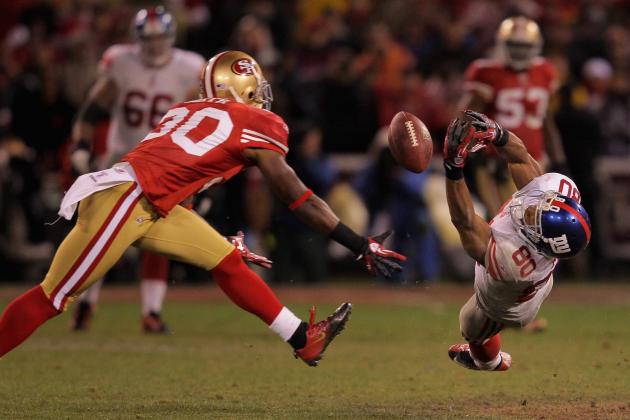 Doug Pensinger/Getty Images

This one, for me at least, was relatively easy to pick. I think that 55 points is too high, and that the over-under should be more in the neighborhood of 49-51 points.
I'm basing my pick partly based on the history between these two teams. When they previously played in the Super Bowl in 2008, they scored a paltry 31 points. While that was almost four years ago, I still think that should it count for something.
Second, when the Patriots and Giants previously met this season in week 9, they combined for 44 points, which is a full 11 points below the current over/under. While the New England offense is playing about the same as they have been all year, I believe their defense is significantly improved heading into Sunday. And the Giants' defense also appears to be hitting its stride just in time for the big game.
I expect this game to have a very similar score to their previous meeting earlier this season, somewhere in the neighborhood of 27-21 or 24-20, which are both comfortably beneath the current over/ under. If I had to choose between taking the Patriots with the spread or picking the under, I would definitely choose to take the under. I think it's the safer pick.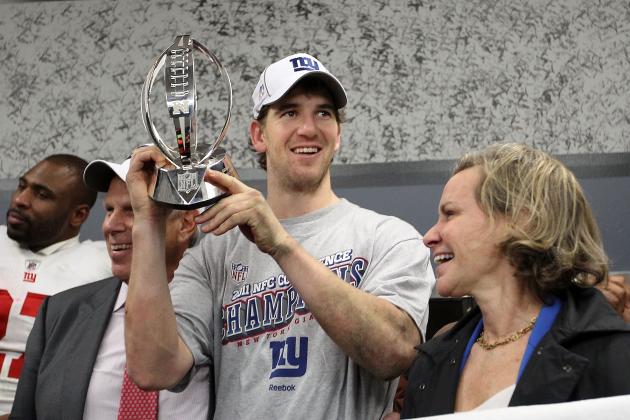 Ezra Shaw/Getty Images

I've been looking through the seemingly endless amount of prop bets for this game, trying to look for some good ones, and this is what I have come up with so far in terms of prop bets that I think prospective bettors should examine more closely.
Take OVER 49.5 Yards for Longest Touchdown Scored (Either Team)
I like this pick because both teams have consistently scored on big plays all year. Victor Cruz and Hakeem Nicks are always threats to score from way out, and Eli will certainly take his chances at least four or five times on a deep play.
On the Patriots' side, Brady and the gang have scored on a lot of deep plays throughout the year, and with the Giants figuring to bring a heavy pass rush, I wouldn't be surprised to see a lapse in their coverage that Brady could exploit for the big score.
Take OVER 4.5 Sacks in the Game (Both Teams Combined)
The Patriots are going to have to deal with a pass rush from the Giants that is playing as well as any team has all year. They're going to be relentless, especially on third down, and I fully expect them to have at the very minimum three quarterback sacks. Any less than that would really surprise me.
Throw in a couple of good defensive stunts and schemes by Belichick, and you'll get a couple of sacks from the Patriots. I think this is an interesting bet, and I would definitely go for the over.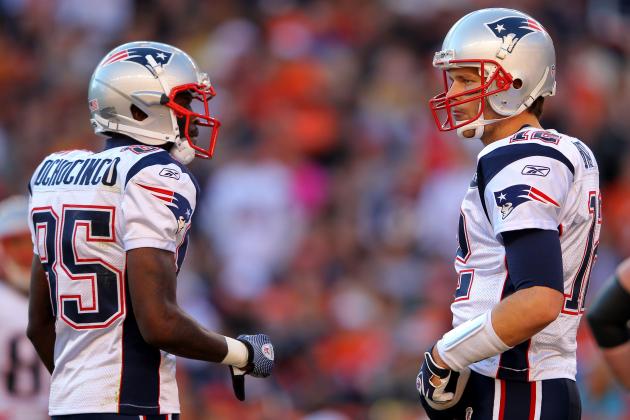 Doug Pensinger/Getty Images

Pick OVER Wes Welker 6.5 Receptions
This one seems like a no-brainer to me. The last time these two teams met in the Super Bowl, Wes Welker had over 100 yards and 11 receptions. I don't think there is any way, short of an injury, that Welker has less than eight or nine catches, and he'll probably hit double digits.
Brady and Welker have shown throughout their careers that they are best when the pressure is on, and I fully expect them to connect on passes throughout the game. They should definitely hit the over.
Pick YES Chad Ochocinco will have at least 1 Reception
Chad Ochocinco is finally on the biggest stage in the biggest game of his career. This pick is more of a hunch on my part, but for some reason I feel like he's going to have a good game. He's not going to have 10 catches for 150 yards, but I think that he'll be extra motivated and perform above expectations.
I think Chad will have somewhere in the neighborhood of three catches. He's been waiting his whole career for this moment. He will want to prove people wrong and have a good game for himself.