Anaheim Ducks: Bruce Boudreau's Early Coaching Report Card
January 31, 2012
Marianne Helm/Getty Images
Bruce Boudreau wasn't out of a job for very long, due in part to the timing of Randy Carlyle being fired, and in part to his reputable resume and personality being known around the league.
Coach Boudreau joined one of the most unsuccessful Anaheim Ducks campaigns of the last decade, inheriting a team that had spent almost the entire first half of the season competing with the Columbus Blue Jackets for last place in the Western Conference.
That was over two months ago, and Boudreau's impact on the Ducks' play has certainly been noticeable, if not right away, certainly during the month of January.
While the Ducks' December didn't impress much more then their first two months of the season, the team has been on an absolute tear during the month of January going 8-2-2 and averaging less than two goals against per game in that span.
With all this in mind, we ask ourselves: What is the verdict on Coach Boudreau?
Here is Bruce Almighty's early season report card broken down into three different subjects and an overall assessment.
Top Line
Whenever you hear "top line" in relation to the Anaheim Ducks, you're almost always hearing a reference to Corey Perry, Ryan Getzlaf and Bobby Ryan. They are Boudreau's Anaheim versions of Alexander Ovechkin, Nicklas Bäckström and Alexander Semin. Everyone knows that Boudreau had tremendous success with these players in Washington, but could he re-create it in So-Cal with Anaheim's cycling game plan?
Our answer appears to be yes.
The top three have responded extremely well to Boudreau's coaching. Anaheim's top line is now noticeably faster and more prone to put shots on goal then earlier in the season.
Aside from point production, which has increased during the month of January for all three forwards, the top line has been consistent enough to play together most of the time they're on the ice, which is good news for each of their respective stat sheets.
While the Ducks' top line is still a powerful team down low, they've incorporated a lot of Boudreau's speed game with the cycling style they are already familiar with. Both sides have adjusted well in this regard and the players' point production serves as proof.
Grade: B+
Offense
The addition of Jason Blake (returning from an early season injury) and Niklas Hagman has without a doubt helped the cause of Boudreau's second and third line combinations. Boudreau deserves credit for keeping these players on the same lines and giving them a chance to generate some chemistry.
Under Boudreau the Ducks are rolling out three scoring lines with a fourth checking line. Niklas Hagman, Saku Koivu and Teemu Selanne command the second line while Jason Blake, Nick Bonino and Andrew Cogliano make up the third.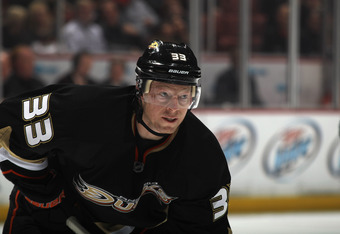 Bruce Bennett/Getty Images
Boudreau has done an excellent job getting speed onto all three of these lines without having to move Bobby Ryan around. This has particularly benefited Blake and Hagman, and they've combined for 13 points in the month of January.
Grade: A-
Defense:
Probably the darkest spot for Anaheim this year and in years past has been their defense. Boudreau hasn't exactly been known to be a defensive minded coach, which is one of the few things that made his hiring somewhat puzzling.
Carlyle was the more defensively focused of the two, even if it wasn't showing on the ice.
Boudreau has started by simply reducing the amount of shots his team gives up per game. Often times he'll have a third forward down below the faceoff dot to provide support and cut off shooting lanes. The scheme creates a collapsing wall around Jonas Hiller where the Ducks just give opposition the high points and corners and forces teams to take shots that are easy for Jonas Hiller to stop.
As mentioned earlier, the Ducks' speed has improved in this regard as well. Such long shots create more loose pucks, and the Ducks are quick to pounce on these and start the attack going the other way.
Boudreau deserves credit here for capitalizing on his team's agility and speed rather than trying to re-create the physicality of the 2007 Anaheim Ducks, something Randy Carlyle was certainly guilty of.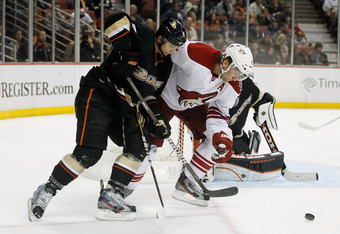 Jeff Gross/Getty Images
Grade: A
Overall
It's never an easy thing for a coach to completely turn around a struggling team, and midseason coaching changes aren't necessarily expected to do that. However, the adjustments that coach Boudreau has made are beginning to become evident and have certainly forced me to contradict an article I wrote back on January 13th titled 5 Reasons Bruce Boudreau Should Not Be the Coach Next Year.
Boudreau has more than proven me wrong as he has not only begun to improve the Anaheim Ducks' record, but also (and perhaps of equal importance) he has taken the team in a brand new direction by developing a new identity and by not relying on an old model that wasn't working with current personnel.
Overall Grade: A-