San Francisco 49ers Wish List: 10 Top Free Agents Who Fit the System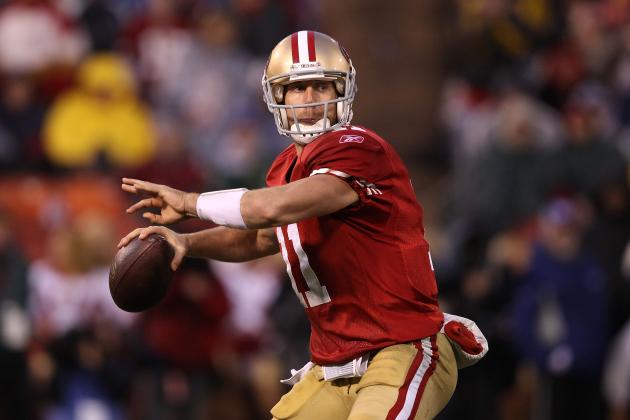 Ezra Shaw/Getty Images
Alex Smith will most likely return to the 49ers
The San Francisco 49ers are coming off an incredible year. To say that they were the surprise team in the NFL this past season is an understatement.
New 49ers' head coach Jim Harbaugh turned around the fortunes of the 49ers and had them within one game of the Super Bowl. The 49ers had a regular season record of 13-3 and defeated the New Orleans Saints in an epic playoff battle.
The 49ers advanced to the NFC Championship game, where they were beaten in overtime by the New York Giants, 20-17. The 49ers were literally a play or two away from making the Super Bowl.
The difficulty for Harbaugh and GM Trent Baalke will be to take the next step and get the 49ers to the Super Bowl and win it. The first order of priority will be to identify and sign their own key free agents. The 49ers have some twenty free agents and will want to keep several of them.
Core members of the 49ers' defensive unit—arguably the best in the NFL—are now up for free agency. These players include Dashon Goldson, Carlos Rogers and Ahmad Brooks.
Two key offensive players also must be re-signed. Quarterback Alex Smith took a giant step in his development under Harbaugh and offensive coordinator Greg Roman. The 49ers definitely want Smith back, and he has indicated that he wants to return.
In addition, right guard Adam Snyder is a key member of the 49ers' offensive line and needs to be retained.
The 49ers will determine which of their own free agents they want back. They will also take a hard look at the market to determine which players are available who can help them take that next positive step.
Let's take a look at 10 free agents that would look great in a 49ers' uniform.
Begin Slideshow

»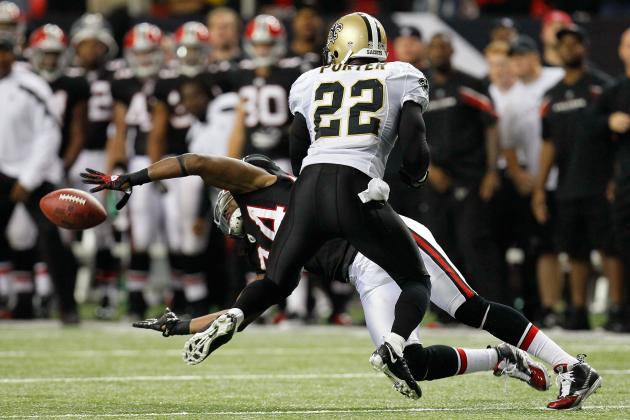 Kevin C. Cox/Getty Images
Tracy Porter in coverage for the Saints
Tracy Porter started 11 or 14 games at cornerback for the New Orleans Saints. He missed two games due to injury. For the season, Porter made 52 tackles and had one interception.
The 49ers could use an additional cornerback to play in their nickel and dime defenses. I believe Porter would fit in well as a nickel back for San Francisco. He also gives the team some insurance in the event the 49ers are unable to re-sign their own free agent, Carlos Rogers.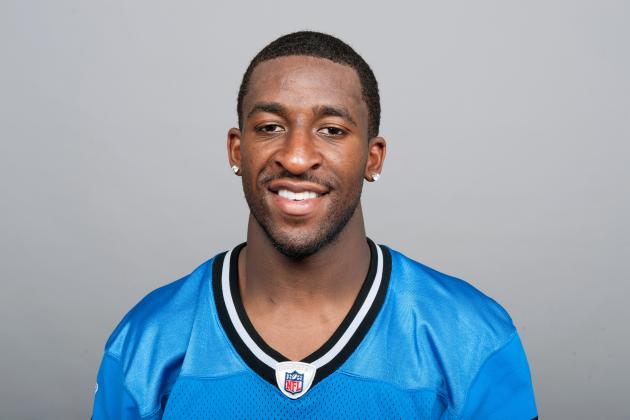 Handout/Getty Images
Eric Wright can join the team his dad played for
The name "Eric Wright" conjures up memories of past Super Bowls and the great 49er secondaries with Ronnie Lott and Carlton Williamson. Now Eric Wright, the son, is a free agent and it would be fun to see him wear the 49ers' uniform.
The younger Wright has played five seasons in the NFL, most recently in 2011 with the Detroit Lions. Wright started all 16 games for the Lions this past season and had four interceptions and 67 tackles.
I believe the 49ers can use another strong cornerback to go along with Carlos Rogers and Tarell Brown. With the emphasis on the passing game in the NFL, teams need to go five and six deep in the secondary.
Wright would give the 49ers a solid starter and allow them to use Tarell Brown as a nickel back.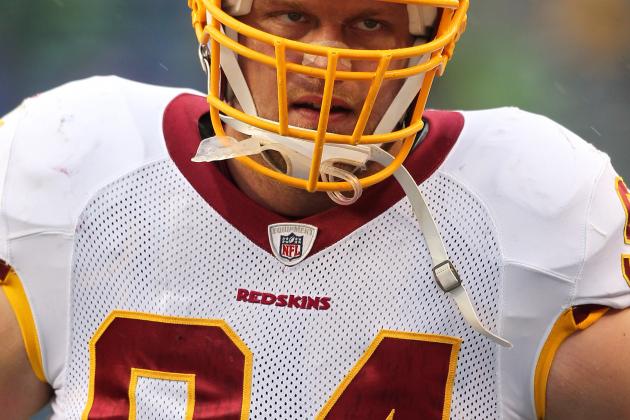 Otto Greule Jr/Getty Images
Adam Carriker would step into Ray McDonald's spot
The San Francisco 49ers were quite fortunate to not incur any serious injuries along their starting defensive front, in 2011. That is quite rare and to expect that to occur again would be shortsighted and foolish.
I believe the 49ers would be wise to add a proven player to their defensive line and an excellent option would be Adam Carriker. He will be 28 years of age when the 2012 season gets underway.
Carriker is 6'6" and 315 pounds. He can step right into the spot currently manned by Ray McDonald. McDonald would then be a sub, but this move adds much needed depth and versatility to the defensive front.
In 2011, Carriker made 38 tackles, along with 5.5 sacks. He and McDonald would be a good tandem at the one defensive end spot, opposite Justin Smith.
There were times this past season when it appeared McDonald simply disappeared. It may be because he was fatigued or had a nagging injury that slowed him up. In any case, Carriker can be a force along the defensive front and his presence will make McDonald better also.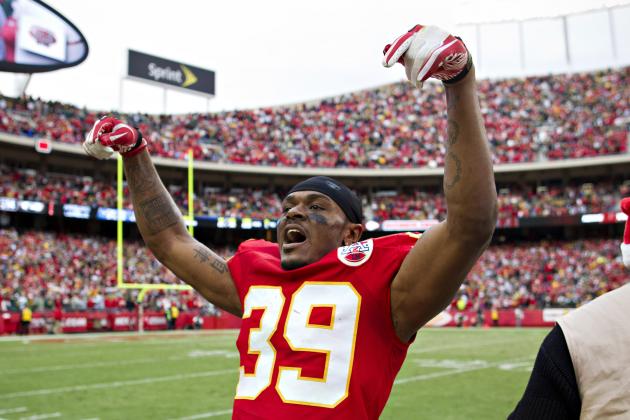 Wesley Hitt/Getty Images
Brandon Carr celebrates a big play
The 49ers would be well served to get another strong cornerback as we head into the 2012 season. Carr will be in his fifth year in the NFL.
Carr has started and played in every game over his prior four seasons. In 2011, he amassed 45 tackles and four interceptions. Carr would be an excellent fit in the 49ers' defensive backfield as a starter or nickel back.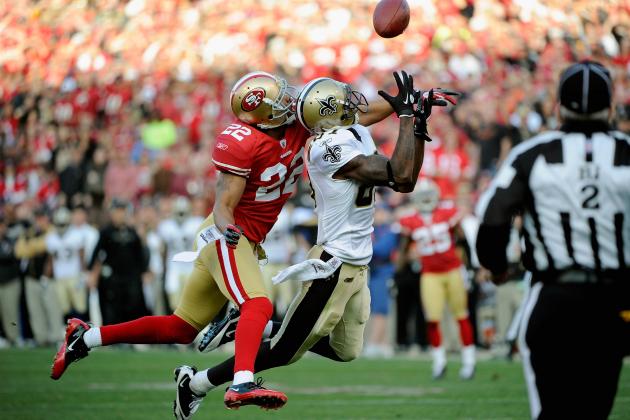 Thearon W. Henderson/Getty Images
Marques Colton battles for the ball against the 49ers
Marques Colston would immediately become the No. 1 wide receiver for the 49ers if they signed him. In 2011, he caught 80 passes for 1,143 yards. He also had eight touchdown receptions over the season.
The weakest area of the 49ers' team right now is their wide receivers. Michael Crabtree and Kyle Williams combined for one catch and three yards in the NFC Championship game.
Colston is a very productive receiver. He had 80 catches for 1,143 yards and eight touchdowns. Colston has had over 1,000 yards in five of his six pro seasons.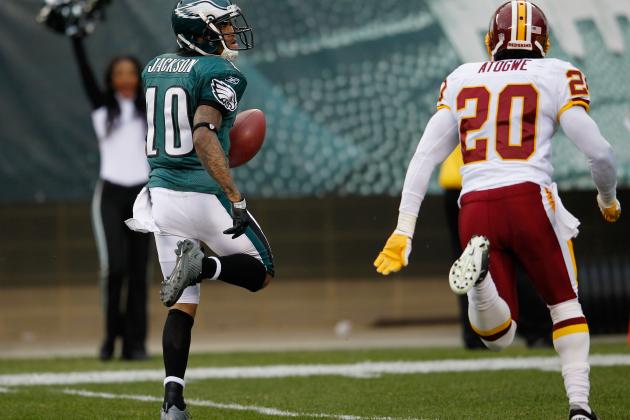 Rob Carr/Getty Images
DeSean Jackson is a dangerous, big-play threat
DeSean Jackson is one of the most explosive wide receivers in the game. He can also return punts, which was a major problem in the 49ers' loss to the Giants.
Jackson went to college at Cal and has deep ties to the Bay Area. In 2011, his fourth season in the league, Jackson had 58 receptions for 961 yards and four touchdowns.
One concern is that Jackson has had periodic troubles with the coaching staff and management of the Eagles. Jim Harbaugh and the 49ers will demand a team first attitude and Jackson often employs a more selfish, "look at me" attitude.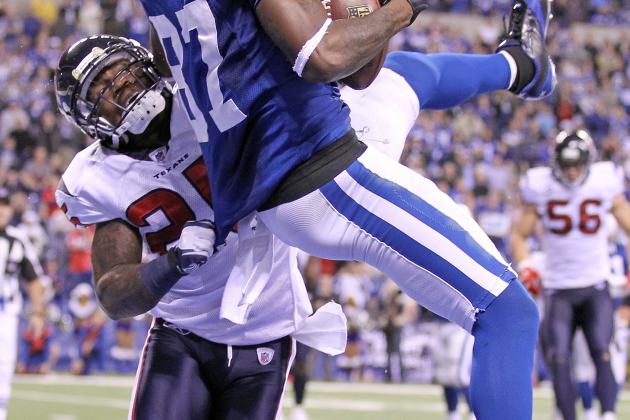 Andy Lyons/Getty Images
Reggie Wayne's time seems to be running out in Indy
Reggie Wayne has been a tremendously productive and consistent player over his entire NFL career, which spans 11 years. He has also been extremely durable, playing in 173 out of a possible 176 games.
Wayne had seven straight 1,000-yard seasons prior to 2011. Last year, without Payton Manning at quarterback, Wayne had 75 receptions for 960 yards and four touchdowns.
In his illustrious career, Wayne has averaged 78 catches for 1,064 yards and 6.6 touchdowns per season. The only concern with Wayne is his age. He will turn 34 years old in November. Nevertheless, Wayne is a quality receiver who would also be able to teach the young 49er wide receivers a few tricks of the trade.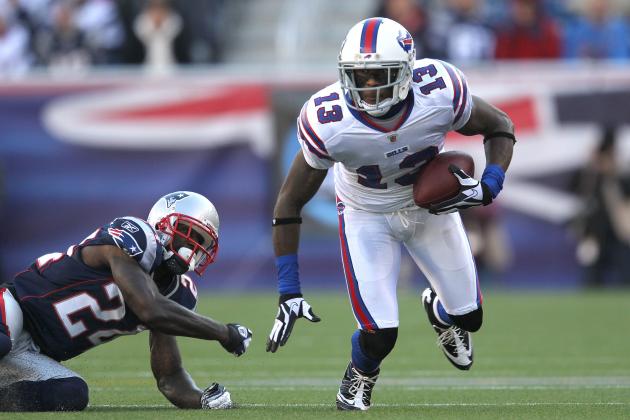 Jim Rogash/Getty Images
Steve Johnson is an enormous talent
Steve Johnson is entering his fifth NFL season. After two relatively unproductive seasons, Johnson burst onto the scene in 2010.
Over the past two years, Johnson has averaged 79 catches for 1,038 yards and 8.5 touchdowns. At 6'2" and 210 pounds, Johnson has both the size and speed that the 49ers covet. He is a definite No. 1 caliber receiver.
Johnson has had a few bouts of immaturity on and off the field, but you can't deny his talent. I believe he would be an excellent fit for the 49ers and head coach Jiim Harbaugh would be able to help him mature as a player and as a man.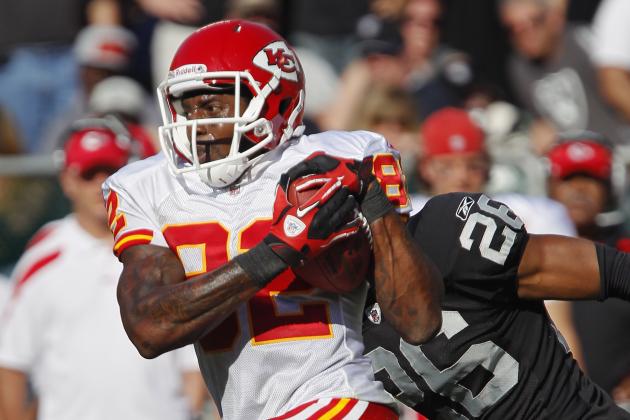 Brian Bahr/Getty Images
Dwayne Bowe is one of the top receivers in the NFL
Dwayne Bowe is an immensely talented wide receiver. He will be entering his sixth NFL season and is exactly the type of player the 49ers need.
In 2011, Bowe had 81 catches for 1,159 yards and five touchdowns. He also had 15 touchdowns in 2010.
Bowe would be expensive, but he would give the 49ers a top flight talent. He is a No. 1 receiver talent and would move Michael Crabtree to a more realistic No. 2 receiver status.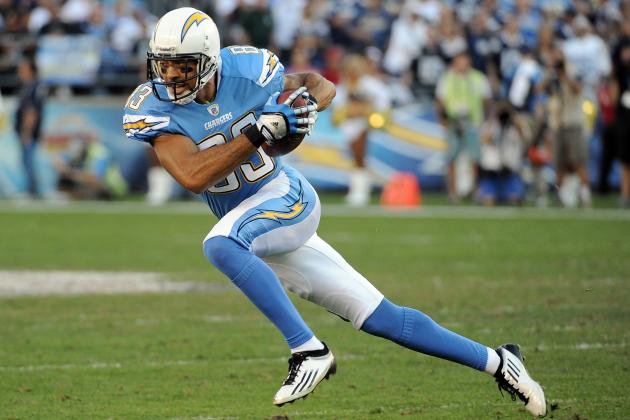 Harry How/Getty Images
Vincent Jackson is one of the most prolific wide receivers in football
Vincent Jackson has played seven years in the NFL, all with the San Diego Chargers. He has over 1,000 yards receiving in three of his last four seasons.
In 2011, Jackson had 60 catches for 1,106 yards and nine touchdowns. His 18.4 yards per catch is one of the best in the league. Jackson has great speed and is a deep threat the 49ers have lacked in recent years.
It will not be cheap, but Jackson should be the 49ers' No. 1 target for 2012. His ability to make big plays deep down the field would help open up the underneath routes for the other 49er pass catchers.
Jackson is 6'5" and 230 pounds. He also gives opponents fits inside the red zone due to his size and leaping ability. His presence in a 49er uniform would immediately help their touchdown efficiency in the red zone, which was extremely poor last season.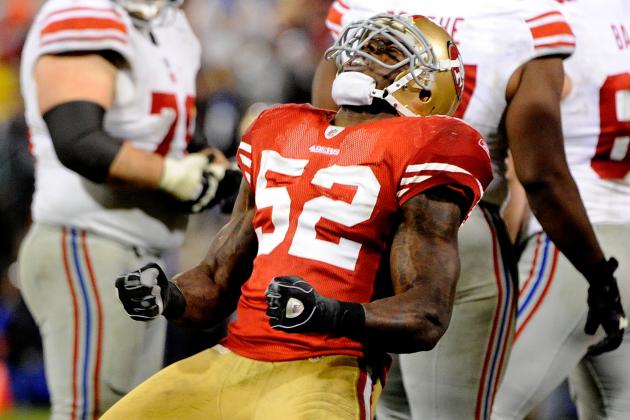 Thearon W. Henderson/Getty Images
Patrick Willis leads the 49ers' defense
Looking ahead to 2012, the San Francisco 49ers are poised for another run at the playoffs and a Super Bowl. The key will be to keep their outstanding defense intact and add just a few pieces to solidify other areas on their team.
As you can tell from this article, the 49ers' No. 1 need is a top flight wide receiver. In reality, I would like to see the 49ers get two wide receivers—one through free agency and one in the draft.
The 2012 draft is one of the best ever in terms of top wide receiver talent coming to the NFL. The 49ers will hopefully be able to pick one of those top young talents and develop him.
Jim Harbaugh and his staff brought the excitement back to 49ers' football. They made the playoffs for the first time since 2002 and hope to take the next big jump to a Super Bowl title.