Peyton Manning: Ominous Health Report Signals End Is Near for Colts Legend
January 31, 2012

Andy Lyons/Getty Images
Nobody from the organization is saying so, but all the signs point towards Peyton Manning not being a member of the Indianapolis Colts in 2012.
The bigger question should be whether Manning is going to even be playing in 2012.
According to a report from Jason Cole of Yahoo! Sports, Manning's ongoing health woes are worse than we know. Manning missed the entire 2011 season recovering from a series of neck surgeries and both he and the Colts have insisted he is recovering, but Cole's sources tell him Manning's progress is not encouraging.
The problem is in Manning's arm. Cole says the nerves in the quarterback's arm are not healing "as quickly as hoped" and, in fact, "don't appear to be progressing at enough of a rate to indicate that he will play again."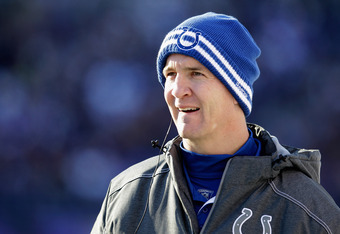 Rob Carr/Getty Images
Manning has started throwing again, but the velocity isn't there, and according to Cole's "two sources with knowledge of Manning's rehabilitation," it may never be.
The reality of the situation is that more time is needed. As for how much more time is needed, Cole spoke to two doctors who said Manning is going to need a full year to recover.
"Right now, Peyton is at about six months. He should have a much better idea by July or August just how far he's going to get … even then, that's only a part of it," said one doctor.
In the meantime, the clock is ticking ever closer to March 8. That's the deadline for the Colts to decide whether or not to pay Manning's $28 million option bonus. If they don't, Manning becomes free agent.
Given the ominous tones in the Yahoo! Sports report, it's unlikely that the Colts will decide to pay Manning (though Mike Florio does bring attention to the fact the "Colts and Manning can renegotiate the contract to change the period to exercise the option payment" on Pro Football Talk). And it's just as unlikely that he will be able to play at all in 2012.
It was just a matter of time before such a report came out. Manning has put on a brave face in recent months, but it's only become increasingly apparent that the series of surgeries he had on his neck were no joke, and that he's not going to magically recover overnight. His recovery already was taking a long time, and now Cole is telling us that it's not close to being finished.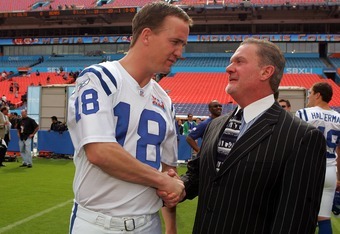 Scott Halleran/Getty Images
I'm going to assume that none of this is news to the Colts. In fact, Jason La Canfora's NFL.com report that the Colts decided weeks ago to cut Manning loose sounds even more legit now, despite Jim Irsay's comments on Twitter. The Colts have to know that Manning is not going to be healthy enough to warrant a $28 million bonus by the time March rolls around.
If the Colts choose not to pay Manning, thus making him a free agent, the question will be if any team will be willing to take a gamble on one of the all-time greats. If Cole's sources are right about Manning, why would anybody pay him?
The longer Manning goes unsigned, the more reasonable retirement would become.
You hope that this doesn't end up being the case, but the writing is on the wall.