Chicago Bulls: 5 Observations After a Win over the Washington Wizards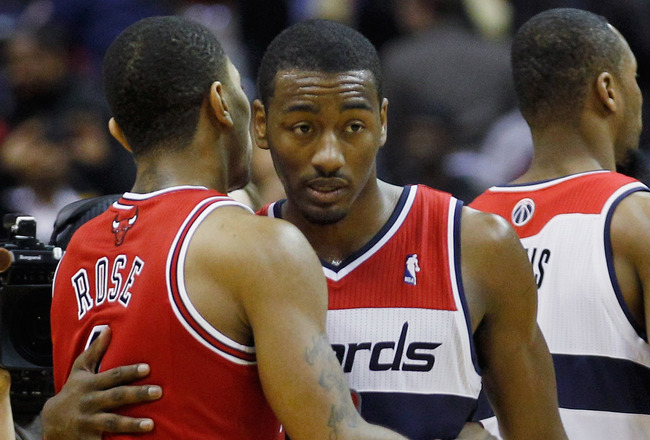 Rob Carr/Getty Images
The Chicago Bulls finished off the Washington Wizards, 98-88, in a relatively quiet game earlier tonight.

The Wizards did battle back late, but while they made some traction, the Bulls managed to string together plays which made sure the outcome was never in doubt.

After the emotional drain of Sunday's matchup between the Bulls and Heat, this game proved to be a mellow one.

The Bulls are in contention for a championship title. The Wizards, even after drafting star point guard John Wall with the first overall pick in the 2010 draft, are still rebuilding. They're the NBA basement-dwellers.

Interim head coach, Randy Wittman, seems to have made some strides with this young Wizards' roster. They didn't roll over, attempting a couple comebacks instead, but the Bulls managed to execute, coming away with the win.

Here are my five observations from the game.
Great Work, Joakim Noah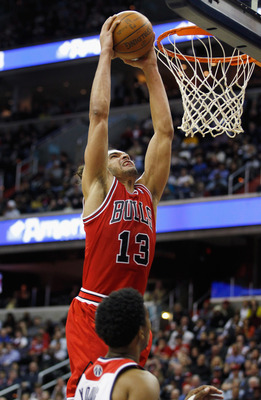 Rob Carr/Getty Images
Joakim Noah was about as efficient as you can be earlier tonight. He shot 5-of-6 from the field and converted on all four of his free throw attempts.

Noah posted his fifth double-double in a row with 14 points and 13 rebounds.

He added seven assists to that stat line, making his performance three assists off a triple-double. You'll take that from your center.

As the pressure ramped up in the fourth quarter, the Wizards ran more traps on Derrick Rose. Double-teams swarmed Rose before he even crossed halfcourt in some instances. This strategy seemed to be quite effective at slowing down Rose for a time.

Luckily Rose had an outlet in Noah, who become the playmaker for the team, connecting with Carlos Boozer for a number of crucial plays down the stretch.
Derrick Rose Surpasses His Season-High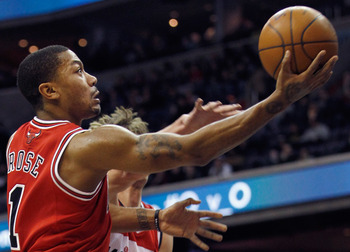 Rob Carr/Getty Images
I would call Noah the player of the game if Rose hadn't gone on such a tear. He scored a season-high 35 points, adding eight assists, three blocks and a couple steals to that impressive stat line.

Rose got anywhere he wanted on the floor—particularly with rookie point guard, Shelvin Mack, guarding him. Mack was billed as a solid-but-not-spectacular defender coming out of college, but Rose ran circles around him.

Rose drove to the basket, pulled up for floaters, and made one from distance.

He managed to score those 35 points on just 20 shots, shooting 50 percent from the field and connecting on 14 of 15 free throws.

His aggressiveness has been through the roof in the last three games the Bulls have played. Rose has scored 30+ points in each of them.
Ronnie Brewer's Jump Shot Was Just a Tease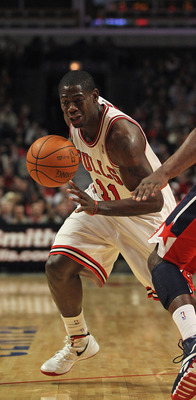 Jonathan Daniel/Getty Images
Ronnie Brewer surprised a lot of us at the start of the season with his improved jump shooting.

His percentages were high, but Brewer's jump shot has failed him in January. Those percentages are down to 36.4 percent from three this season, and 26.3 percent for the month of January.

Brewer's overall field goal percentage over the last five games—where he's seen starter's minutes with Luol Deng being injured—is down to 35.7 percent.

He's a great defender and has given substantial effort during that time. His jump shot just seems to have disappeared.
You'd Like to See Taj Gibson and Omer Asik Make More of Their Free Throws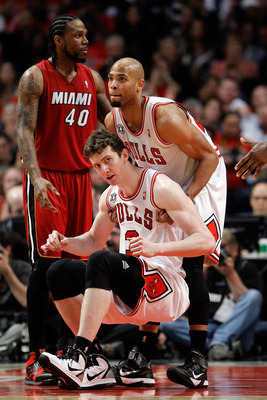 Gregory Shamus/Getty Images
Niether Taj Gibson or Omer Asik are very good free throw shooters. It wasn't an issue in this game against the Wizards, but in general the Bulls' reserve big men have to make the opposing team pay for fouling.

Some superstars like Dwight Howard don't put the work in to become better free throw shooters. I've never understood it, since you'd think their competitive edge would force them to get better from the line.

Free throws can be the difference when it comes to winning a game. Gibson and Asik aren't doing the team any favors by seeing their percentages in that category decrease this year.

Asik is shooting just 38 percent from the line for the season, down from 50 percent last season. Gibson is at 61 percent from the line, compared to 68 percent last year.

The big men they back up are both good free throw shooters for their position. The little things like this matter to a team that wants to win a title.
The Bulls Will Be Tested in the Next Two Games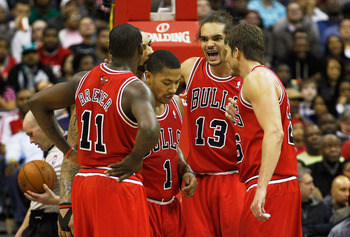 Rob Carr/Getty Images
The Bulls didn't have to play their best game of basketball tonight. The Wizards never posed a serious threat. The next two games on the calendar should be more challenging.
First they face the Philadelphia 76ers in Philly.

The 76ers are on a roll right now. They've won their last three and currently hold a 15-6 record. The 76ers won the season series against the Bulls last year, 2-1. Like every other team, they're going to be hungry to topple the team at the top of the Eastern Conference.

Then, the Bulls visit Madison Square Garden for a matchup with the struggling New York Knicks. The Knicks have lost nine of their last 10—their only win coming against the hapless Charlotte Bobcats.

The Knicks can't stay this terrible all season—and the Bulls have to make sure the turning point isn't an upset victory over them.

With the Wizards in their rear-view mirror, the Bulls are on to the next one.
Keep Reading

Chicago Bulls: Like this team?