Lakers Rumors: Mitch Kupchak Leaving LA with Jim Buss in Charge Is Terrifying
January 30, 2012

The Los Angeles Lakers can't afford to have Mitch Kupchak leave the organization and have Jim Buss be left by himself calling the shots in the front office.
Although the Lakers have a plethora of problems to address under new head coach Mike Brown, Kupchak departing from the franchise would present a brand new challenge.
Roland Lazenby has been hearing some rumblings that Kupchak "may be leaving," and that would represent a dark day for Lakers fans who know what Kupchak has brought to the franchise.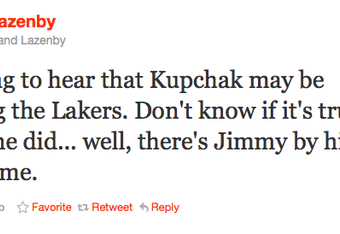 Lazenby is very clear to point out that he's just hearing "talk" and absolutely nothing of more substance, but it's worth noting considering how plugged in Lazenby is to the Lakers family.
There has been a great deal of turmoil within the organization since Jim Buss took on an increased role, and if he were left on his own to call the shots, it could result in things going south quickly.
Kupchak is a much better general manager than he receives credit for, and just because he keeps a low profile shouldn't discount the work he's done building the team.
Buss has an affinity for Andrew Bynum, and any hope of a Dwight Howard deal likely goes out the window if Buss were the one with the final say.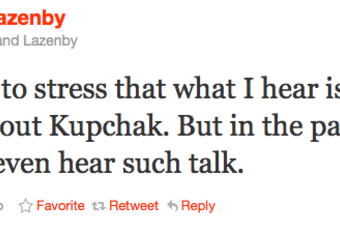 It's really hard to imagine Kupchak departing in the midst of the season, but even if the move were to come at year's end, it would be a major loss for the Lakers.
While it might be difficult for some to imagine, the Lakers are searching for an identity.
Los Angeles can't afford to go through a traditional rebuilding project. The market is flooded with Lakers fans, and the demands for success are omnipresent.
The team faces a tremendous pressure to continually win while also bringing in the next superstar to serve as the face of the franchise after Kobe Bryant's playing career is over, and that is not an easy move to facilitate.
There was a lot of change surrounding Kupchak in a lockout-shortened offseason.
The organization trimmed the scouting department significantly.
Assistant general manager Ronnie Lester was not retained after his contract expired in the summer.
The Lakers waved goodbye to reserve Lamar Odom in exchange for "financial flexibility," but file that move away under a cost-cutting procedure. Los Angeles didn't feel the need to pay a reserve nearly $9 million for a single season.
Additionally, the Lakers let Shannon Brown walk in free agency and instead opted for signings in Jason Kapono, Josh McRoberts and Troy Murphy to help build depth in the second unit.
That is a lot of change for one man to deal with in such a short time.
With mediocre results thus far this season, the Lakers undoubtedly have more changes on the horizon.
ESPN's Ric Bucher dropped an interesting tidbit in his weekly chat about the evolving dynamic between Kupchak and Buss.
Asked a question about whether the Lakers would make a deal in the foreseeable future, Bucher offered the following:
Problem as I hear it is they are on slightly different pages. Mitch wants to hold onto Pau and see if they can package him with Bynum to get Dwight.

Buss wants to move Pau now for help/depth and thereby also eliminate the chance that his pet project, Bynum, goes anywhere. That's the unofficial buzz.
The perception has been that the Lakers are unwilling to trade both Andrew Bynum and Pau Gasol in a Dwight Howard deal because it would cripple the team's depth even further.
However, it would bring a new superstar to the franchise immediately. The Lakers would likely have to take back a bad contract (Hedo Turkoglu) to balance out the salaries, and that is a financial commitment no team interested in Howard should want to undertake.
Moving Gasol for "help/depth" doesn't make a lot of sense in terms of improving the team for the long haul, but it could create financial flexibility the team does not currently have.
Gasol is owed over $38 million from 2012-2014, and that's on top of the nearly $60 million owed to Bryant over that same span of time.
The Lakers will have multiple areas of need to address, and the financial wiggle room to be players in the free-agent market is something that will be imperative in order to achieve sustained success in the future.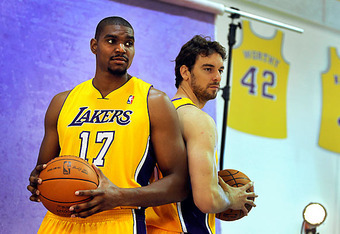 There are tough decisions ahead, none of which will come easily with Kupchak and Buss reportedly not seeing eye-to-eye on what is the best plan of action.
Although there is currently no substantial evidence to suggest Kupchak is contemplating leaving Los Angeles, such a move would be detrimental to the long-term outlook of the Lakers.
If the scenario comes to fruition, Jim Buss will be left by himself to call the shots.
Moving Gasol for "help" while keeping Bynum without pursuing a trade for Dwight Howard isn't what Lakers fans want to hear or see happen.
The long-term impact of Kupchak potentially leaving will be felt by the Lakers a lot sooner than the team or its fanbase would enjoy.
There is a lot happening in Los Angeles that nobody is talking about, but it could very well blossom into a major storyline in a short amount of time.