Indianapolis Colts: AFC North Toughness Arrive in the Hoosier State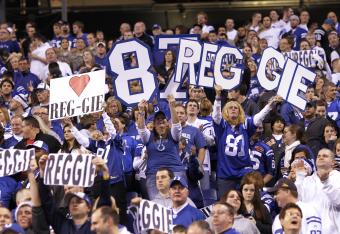 Joe Robbins/Getty Images
To win in the NFL you have to have a perfect mix of guts, luck and skill. The Indy Colts have immediately made themselves relevant again by showing they have all three.
GUTS
The Colts recently cleaned house the day after their 2-14 season ended. They started with the Polian family, firing President Bill Polian and his son and General Manager Chris Polian. The move shocked many and left fans wondering when another ax would fall.
A little over two weeks later Irsay and his new GM Ryan Grigson cut ties with Head Coach Jim Caldwell, who was handpicked by Tony Dungy to be the steward of one of the highest-octane offenses in history. The moves sent recovering star QB Peyton Manning out into the world to voice his disbelief and dismay.
In the pre-Polian era in Indianapolis and Baltimore, the Colts were up and down at best. But the father-son-Polian team brought a steady-handedness to the franchise, as well as two Super Bowl trips—with one win, eight division titles, two AFC Championships and 143 wins overall.
Then Colts owner, and serial tweeter Jim Irsay blew it all up—leading many around the country to declare the sight of this year's Super Bowl—a fallen house.
Irsay then pulled a deft administrative move, hiring Baltimore Ravens defensive coordinator Chuck Pagano as head coach. The hire immediately reinforced the suspicions people had that number 18 would be gone before March. But then the Colts got their lucky bounce.
Rob Carr/Getty Images
LUCK
While Indianapolis was solemnly preparing their Super Bowl XLVI house guests, the Pittsburgh Steelers Art Rooney II unknowingly provided his AFC rival with a decent dose of luck. Rooney, in not renewing Arians' contract with the Steelers, catalyzed his transition to a Colts team looking to rebuild, renew and possibly even rekindle their cold relationship with their Indy's prodigal son in Peyton Manning.
The hiring of newly "retired" Bruce Arians is coup for Indianapolis. For five of the past eight seasons in Pittsburgh, Arians has been the offensive coordinator—coaching in two Super Bowls and winning one. Arians' organizing principle is from a position of quarterback, having played the position at Virginia Tech.
One of Arians' greatest talents is his yin and yang relationship with his quarterback he exhibited with Ben Roethlisberger. During his time coaching the Steelers' star quarterback, he kept his ego in check letting "Ben be Ben", turning more and more of the play calling over to him—as well as designing out-of-pocket plays that attended to the scrambling quarterback's strengths.
Before his time in the Steelers organization, he coached quarterbacks in Indianapolis from 1998-2000—not coincidentally, the first three seasons of Peyton Manning's illustrious career. His hire leaves open the possibility of retaining Colt's all-Pro Manning as both player coach and mentor to Stanford's Andrew Luck, who many believe will be the overall number-one pick and the future of the Colts' offense.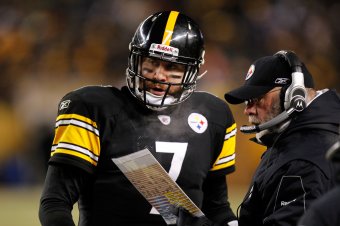 Gregory Shamus/Getty Images
In short, the move could make the fans, owner and star player happy—as well as quell local anger at the mistreatment of their prodigal son.
SKILL
Pagano understands the value of the Steelers' coaches having coached against them in his last job as the Ravens' defensive coordinator. The NFL has a lot of teams that you can count on, to not be counted on. But there are a scant few rock-solid franchises that field competitive teams the majority of the time. That list is comprised of: The Steelers, the Patriots and the Colts.
Sure they all have had a down season or two, but all three teams have Super Bowl rings and numerous postseason appearances to prove the point.
The learning curve of the coaches should be short—as all three have coached under Butch Davis during his time as head coach for the Browns in 2001-02.
The Colts are far from out of the woods. No one should rush to anoint the team with an ailing quarterback and first year coach as the AFC South champs, but Irsay's skill and guts have gotten him close, now all they need is Luck.
This article is
What is the duplicate article?
Why is this article offensive?
Where is this article plagiarized from?
Why is this article poorly edited?

Indianapolis Colts: Like this team?