Royal Rumble 2012: 6 Wild Cards Who Could Have a Major Impact on the Rumble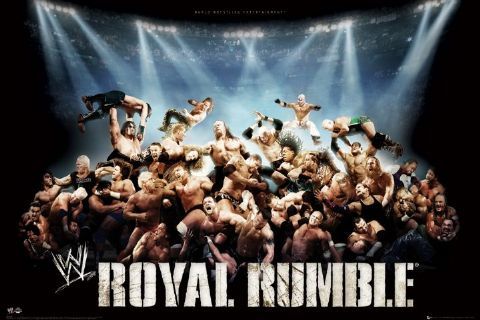 Just Who Will Be the Ultimate Wildcard in the Rumble
With the Royal Rumble less then three hours away, now is just as good a time as any to lay claim to some wild-card picks for the main event match tonight.
For those unfamiliar with the term "wild card," it is often used to describe an unpredictable or combustible element in any given situation.
In the 2012 Royal Rumble, there will be a handful of guys entering the match who fit the core principles of a wild card, thus having the ability to change the way the match unfolds.
Unlike my simulation of the Royal Rumble match in my last article, here I will evaluate and select the top wild-card picks we should be putting our money on heading into the match.
Begin Slideshow

»
Well if you read the wrestling tabloids and dirt sheets, then you know by now that Mason Ryan is expected to be force fed down wrestling fans throats again sometime in the near future.
What better place to start such a thing, then the Royal Rumble?
Coming in I thought Mason Ryan would be nothing more then meat and a ring space filler for the match, but as we draw closer and closer to the Rumble he is being hyped up as a serious sleeper pick. Because of that his wildcard factor just rose up a bit.
I expect Mason Ryan to get a couple of eliminations and have a decent showing. He will be hyped up as a threat but more then likely the hype he receives will only be used to build up the mega star that eliminates him.
Wildcard Value: 9 of Clubs
Our second wildcard for the Rumble match is none of then Kofi Kingston. After a massive failure of a tag title run due to his partner Evan Bourne suspensions and wellness policy violations, many have given up hope on Kingston breaking through middle card mediocrity and reaching main event status.
While I don't believe the 2012 Royal Rumble will be the place where Kofi gains such status, I do feel that the Rumble event will help jump start a year of redemption for Kingston.
Kofi is a good wildcard pick and if you feeling extra bold, a solid upset pick to make it into the final four of the Rumble if he is given a late entrance number.
Wildcard Value: 10 of Hearts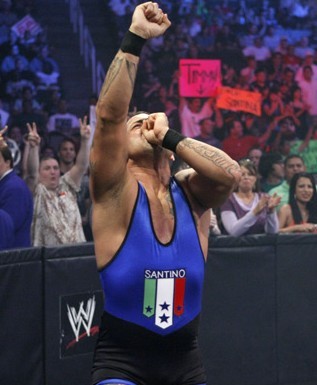 Look For Santino To Play the Role of Spoiler for a Rumble Favorite
No name on this list could identify more with the term wildcard then Santino Marella. When his entrance hits, in the Rumble you have to hold your breath because it could be a big boom or a massive bust.
After breaking the record for quickest elimination in 2009, last year he was one elimination away from winning the whole thing finishing runner up to Alberto Del Rio.
While I don't feel Santino will come close to winning the Royal Rumble, I do believe his presence will be felt in the match Sunday. Look for Santino to hang tough and score a shocking elimination on one of the big time favorites before being eliminated himself.
Wildcard Value: Jack of Hearts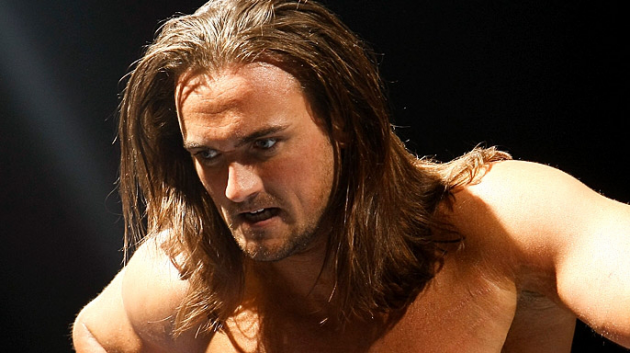 McIntyre Will Come Into the Rumble As One of the Top Wildcards
Drew McIntyre has been tittering on the edge as of late. In the last couple of weeks he has played the role of jobber to Santino and has not won a match since returning back to Friday Night Smackdown.
This past Friday he came close to upsetting Sheamus but once again came up short.
On Sunday, Drew McIntyre could use the small momentum he built in his match with Sheamus, and parley it into a decent showing in the Rumble.
McIntyre won't win the Rumble but along with Kofi Kingston, he could be around late and poise a threat to favorites like Randy Orton, Chris Jericho, and Wade Barrett.
No matter where he enters at, McIntyre is a name to look out for come Sunday.
Wildcard Value: King of Diamonds
Coming in at number two on the list is the only living breathing Funksauras in captivity, Brodus Clay.
While styling and profiling will be number one on Clay's list this Sunday, I believe he will have a monster run in Rumble. The question becomes, how big and when?
That is where Brodus Clay wildcard factor comes in. If I had to choose where Clay enters, it would be either the middle of the Rumble at 15th or the coveted 30th spot. In both spots, the ring is likely to be packed, which will only help maximize Clay's performance.
No matter where he comes out, it will end up being one of the most talked about segments of the Royal Rumble PPV.
Wildcard Value: Ace of Clubs
Chris Jericho is not only the top favorite in the match, he also comes in as the top wildcard as well.
Unlike the others, Jericho wildcard factor is not so much tied into how long will he last or the impact he will make, but rather who will he target?
Since coming back Jericho has kept to himself and not had any serious encounters with the WWE roster aside from his brief participation in a 6 man tag match.
He will no longer be able to keep silent in his small corner of the world come Sunday.
With his back now up against the wall, I expect Jericho to come out swinging and play up to the crowd as well. Early targets may include former tag team partner The Miz and the man who punted him out of the WWE, Randy Orton.
As a wildcard and favorite, none come bigger then Chris Jericho.
Wildcard Value: Ace of Spades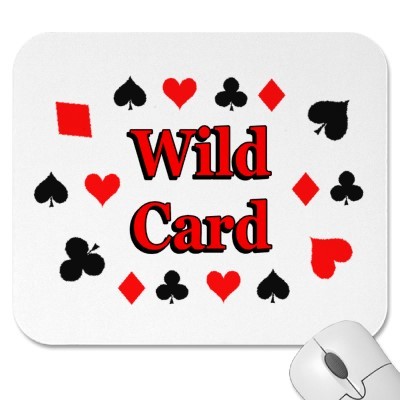 Well you have seen my picks, who are your wildcard favorites in the match.
Also if you haven't already, make sure to check out my Royal Rumble simulation article before the event kicks off.