Giants vs. Patriots: Why New England Will Avenge Super Bowl XLII Loss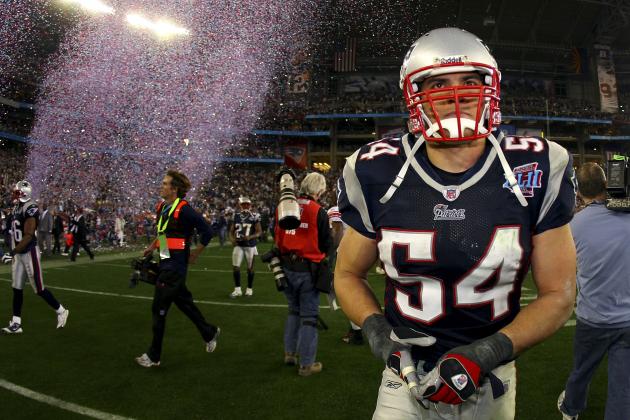 Donald Miralle/Getty Images

Revenge is in the air in Patriots Nation, even if the players and coach Bill Belichick are trying to play it down.
"All of the games in the past I don't think really mean too much at this point." Belichick said in Sunday's press conference. "This game is about this team this year. There aren't really a lot of us coaches and players who were involved in that game."
Belichick is right, of course. Only seven Patriots remain on the current roster from the agonizing Super Bowl XLII loss in Arizona four years ago to the New York Giants.
But the 25,000 fans present at Sunday's fan rally left the other 46 Patriots under no illusions. This is more than just a game. Boston/New England versus New York contests usually are. But avenging the hurt of "18-1" in a Super Bowl rematch? The stakes are higher than ever before.
Both teams have changed so much that it's almost impossible to draw any meaningful conclusions from their last Super Bowl clash.
Even the Week 9 regular season matchup—a 24-20 victory for the Giants at Gillette Stadium, featuring a scoreless first half—is unlikely to offer many clues as to how two high-powered offenses will attack on Sunday.
The Patriots will prevail at Lucas Oil Stadium in Indianapolis in a shoot-out that will deliver tension and drama in equal measures. Let's take a look at the keys to a fourth Super Bowl trophy for New England.
Begin Slideshow

»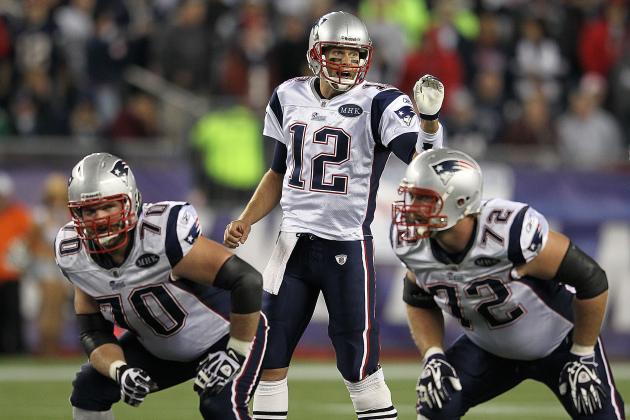 Jim Rogash/Getty Images

Super Bowl XLII became a coronation for the new generation of pass-rushing talent in New York. Tom Brady was left dazed and confused as five sacks and multiple hits threw the Patriots' vertical passing game into disarray.
Four years on, and the threat remains. Michael Strahan announced his retirement following that victory, but the emergence of second-year end Jason Pierre-Paul has helped maintain the strong lineage of elite pass-rushers in New York.
Justin Tuck and Osi Umenyiora are still on the roster, and such is the Giants' position depth that they can present a unique look in clear passing down situations.
Mike Reiss of ESPN Boston highlighted a piece from the New York Times, detailing the four-defensive-end look, with Pierre-Paul, Tuck, Umenyiora and Dave Tollefson lined up for third-and-long rushing duties.
The Patriots' offensive line will need to maintain its recent good form on Sunday to avoid substantial breaches of their protective shield.
With just one sack on Tom Brady through two playoff games, names such as Elvis Dumervil, Von Miller, Terrell Suggs and Haloti Ngata have all failed to get their hands on the quarterback.
A settled interior line—with a healthy Dan Connolly improving with every snap at center—has been key to establishing the pocket for Brady to step into on quick releases.
Gone is the obsession with hitting Randy Moss on big plays. In its place are quick slants off three-step drops. By getting rid of the ball quickly, you can negate the most ferocious of pass-rushers.
Look for Brady to make quick decisions on Sunday. It is the key to a productive New England offense.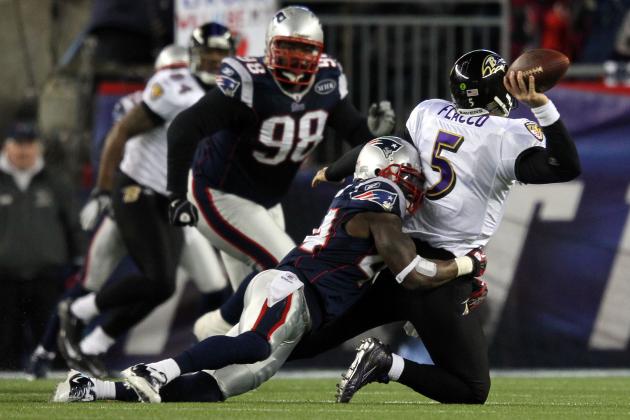 Jim Rogash/Getty Images

The loss of Andre Carter to a torn quad muscle was supposed to signal the end of the Patriots' pass-rush this season.
Not so. The players have taken collective responsibility for the loss of Carter's production, and Mark Anderson, Rob Ninkovich and Vince Wilfork have all stepped up at various points to generate pressure on the quarterback.
With eight sacks in two playoff games, the front seven should challenge a Giants' offensive line that has allowed seven over the same period.
Interior pressure is a known weakness of Tom Brady's game, but it is a truism for all quarterbacks. Witness Ray McDonald's performance in the NFC Championship the blueprint on knocking Manning off his spot. Vince Wilfork will be the key focus for David Baas, Chris Snee and Kevin Boothe on the Giants' line.
Coupled with a weak running game that the Patriots should stop through Brandon Spikes and Jerod Mayo, the Patriots will be able to dial up pressure on a one-dimensional passing attack from a standard four-man rush.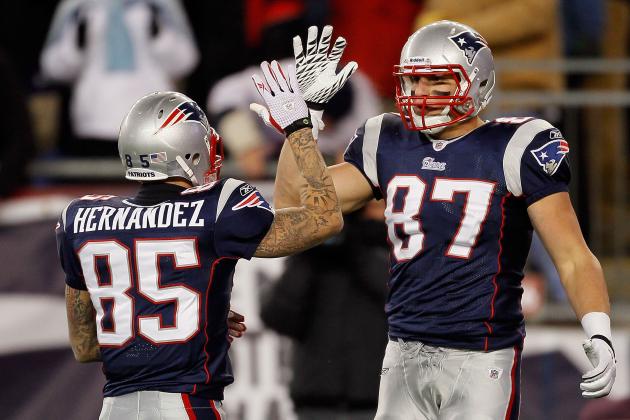 Jim Rogash/Getty Images

No team in the NFL is more reliant on a two-tight end passing attack than the Patriots. Then again, no other team have a tight end tandem as good as Rob Gronkowski and Aaron Hernandez.
The "Tiger" personnel grouping (two tight ends, two wide receivers, one running back) offers versatility in disguising the run or pass until the very last moment, which keeps passing lanes open and linebackers honest.
New England can still run this formation with a banged-up Gronkowski, but he will likely see more time as an in-line blocker to combat the defensive end pressure presented by the Giants, while helping to conceal and protect his high-ankle sprain.
Gronkowski's production will inevitably decline this Sunday, but in Hernandez and Wes Welker, the Patriots still have the personnel to hurt the Giants without shifting formation into Posse personnel (three wide receivers, one tight end) too often.
Welker and Hernandez present serious matchup problems to the Giants' back seven. Safeties Antrel Rolle and Kenny Phillips are not blessed with elite speed, as demonstrated by Vernon Davis in the NFC Championship, who burned the Giants on two long touchdown plays.
Whether lined up in the slot, split out wide or in Hernandez's case, in the backfield, Brady's receivers should gain separation quickly on short routes, making life difficult for the likes of linebacker Chase Blackburn.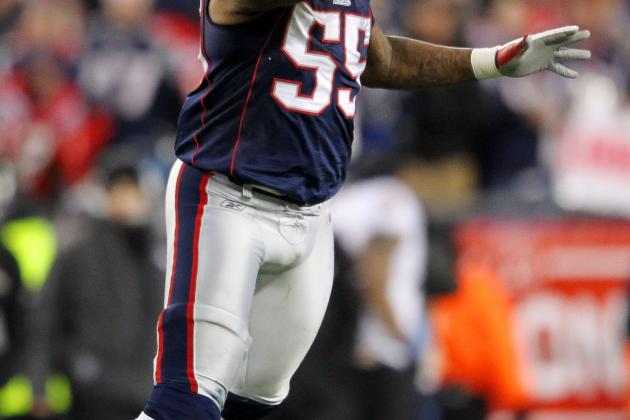 Jim Rogash/Getty Images

Jerod Mayo referred to it in his press conference last week, but continuity has been key to the improvement of the defensive unit as a whole.
Since returning from an MCL sprain, Brandon Spikes has brought energy and hard-hitting to the middle of the defense, generating a sack, a fumble recovery and an interception in the playoffs already.
Patrick Chung also returned for the playoff run, and his reassuring presence has had a positive effect on the players around him. Sterling Moore in particular has stood out, with two key pass break-ups at the end of the AFC Championship versus the Ravens.
Whether it's a renewed confidence from weathering the storm of some shaky midseason performances, or a natural progression from playing together for longer, the unit takes the field with attitude, and are playing with a spark missing earlier in the year.
In the build-up to Super Bowl XLII, the Patriots were criticized for treating their 19th game like a business trip. The focus and intensity on their goal created tension, putting pressure on the perfect season as a result. The mood this year couldn't be any more different.
If one play can sum up the sea change in the Patriots' defensive play, look no further than the Vince Wilfork sack on Joe Flacco in the playoffs.
Handling huge offensive lineman Ben Grubbs like a rag-doll, Wilfork drove his opposite number backwards before dropping the quarterback, forcing the Ravens to punt the ball away.
By coming up with key stops on third down, the Patriots ensure that the ball ends up in the hands of their best player—Tom Brady—for longer.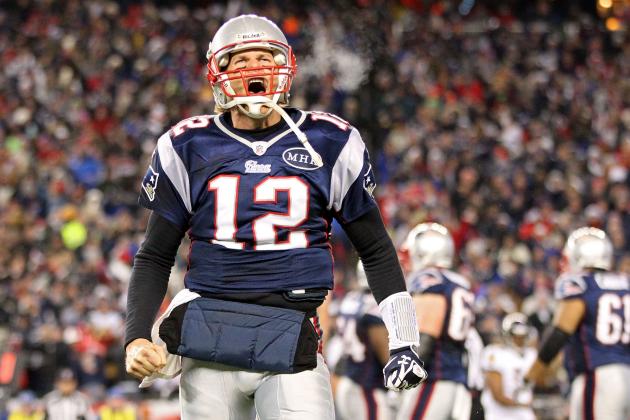 Jim Rogash/Getty Images

Tom Brady rarely suffers from poor back-to-back performances. After his 239-yard effort versus the Ravens with zero touchdowns and two interceptions, Brady declared that he "sucked", and would be redoubling his efforts in Indianapolis.
Brady is his own harshest critic, and despite sneaking in for the go-ahead 1-yard touchdown, he will have looked at his performance in a negative light.
His game won't need much tweaking this Sunday. He still completed 61 percent of his passes on a bad day, and two major mistakes aside—missing a wide-open Gronkowski in the first quarter, and the deep interception intended for Matthew Slater in the fourth—he was composed and accurate.
Then there's the added motivation. Brady is one of the fiercest competitors in the NFL, and the loss to the Giants four years ago still hurts. He plays down personal achievements, yet in revering his boyhood hero Joe Montana, will be aware of the importance of a fourth Super Bowl Ring in cementing his legacy.
Brady had a low-key day, and the Patriots still beat the Ravens. Consider what they are capable of if he has a good day.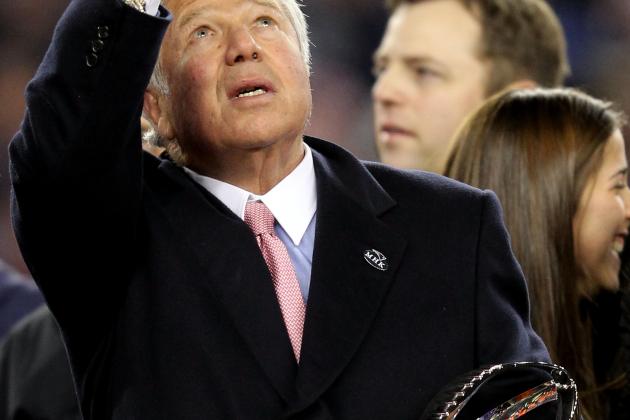 Jim Rogash/Getty Images

I'm not a fan of explaining events with supernatural occurrences. But Robert Kraft will take some convincing to explain Billy Cundiff's missed field goal any other way. Speaking after the game, on whether his late wife, Myra, influenced the extraordinary outcome, he said:
"(There were) forces at work that's beyond anything we can understand," Kraft said. "I'm just pretty happy and proud we're going to the big game. The support our fans have given us this year and given me personally and our whole family has been terrific."
It is a theme the players have embraced this season. Both teams will be motivated in the biggest game of their lives this Sunday, and the memory of the owner's wife won't give the Patriots the edge in a divine sense.
But the tributes to Myra have contributed to a mature locker-room this season, with players showing a dose of respect for their owner by commissioning a painting for Kraft, featuring her "MHK" initials and the word "dedication".
She might not be an angel moving the ball wide of the uprights, but in upholding her memory, the players are showing the intangible characteristics that will deliver them an advantage in the biggest game of their careers.
This Patriots team is mentally strong, confident and talented, but most of all, they are playing good football at just the right time of the season. I see them winning their fourth Lombardi trophy in a 35-31 thriller.