Philadelphia 76ers: 5 Most Under-Appreciated Players on the Team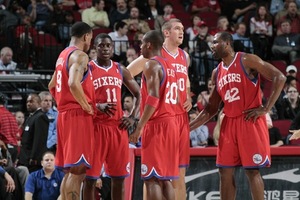 Through the first 20 games of this shortened NBA season, the Philadelphia 76ers are 14-6, leading the Atlantic Division by four games and are third in the entire Eastern Conference.
Yet it still seems that other teams, fans and people in general aren't even glancing an eye at the basketball team in Philadelphia.
Believe it or not, this young Sixers team is going to be one to reckon with come playoff time. They will fly under the radar all season long and will come up with an "upset" in the playoffs because they do not get the publicity of a team with a natural leader and superstar.
The Sixers are one of the most fun teams to watch in the whole league. Why? Sure, they don't have a superstar that can get you 40 every other night, but what they do have is a group of young athletes that very much resembles a very good college team. Now that's not demeaning in any sense. It's actually a compliment coming from myself.
Doug Collins has raised this young team under his tutelage and has made a squad of role players one of the contenders in the East. They play the game the right way: with defense, intensity and sharing the basketball.
It's time to start recognizing the 76ers as a legitimate threat in the East, and here are five players that lead the list of the All-Under-Appreciated team in the league.
Begin Slideshow

»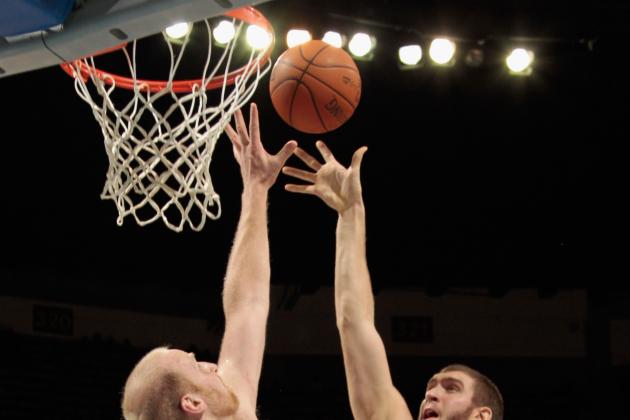 Chris Graythen/Getty Images

No offense to Thaddeus Young (and you've heard this before from me), but I believe that Spencer Hawes was the biggest signing of the offseason for this club.
And I stated this even before the season started and before Hawes got off to his best start of his career.
If the Sixers lack depth at any one position, it is for sure the center position. Hawes may be the only true center on the Sixers roster.
And if it wasn't for his hot start, he would have not gotten any press whatsoever this year. He is not flashy or the most athletic person in the league, but he's got talent. He has one of the sweetest shots of any big man in the game. His defense has improved greatly since he came to the team last season.
You can thank Doug Collins for that. And I think most people are forgetting that this is still a 23-year-old kid.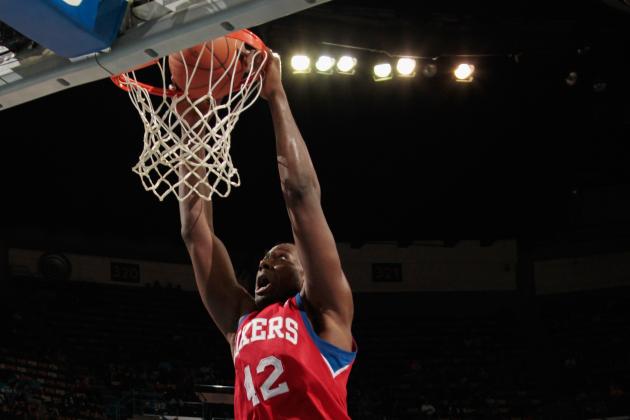 Chris Graythen/Getty Images

Gone are the days of Elton Brand dropping 20 and 10 each night. Gone are the days of Brand even averaging 15 and eight.
After signing an $80 million contract to come revitalize basketball in the city of Philadelphia, most fans were expecting more than just your average power forward coming to town.
Brand is far from your average power forward though. Sure, he isn't averaging career numbers and has been on the decline since coming to the Sixers, but like everyone else on this team, it is not about the numbers for these players.
Brand has shared more leadership and more teaching than he probably ever has in his NBA career. It is not your typical Brand. It is the gritty, hard-working Brand that is doing the little things inside the paint that is creating scoring opportunities for his teammates.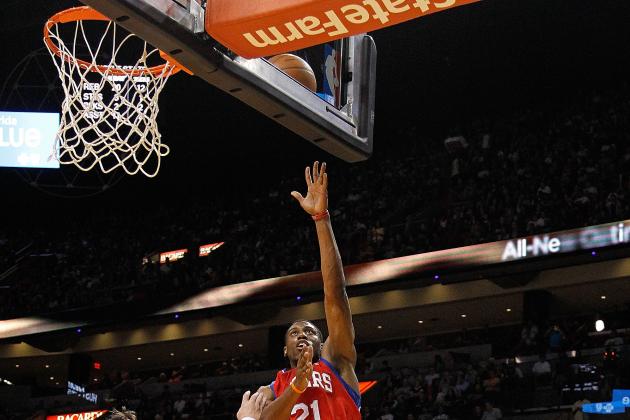 Mike Ehrmann/Getty Images

The 76ers probably have one of the best benches in the NBA. They probably have one of the best sixth-seventh-eighth man combos in the league with Thaddeus Young, Lou Williams and Evan Turner.
Young could probably start on a number of teams, but he knows his role here in Philadelphia and excels in it. He, along with the rest of his bench-mates, provide a spark off the bench for this team.
I think Young is playing with a little extra chip on his shoulder this season because he was not on many teams' radar of free agents. Young has loved his time in Philly and I'm sure he wanted to stay all along, but there were just not many suitors out there calling his name.
Young is another Sixer that is only scratching the surface at 23 years young.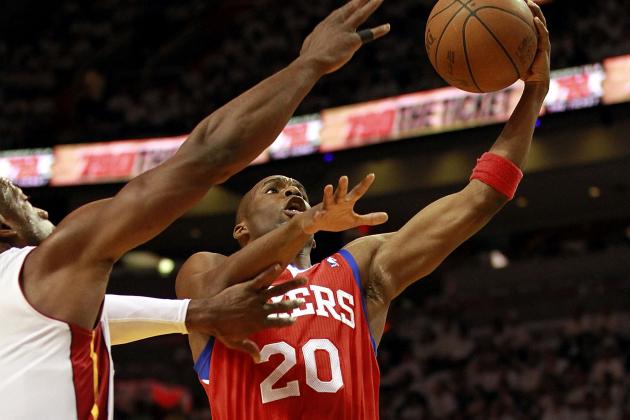 Marc Serota/Getty Images

After coming out of college as one of the leading scorers in the country, Jodie Meeks left little doubt that he was loaded on talent. It was just a matter of how his game would translate at the NBA level.
Through his first two seasons in the league, it looked bleak for Meeks, and he got mop-up minutes in his first two years with Milwaukee and Philly. Then Doug Collins gave him a chance for the Sixers.
All of a sudden, Meeks is given a shot and his thrown into the Sixers starting lineup. And it wasn't because of his scoring ability. It was because of his defense.
Meeks continues to improve as a very underrated defender on this team and in the league. It just so happens that he is also improving his offensive game as well. He is averaging a career best 44.4 percent from behind the three-point line.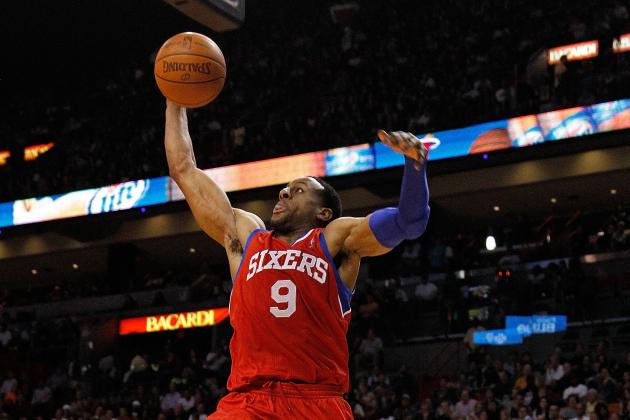 Mike Ehrmann/Getty Images

Doug Collins said it best this week: Andre Iguodala "should be an All-Star."
After being the face of the franchise for the past eight years, the Sixers star has yet to be named to an All-Star team. And, yes, I did say "star."
Like it or not, believe it or not, Iguodala is a star in this league. He may not be LeBron James or Kevin Durant and score 25 a game, but Iguodala is a player that should be mentioned as one of the league's best.
A star is not someone who can score in bunches all the time. A star is someone who a team can build around. A star is someone who leads a team through thick and thin. A star is someone who makes the other players on his team better.
Iguodala is not one of the "superstars" of the NBA because he may be one of the most unselfish players in the game. He'd rather create and get another teammate open. He'd rather battle and cover the other team's best player on the defensive end.
He's willing to do it all. Iggy will never lead the league, or even his team in any stat category. That is because he is doing all the little things. He is doing what is best for his team. There is no doubt that Iguodala is the glue that makes this team stick together.