Super Bowl 2012: Hakeem Nicks Will Win Super Bowl MVP in Giants' Victory
January 29, 2012

Doug Pensinger/Getty Images
Eli Manning of the New York Giants has several weapons on the perimeter at his disposal. Mario Manningham is a solid No. 3 receiver and Victor Cruz has been spectacular this season. However, with Cruz turning it on this year, there is one receiver that isn't garnering the attention he deserves and that's Hakeem Nicks.
Nicks will finalize his tremendous 2012 NFL Playoffs by winning the Super Bowl MVP next Sunday against the New England Patriots.
With Cruz garnering the maximum amount of attention, Nicks has been dynamite this postseason. He caught six balls for 115 yards and two touchdowns against Atlanta, seven passes for 165 yards and two touchdowns against Green Bay and five passes for 55 yards against San Francisco.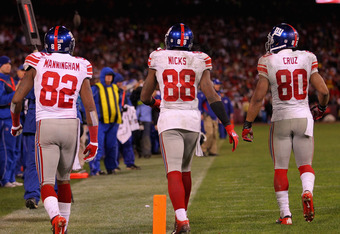 Doug Pensinger/Getty Images
Just when teams realize they should be focusing more on Nicks, Cruz catches 10 balls against the 49ers in the NFC Championship game.
So who do you cover?
Similar to what the Patriots bring with Rob Gronkowski and Aaron Hernandez, they're almost impossible to stop.
New England will focus more on Cruz because of his explosiveness after the catch, which will leave Nicks in one-on-one coverage or against softer coverage.
Advantage Giants.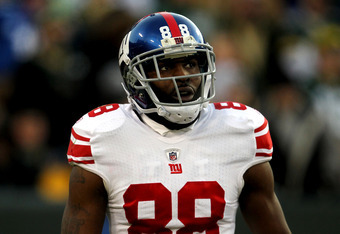 Jonathan Daniel/Getty Images
The Patriots will give up plenty of yards to Manning and the passing attack because they were one of the worst defenses against the pass in NFL history. Last week, they allowed Joe Flacco to throw for 306 yards and two touchdowns. Baltimore should have had another touchdown and more passing yards if Lee Evans doesn't drop an easy touchdown pass late. 
Flacco is heavily criticized for not being able to get the job done when the game matters most. He certainly played well enough against the Patriots defense to deserve a better fate. 
Expect the same type of success from Manning.
Manning has averaged 41 pass attempts in the postseason. If the Giants win the Super Bowl, it will be Manning who leads them with his arm mixed in with their dominant front four on defense. Nicks will have his chances to make plays because of their offensive style and team they are playing.
Nicks will have every opportunity to make plays in the Super Bowl. He will win the MVP award, capping off a tremendous year for the Giants.
Prediction: Giants 28, Patriots 27