Eli Manning and the 5 Players Most Responsible for the Giants' Super Bowl Run
January 28, 2012

Thearon W. Henderson/Getty Images
It wasn't that long ago that the 2011 New York Giants were a 7-7 football team in turmoil, with a head coach on the hot seat and looking like they might miss the NFL Playoffs altogether.
Five consecutive victories later the Giants are headed to Indianapolis to take on the New England Patriots in Super Bowl XLVI, and the G-Men now stand 60 minutes of football away from hoisting the Lombardi Trophy for the fourth time.
There are 53 players on a football team, and each of those players at one time or another made a contribution that helped the Giants get to where they are today, but here's one man's take on the five players for Big Blue that have had the most to do with their run to Indy.
Eli Manning—Quarterback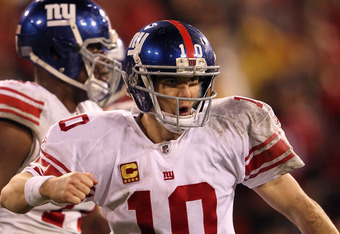 Jamie Squire/Getty Images
It goes without saying that often in the National Football League as goes the quarterback so goes the team, and if you had told most people that the Giants would rank dead last in the National Football League in rushing in 2011, placing a ton of extra pressure on Manning to move the ball through the air, most of those same people may have predicted Manning would struggle.
Not only did the eighth-year veteran not struggle, he thrived, throwing for nearly 5,000 yards and posting the second-highest touchdown total and passer rating of his career while coming through in the clutch on numerous occasions.
What once would have been a laughable argument has now become viable.
Which Manning quarterback is better?
Victor Cruz—Wide Receiver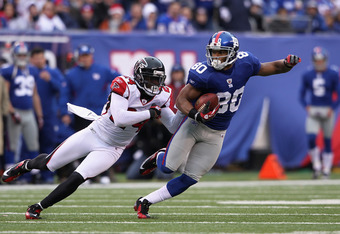 Nick Laham/Getty Images
Most people expected wide receiver Hakeem Nicks to post solid numbers in 2011, but no one outside Victor Cruz's mother expected the sort of explosion into stardom that Cruz experienced in 2011. Cruz caught 82 passes for 1,532 yards and nine touchdowns while posting a ridiculous 18.7 yards per reception and emerged as one of the top deep threats in the National Football League.
That Cruz wasn't voted to the Pro Bowl shows just how preposterous the selection criteria for that farce of a game is.
Jason Pierre-Paul—Defensive End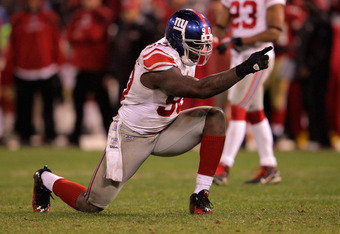 Doug Pensinger/Getty Images
With both defensive ends, Osi Umenyiora and Justin Tuck, hurt to begin the season there was enormous pressure on Jason Pierre-Paul to step up his game in 2011. The second-year pro did that and then some, leading the team with 16.5 sacks while racking up 86 tackles, which is a preposterous number for a player at his position.
Not only has Pierre-Paul emerged as the best defensive end for the Giants (which is saying something given the presence of Tuck and Umenyiora), but in the opinion of this writer, who spends most of his time focusing on the defensive side of the ball, he's the best defensive end in the National Football League period.
Antrel Rolle—Free Safety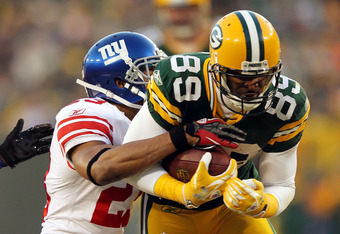 Jamie Squire/Getty Images
The New York Giants defense was ravaged by injuries even before the season began, losing starting middle linebacker Jonathan Goff and top cornerback Terrell Thomas to season-ending injuries before they ever played a game.
There were a number of players that were called upon to take up the slack, including free safety Antrel Rolle, who responded with one of the best seasons of his six-year career. Rolle logged a career-high and team-leading 96 tackles while displaying his versatility by sliding to slot cornerback (the position he played in college) in some of New York's defensive sub-packages.
Corey Webster/Aaron Ross (tie)—Cornerback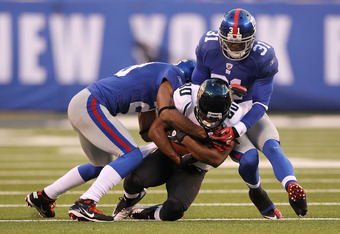 Al Bello/Getty Images
As we mentioned before, the G-Men lost top cornerback Terrell Thomas before the season even began and then saw top draft pick Prince Amukamara suffer a foot injury one day after signing with the team that sidelined him much of the year.
Left with a patchwork secondary, starting cornerbacks Corey Webster and Aaron Ross answered the call by playing some of the best football of their respective careers, combining for 111 tackles and 10 interceptions during the regular season.
The duo continued that stellar play into the postseason, where they held the prolific Green Bay offense in check in the Divisional Round while Webster forced a key fumble in the NFC Championship Game.