Chicago Bulls vs. Miami Heat: TV Schedule, Live Stream and More
January 29, 2012

Jonathan Daniel/Getty Images
The Chicago Bulls and the Miami Heat will battle for early season Eastern Conference dominance on Sunday. 
This will be a rematch of last year's Eastern Conference finals, and a battle between the conference's two top teams early in this season. 
Where: AmericanAirlines Arena in Miami, Florida
When: Sunday, January 29th at 3:30 p.m. EST
Watch: ABC
Listen: List of Bulls radio networks with streaming, list of Heat radio networks with streaming
Key Injuries
Injury information according to ESPN.
Chicago Bulls
Loul Deng is unlikely to play due to a wrist injury. Richard Hamilton is day-to-day with a groin injury.
Miami Heat
The Heat should have their full roster available for this game. 
What's at Stake?
Early Eastern Conference dominance is at stake. Both teams are first in their division and they have the top two records in the East. 
Chicago leads the Heat by a narrow margin at 17-4 compared to the Heat's 14-5.
This is the first meeting between these two powerhouses, so it will be interesting to see who steps up for their respective team.
What They're Saying
Michael Tristani II of the Sunshine Slate offered a quick take on Wade's performance Friday against the Knicks, which was the star's first game back from injury. 
Dwyane Wade played great for his first game back in about 2 weeks. He scored 28 points and had 5 steals.

"It's a nice welcome back for that young kid, number three," said Miami Heat head coach Erik Spoelstra, obviously impressed.
Meanwhile, the Bulls' Carlos Boozer is still finding his role with the Bulls, and fans are still trying to come to grips with who he is as a player. Neil Hayes of the Chicago Sun-Times offers some insight on this situation. 
"Why am I out?" The answer was obvious. He was being replaced by the little-used Scalabrine for defensive purposes.

The curious case of Carlos Boozer continues to unfold nightly at the United Center and NBA arenas around the country.

Much of the criticism leveled at Boozer from Bulls fans is unwarranted. It's not his fault that he's the player he is and not the player they want him to be. It's almost as if Bulls fans had a distorted view of the free agent vice president John Paxson and general manager Gar Foreman acquired before last season.

 
Bulls Player to Watch: Derrick Rose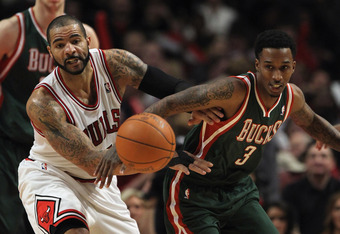 Jonathan Daniel/Getty Images
He is the reigning MVP! Why wouldn't you watch him? And if there was ever a regular season game to watch him, this is it. 
The Bulls want desperately to send a message to the team that knocked them out of the playoffs last year. If they are going to do this, it will take a team effort, but that effort needs to begin and end with Rose. 
Heat Player to Watch: LeBron James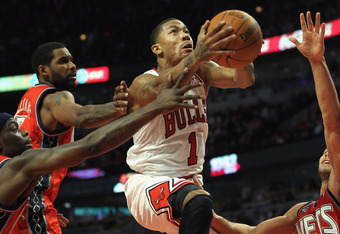 Jonathan Daniel/Getty Images
James is having another fantastic season. Still, King James is going to face endless questions until he starts taking over big games with the Heat in big situations. 
This is one of James' first chances of this young season to prove he has put his choking performances of last year's finals behind him. 
Key Matchup: The Bulls vs. LeBron James
The Bulls employ amazingly tight team defense. Stopping LeBron is going to be the focus of this team defense. Especially with the likely possibility that they will be without small forward Deng. 
Prediction: Bulls 97, Heat 93
Chicago is going to come out fired up and ready to prove they are the best of the East. In the end, the Bulls suffocating defense will prevail over the Heat.